When given the opportunity to explore an original game idea within the murder mystery genre I was hesitant at first. Admittedly the genre isn't one that, as a gamer, I've spent much time with. As a designer however, this can be an advantage – less bias and pre-conceived notions.
Keen to become knowledgeable quickly, I immersed myself in murder mystery.
I like to start my research outside of games and get a sense for what's popular right now, in a genre. I also like physical connections to the things I'm researching, as simple search engine results fail to really connect you to what people positively associate with their passions. A great place to start is your local big-chain bookstore, so off I trudged and found myself staring at the teen/young adult section. I was immediately struck by the sheer number of murder mystery novels it had. I studied the cover art and read back covers for a couple hours. I took a few photos to show my colleagues.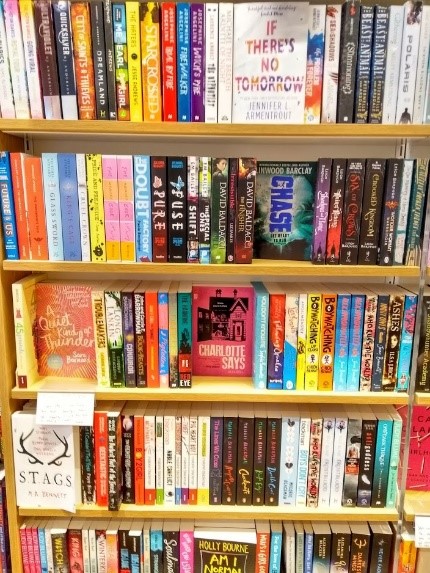 Hitting up streaming services next and there's no shortage of highly rated crime and detective dramas to binge watch. Over the space of a couple of weeks I watched True Detective (don't hate but I thought Season 2 was better), some Narcos, The Sinner, Dark and Mindhunter which quickly became one of my favourite shows. My early deduction was that the genre is healthy and popular with the demographic we normally associate with gaming. So why, when we analysed the video game market, did it paint a different picture?
When approaching a new game concept, I like to first determine the problems to solve. In this case it seemed clear that as a platform, video games are not pulling their weight for a popular genre. Why? Something we noted early on was that a game involving detective mechanics could get bogged down in having to do a lot of things right. The skills that detectives employ in their work can range anywhere from psychology to forensics and much in-between. In some ways this could explain the split we noticed with successful games in the market either being big budget with a broad range of mechanics and storytelling techniques vs small indie titles focused on doing a few things well.
That's our first decision made. We don't have a AAA budget, so we'll go small and focus on doing a few things well. Next problem – Is there anything people want that they aren't getting?
Over the course of one week seven separate things coalesced to form the direction for MMM:
1. Watching What Makes A Good Detective Game? by Mark Brown. In it, he focuses on the things that might make you 'feel like a detective' and what games have tried in their attempts to do so. Ultimately, he poses the idea that it's this problem that many detective games have failed to solve well - so we've made this one of our goals to achieve.
2. While paper prototyping some ideas, we immediately became interested in how people like to gather and sort information. Suffice to say, everyone is different, so we'll allow for that.
3. I watched an episode of Mindhunter on Netflix where the main characters find themselves, yet again, talking to small-town police with an unsolved murder. What struck me watching THIS time however was how, with only a few pieces of evidence and background from the police officer, Holden Ford a young criminal psychologist, imagines a plausible and detailed theory that the police never thought of. "Someone would do something like that?" The police officer is shocked by the idea. Holden has a completely different background from the officer so can offer a different story. The theory isn't right, Holden's first theories rarely are but it does open new lines of questioning and ideas for the police who do eventually discover key evidence they've been looking for and solve their case.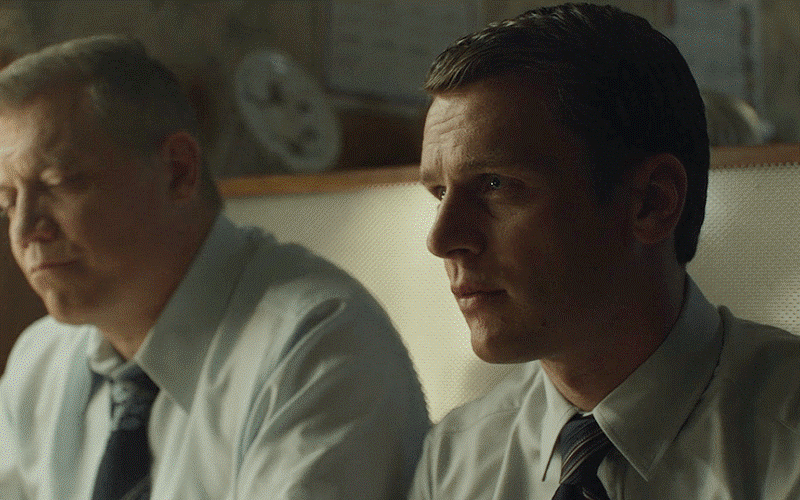 4. A timely quote we discovered by famous murder mystery author Agatha Christie: "Unless you are good at guessing, it is not much use being a detective." So we look at informative guesswork, just like Holden Ford is doing in Mindhunter, as a key element in 'being a detective'.
5. Our concept artist made this image:
An isometric view best represented how a detective perceives a crime scene. We could play with lighting and camera rotation to make use of the entire space to enhance the exploration aspects of the game and help support an atmosphere that immerses you into the scene.
6. An academic article I was reading about the mechanics of murder mystery writing and the idea that a murder mystery is, in fact, two stories. The 'first story' is the actual events as they happened. The 'second story' is the way in which the detective discovers and interprets the first story. The details in-between the facts, the 'drama' could be anything. Put Sherlock Holmes, Mrs. Marple, Mulder, Scully and Rust Cohle on the same case. They may all reach the same conclusion, but the way they tell the story can be vastly different. Their personal experience, the order they discover evidence and the way they interpret it will all be different. This also seemed relevant to the issue Mark Brown raised with regards to what might make you 'feel like a detective'. Instead of role-playing an established character who must do things the way they are designed in order to make you feel like them, let's just let people be themselves.
7. One of our UI artists mentioned a Marvel comic, Hawkeye 011 featuring Lucky a.k.a Pizza Dog by Matt Fraction and Aja Hollingsworth. The entire story is presented from the point of view of the dog in the form of connecting icons and just a few words (the one's the dog knows). This abstracted form of storytelling through connecting icons mimics a detective's classic style pin & string evidence board. This would form the backbone of the entire game and how you will tell us your story.
Everything came together when I asked our concept artist to take the isometric image he made and put a simple crime scene in it:
We then took this image around the office and asked people "what do you think happened here?".
Amazingly every story was different. Everyone had a plausible explanation and thought of things that the image itself was never designed to elicit. This level of engagement hit on every point above. For a moment everyone in the office became a Holden Ford or invoked their 'best guesses' and told second stories. In my mind anyway, they became detectives. This effect was heightened if you asked two or more people at the same time to interpret the crime scene. They would feed off ideas and argue others. It felt right.
So, it was this simple concept image in combination with the research we had learned from immersing ourselves in the genre that helped to set the direction for MMM:
We present a crime scene, you tell us the story.
The next problem we decided to give ourselves was that of creating a procedural engine to support the delivery of these scenes. More about this in an upcoming blog post.
Written by Pete Low - on behalf of MMM team.
Lead Designer at Blazing Griffin Games.
---
MMM is an upcoming Early Access murder mystery game by Blazing Griffin featuring:
The Murder Mystery Machine
Our procedural crime scene generator which aims to deliver a range of distinct narratives and crime scenes
Isometric Art Style
Our chosen viewpoint is rotatable and aims to give a good overview whilst encouraging players to hunt for hidden details
Abstract Storytelling
Our unique evidence approach and deduction workspace aims to let players infer details and tell their own story
Bite-Sized Mysteries
Our narratives are backed by logical puzzles which aims to appeal to genre and puzzle fans alike
Unlike most detective games, MMM focuses on abstract storytelling to strip murder mysteries down to their basic elements (e.g. what are the vital clues) whilst encouraging players to think laterally as they attempt to solve each crime. We're incredibly keen to recreate a sense of anticipation/anxiety as the player closes in on their final accusation.