Hi everyone,
This is Jonali Das, game designer of Unstoppable Mike. In this article, I'm going to explain what 'Unstoppable Mike' is all about, the idea behind it and the journey so far.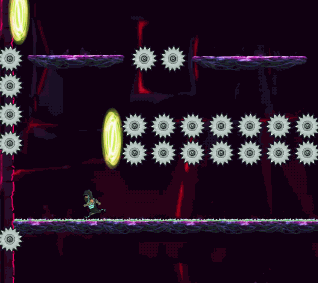 Jump through portals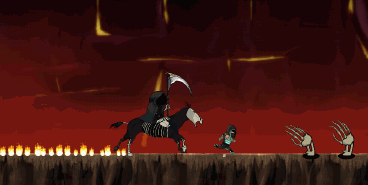 Fast paced action
Unstoppable Mike is a challenging fast-paced 2D runner action platformer game where you play as Mike and jump, slide and dash to dodge deadly obstacles ranging from sharp rotating blades to killer laser beams, motion sensor blades, homing missiles and many more. It might sound very generic as many other games have been doing it in the past and present but Unstoppable Mike is unique. As the name suggests, Mike is unstoppable. Once you start the level, you cannot stop running. Unlike traditional runner game, you need to find your way to your goal through various obstacles and occasional puzzles. You can change the direction you are running by hitting the walls or objects. Imagine Bit Trip Runner meets Super Meat Boy where you are always on the move like Bit Trip Runner while figuring out your way to reach your goal dodging obstacles like Super Meat Boy or any other challenging platformer.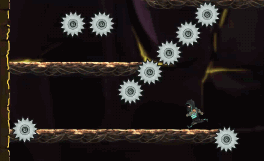 Jump and slide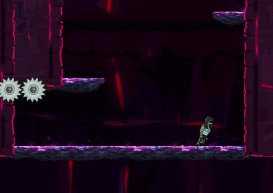 Hit walls to change direction
Our Inspiration to develop Unstoppable Mike:
We have always loved playing challenging platformer games like N+, vvvvvv, Super Meat Boy and many more and we always wanted to make a challenging game that does justice to this genre. We always wanted it to be unique and fun at the same time.
During the game design and development of Unstoppable Mike, we faced many challenges.
In a challenging game, timing a move like a jump is very important. You may have experienced in many games that player waits and 'time' a jump to dodge an obstacle. One of the biggest challenges was introducing obstacles to the player while he cannot wait to time their jump or slide to dodge the obstacles. We have tried to look for inspirations from other games for ideas to solve this issue but we didn't find anything that can solve our issue while sticking to the core idea of the game where the player cannot stop. To solve it, we came up with two new abilities for the player like slow and dash which gets unlocked in later levels of the game to help the player time their moves.
We have carefully designed the levels keeping in mind the core mechanics and making it unique and fun. Most of the levels are vertical where the player needs to find their way upward or downward or sometimes both. There are also horizontal levels which are also very fun to play. The same challenges apply while designing boss battles. Every boss battle we have designed till now is unique and very fun to play. Each boss battle requires the player to find new ways to defeat the boss and proceed to the next world.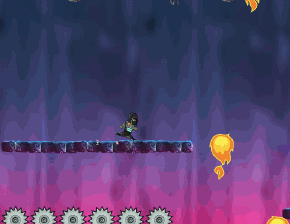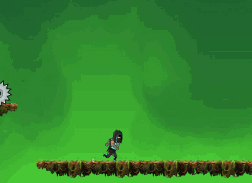 Slow and Dash to dodge dangers
We are planning to release a demo of Unstoppable Mike soon. We are estimating the full release on Q3, 2019. We will keep you updated as we progress with the development of the game.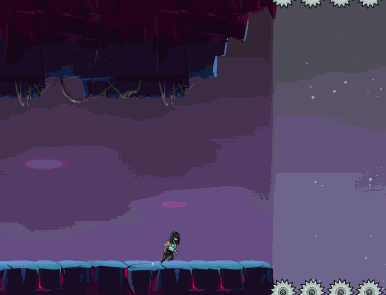 We are always looking for suggestions and feedback. Please join us on the following to connect with us and stay updated about Unstoppable Mike. We will also provide exclusive content for our community when the game releases.
Website: Unstoppablemike.com
Discord: Discord.gg
Facebook: Facebook.com
Twitter: Twitter.com
If you think you can contribute to the development or marketing of the game in any way, please feel free to contact us through Facebook or Discord. You can also contact us through the form on our website.
We will try our best to provide regular updates on the game. Thank you for reading this article.