So the game has been out for around 3 weeks or so now and I thought I would let everyone know how it is going, and whats to come. The game has been well received with people thoroughly enjoying spending a few minutes trying to beat their previous score. This is a great thing to see from a dev perspective as its not all time wasted, regardless of money. I am still working on getting an iOS release, this release will contain the updated features that are mentioned below. These will be released over the next week in one update. V 2.0.0 of the game. This contains a new background sprite so its not all a light shade of purple/grey. The advertisements are also being changed. Revenue on the free version is not so great, and will take sometime before I get an accurate reading, so I have decided to remove the wait video and add in a reward video feature.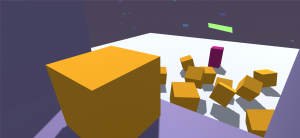 The reward video will appear when the player beats their previous best, an option to get an extra life and make the score even higher will be displayed. If the player accepts this then they will be prompted to watch a short non-skippable advertisement. Once this has been watched, they will be returned to the game and continue their onslaught with the relevant time. Obviously the user would have then beaten their previous previous high score so will not have an option to gain another life. If you have the pro version, you get this feature OR the ability to start the game with a killstreak of your choice. SO extra life, or start next game with killstreak. This means that the pro version is avoiding iap and also ads completely. But instead is completely playable with no interent connection and isnt over powered.
V2 CONTAINS
- New background sprite
- New laser sounds
- Death sound effects
- Player dying feedback
- Option to continue after death
If you want to know more I am happy to answer any questions!
Link to the game ANDROID FREE As you know its a nightmare to get ratings, so if you would be so kind it means the world. Happily shout out your project :)
Link to the game ANDROID 0.69p
Corrie