We have several new things happening in our development of our game. First we have put a lot of our dream of Violent Sol down on ViolentSol.com. The idea is that we do intend to bring this game to you as a scifi survival game on a deep space planet, but we also hope to bring it beyond that. I am very excited to get to the point where you could not only craft a car, but eventually a spacecraft and take-off into the stars and begin exploring more than just a settlement planet. We have big dreams.
Our second bit of new is that we have the major amount of the foundation done of our code for Violent Sol Worlds. What does that mean? We are out of the POC stage and into the final code development for the game. This is a major milestone for our team and we are excited to put the real systems together over the coming weeks and months as we approach getting greenlit on Steam.
To explain a bit about our process we like to develop a Proof of Concept or POC first and get it so you can actually play as many of the games features as possible with as little thought in to architecture of the code as possible. We use that to learn game-play elements and find the fun in our game ideas. Then we take what we learn and design a solid code base to support the game. That is the stage we are in now.
Here is our latest builds screenshot.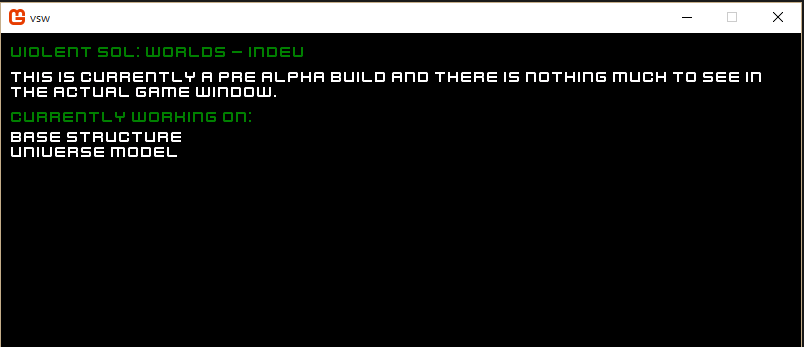 It is not impressive on the outside, but we have all the major parts of the architectural systems that will allow us to update, alter, and crank on this game for years to come. Under the hood is client/world communication, the input queue, the content pipeline, and even the beginning of the final renderer.
As for our Greenlight and our Kickstarter we are doing well. With our Kickstarter we are having troubles getting traffic to it, but our conversion rate is acceptable for us not to be alarmed. As for greenlight. I am very excited here. For the past 8 days our average yes vote percentage has been 70%. To put that in context the current average for the top 50 games in the Steam Greenlight process is 42%. So Thank you for all your votes, and if you have not given us a vote I ask you to head over now and login to your Steam account and give us a yes.