I'm an independent game developer. That term has deteriorated a bit nowadays, so let me be more specific: I'm a self-published, independent game developer. Independent as in "not depending on anyone else" - there is me, who makes games, and you, who play my games. There is no one in between, no executive meddling, no external pressure to release a half-baked product at an arbitrary deadline.
But that also means there is no one to pay my bills. ΔV is entirely funded by its Early Access sales. But some people are wary of buying games in Early Access - and I can't blame them. I saw more than one buggy mess, games never being released - but most importantly, never being truly playable.
When I was convinced, by a fellow game developer, to release as Early Access I wanted to set up a system that would prevent that. I vowed to keep the game playable at all times. If you pick up ΔV, you should immediately have as polished experience as possible. That meant that I used no placeholders - all the art and assets used in any stage of production would be the final ones. It meant I needed to fix any bugs first, before doing anything else.
And most importantly, it meant that changes I make should be gradual, and I should return to a shippable state of the codebase as quickly as possible.
The system works. ΔV gets multiple experimental releases each day, and since bugs are always fixed first, whose "experimental" releases have actually, on average, fewer bugs than the "stable" branch. Not using placeholders slowed down development a bit, but it also means that game looks good all the time. All the assets are made with an honest intention to be release-ready.
But buying a game in Early Access requires you to trust the game is playable. But trust goes both ways, and this is where the demo comes in - I entrust you with a free version of the game to check out.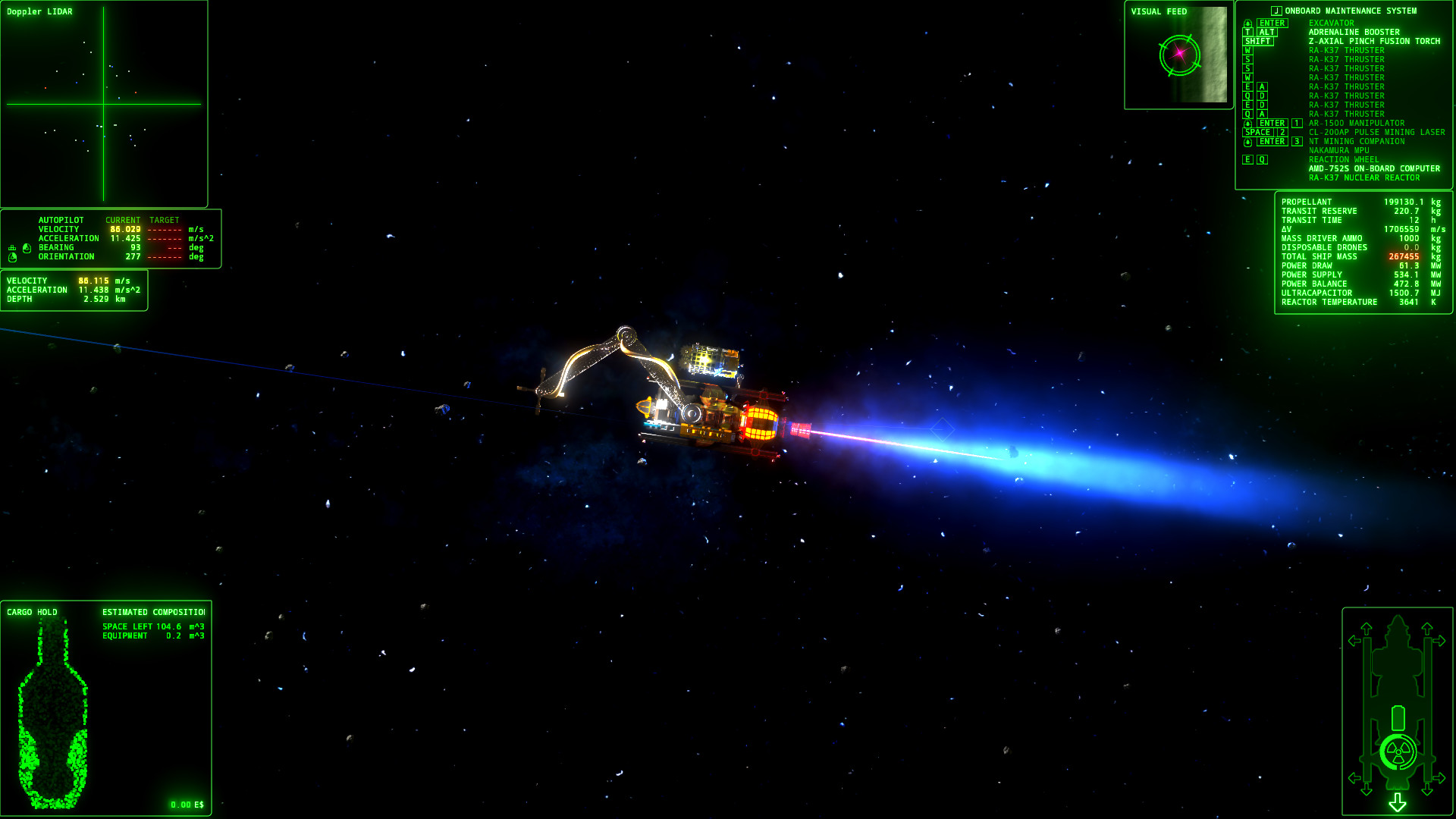 It's a popular opinion in the game development circles that having a free demo hurts game sales. I did not agree with that idea, but since it's not actually possible to compare a game with a demo against the very same game without a demo, it all came down to a difference in opinion.
My very first demo was quite limited. You had access just to the mission stage of the game, no base, no upgrades, no crew - just the flight. And it did, additionally, come with an artificial time limit - a pre-scripted encounter that was designed to end the demo in 10 to 15 minutes. This is the baseline I'm comparing against.
Now, to understand how the next thing happened, you need to know how I make the demo. It's not actually a separate application - there are just some statements in the game code that trigger when a game is built as a demo. The source code of the demo and the full game is literally the same, and that's actually a very important thing - this way the demo will always reflect the final product.
What you see in the demo is what you'll get in the full game. That's an important part of building trust.
So, a few months after release, I accidentally introduced a small bug. It did not change anything for the full game, but it made the scripted demo-ending event not trigger. And, to be completely honest, I didn't notice that for a few months. You could play the one mission you had for as long as you wanted. And why I did not notice it for so long? Because it had absolutely no noticeable impact on sales.
This got me thinking. Perhaps these opinions were wrong? As a self-published, independent developer I can make bold choices and this is what I did: I released the whole game for free, as a demo. Station, missions, upgrades, crew, stories - everything. No time limits, no content locked, just one small catch - you can't load saves. I thought that was a fair thing to do - you can play as long as you want, and if you want to load your save, that means you like the game enough, right?
But I was wrong, and I need to change that now.
See, this is a mistake many game developers make. After you spend several thousand hours making and testing and playing your game, you kind of lose track of what impression it makes on newcomers. I forgot that controlling your spaceship requires some practice and can be difficult when you start. While the difficulty curve and the payoff you get for mastering your craft controls is the part of this game design, I just forgot how it feels at the start. That you might need these saves I disabled to really get into ΔV.
That's why I'm making another bold move. Now you can load saves even in the free demo. Well, as long as less than 30 days passed in the game in that save - but that gives you plenty of time to test out everything and make sure that ΔV is the game you'll love to play.
Because it's either that, or you'll hate it. I am well aware that this is not a game for everybody, but judging from comments and reviews you'll either fall in love, or you'll hate it. And I'd much prefer it if you find that out for free.
But what about games sales? Since the development of ΔV is funded entirely by its Early Access now, won't that make problems?
Well, let us look at the sales data.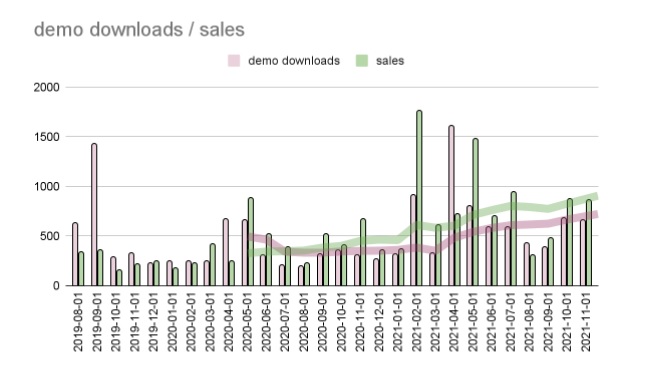 Here you see how many players downloaded the demo, and how many players bought the game. Did you notice that these numbers are almost equal? Sure, someone could have bought the game without playing the free demo, but the vast majority of people that played the demo bought the game.
That's trust well placed.