We have been very happy with the overwhelming amount of positive response to the release of Zombie Crisis. In fact, upon hours on the first day of it's release fans were already hard at work creating user-maps and storming up other mod ideas to enhance the experience!
I am pleased to announce over at the official Zombie Crisis thread at the 3D Realms forums, several fans are making some incredible additions to the game! To name just a few of the projects are user-maps by "Quakis" and "Western Shinobi" (the latter is a 'Dawn of the Dead' inspired shopping mall!), a minigun modification by "Hellbound" and "Cage", and finally one of the most wanted features.. a shotgun mod by "Commando Nukem"!
The team at G&A Productions are ecstatic about the growing dedication fans of the game have, and are looking forward to every new addition!
So without further ado, here is some media of the new modifications and levels!
-> Shopping Mall by Western Shinobi <-
-> Minigun by Hellbound and Cage <-
-> Shotgun by Commando Nukem <-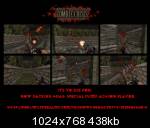 Stay tuned for more information about these awesome additions, and a new version of the game to include them! Thanks again for all the support!
- G&A Productions