Dear animal-freakshow-lovers,
Ⓝ Ⓔ Ⓦ Ⓤ Ⓟ Ⓓ Ⓐ Ⓣ Ⓔ is here! It's time to come back to your favorite reality show and test your builds with a new challenging boss (actually two bosses in one), hunt for new achievements, give new weapon a try, unlock new special items and perks. It's time to yell yet again: THIS IS THE CRACKPET SHOW!
Let's take a look at what's new: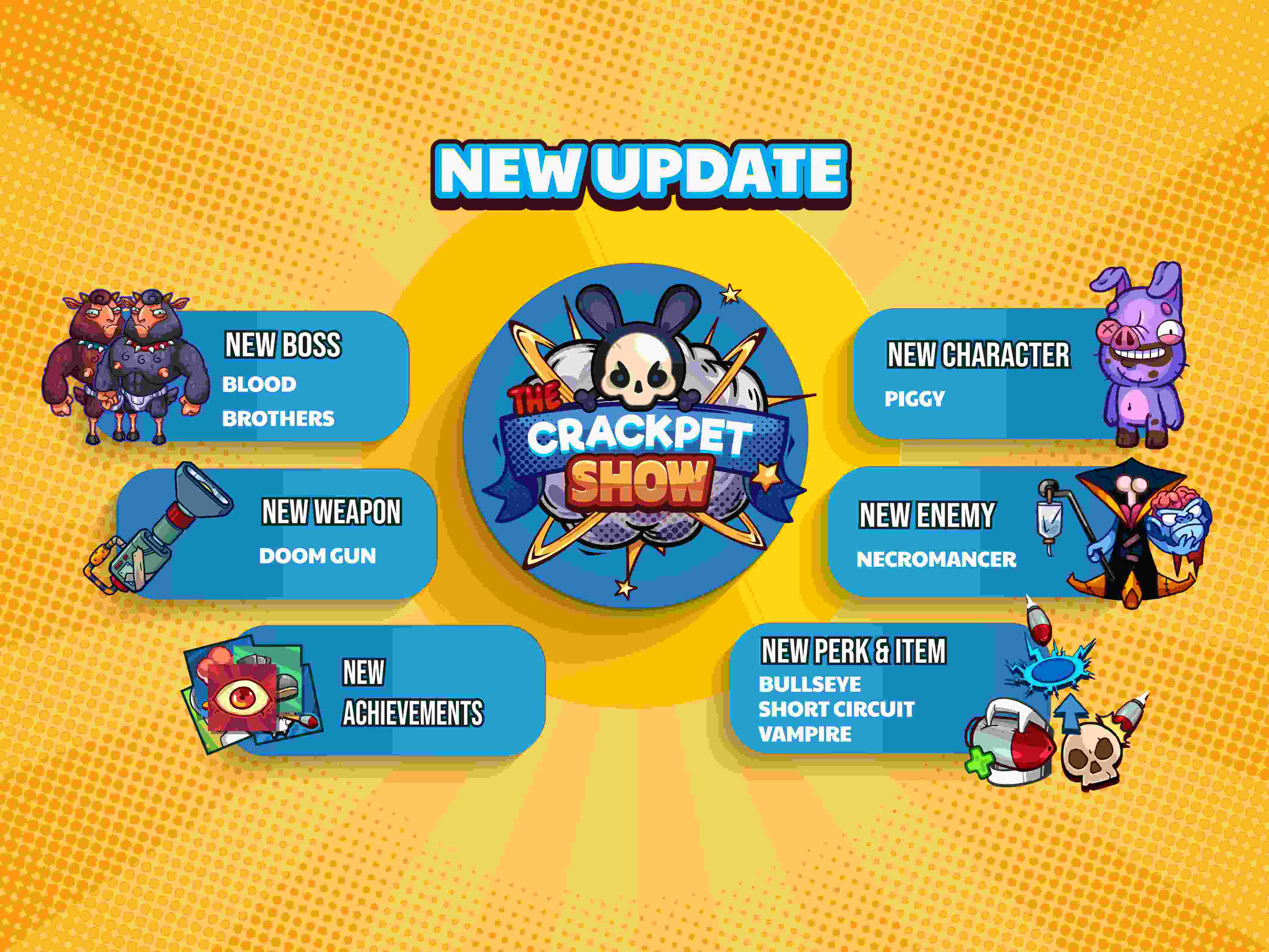 𝕄𝕖𝕖𝕥 𝕥𝕙𝕖 𝕟𝕖𝕨 𝕡𝕒𝕣𝕥𝕚𝕔𝕚𝕡𝕒𝕟𝕥
🐷 Piggy - likes to clean things up, apart from himself. His favorite movie is Joker, and he would love to do some cosplay in the future. Prefers a violet color over pink.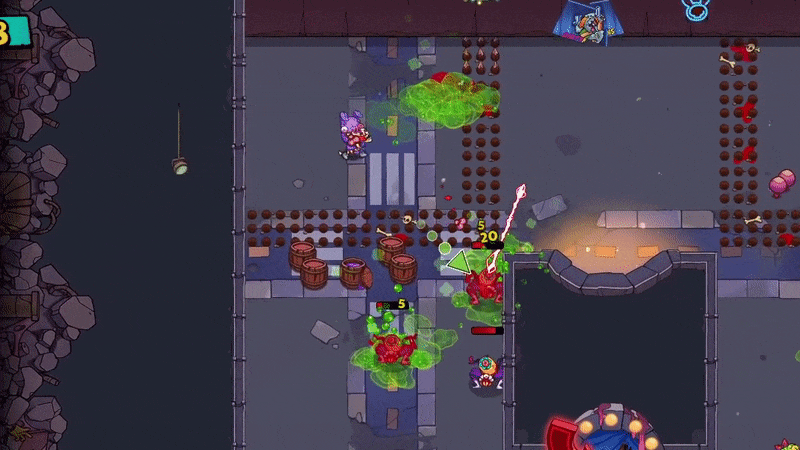 ℕ𝕖𝕨 𝕨𝕖𝕒𝕡𝕠𝕟
😈 Doom Gun - Fires a powerful, explosive, yet slow projectile that shocks enemies around it. May contain traces of copyright infringement.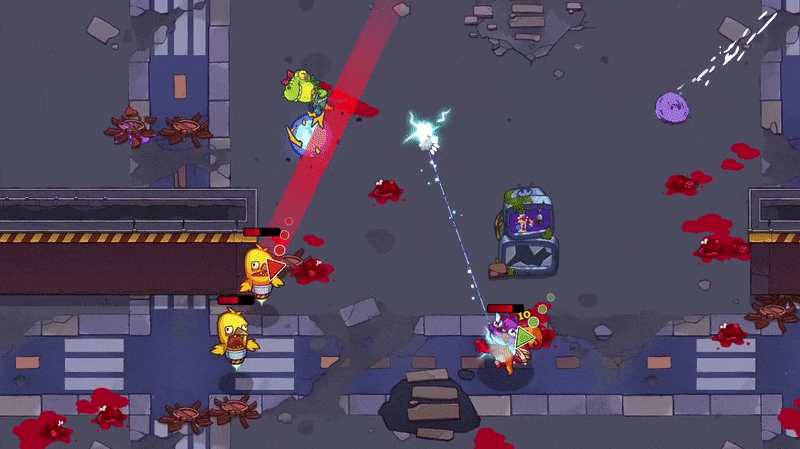 ℕ𝕖𝕨 𝕡𝕖𝕣𝕜𝕤
There is another new perk that touches the critical hit mechanic, plus a new one for those preferring chained attacks:
🎯 Bullseye
Increases critical hit chance. Cow knows by how much.
💥 Short Circuit
Shocks enemies near the target. Really shocking how it works.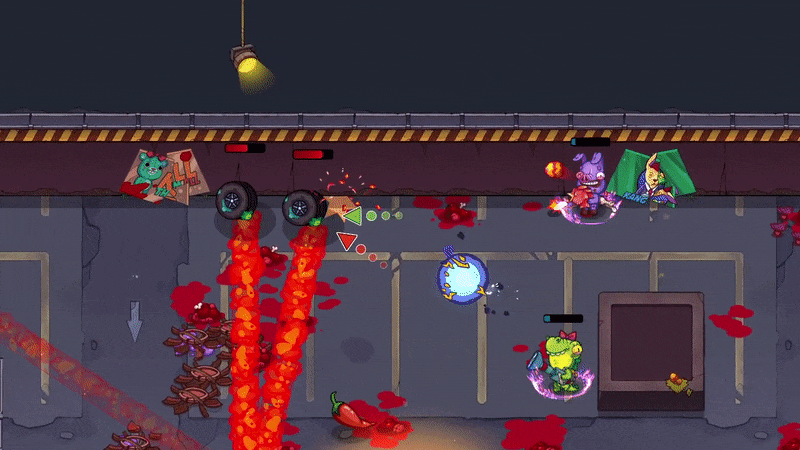 ℕ𝕖𝕨 𝕤𝕡𝕖𝕔𝕚𝕒𝕝 𝕚𝕥𝕖𝕞
🧛 Vampire - Risky, but it can be a lifesaver! It makes the next several enemy bullets heal you.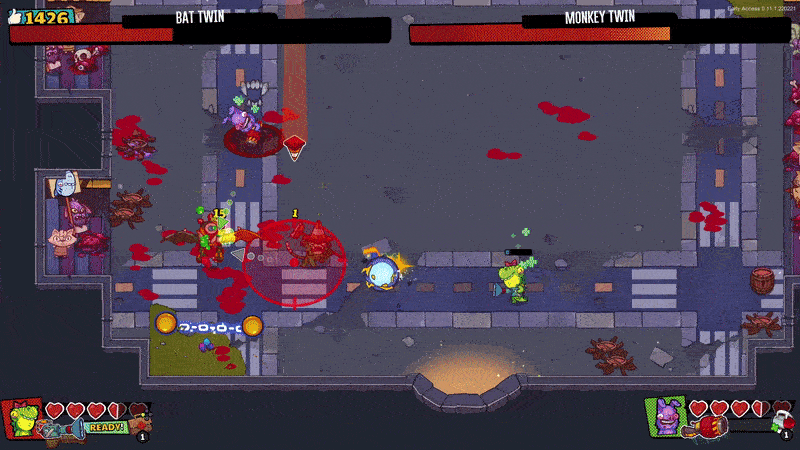 ℕ𝕖𝕨 𝕖𝕟𝕖𝕞𝕪
🧟‍♂️ Necromancer - shoots homing skull projectiles and revives enemy corpses. Elite variants are more deadly plus resurrect enemies with much more health.
ℕ𝕖𝕨 𝕓𝕠𝕤𝕤
🩸 Blood Brothers - they share a strong bond, and ridiculously high attack speed. Even if you kill one of them, the danger doesn't stop!
𝔹𝕒𝕝𝕒𝕟𝕔𝕖 𝕥𝕨𝕖𝕒𝕜𝕤
We've already seen that bosses are now more challenging, but now it's time to make them more fun! Epix Mole is by far the toughest one, so we've reduced his damage area duration. On the other hand, Toilet Monkey, Mad Bad, Junk Queen, Ass'in'Glass, Blind Hugger, and Wack-a-Ctopus all now have more deadly attacks.
You've also told us on Discord that Turbo Snails are a little bit annoying, so we reduced the invulnerability timer for them. Please, keep sharing your feedback, so we can continue to improve the show!
Check out the full changelog if you don't want to miss anything:
0.11 - changelog
New content:
Episode 16 with Blood Brothers boss
New enemy - Necromancer - appears in episodes 10,12,13 and 16
New weapon - Doom Gun
New perk - Bullseye
New perk - Short Circuit
New special item - Vampire
New character - Piggy
New Steam Achievements added

Balance changes:
Squirrels moved from episodes 12 and 13 to 16
Common Chaingun Crabs moved from episode 13 to 16
Common Turkeys moved from episode 10 to 13
Epix Mole damage area duration reduced
Toilet Monkey boss is now boosted (drop attacks leave damage area, and other attacks parameters slightly tunned)
Mad Bat boss has intensified attacks
Junk Queen boss has intensified attacks
Ass'in'Glass boss has intensified attacks
Blind Hugger boss shoots more frequently
Wack-a-Ctopus tentacles attacks frequency increased
All turrets are now not targetable by enemies
Dog Healers heal more effectively but less frequently, also their health is slightly increased
Turret special item damage increased
Worms burrow timer reduced
Turbo Snails invulnerability timer reduced
Fixes:
Turbo Snail fire trail now deals damage instantly without the delay
Fixed Electric Laser with Mutation Potion occasional issues
Improved animation transition for Giant Turtle boss
Fix for bonus trophies not being awarded from Trophies Collector perk
Fix for creatures rushing outside of stage bounds
Main menu font size unified
Turbo Snail dash anticipation mark shows a correct prediction now
Dog Healers healing sound is now different than player's healing
Fix for occasional targeting issues
Fixed a bug, in which jumping enemies were obstructed by walls when jumping directly near them
Fix for occasional key code showing up on an episode fail screen
Fixed some minor issues from error logs
Fixed some minor graphical issues