Rather, we portray it as being filled with beautiful starscapes, planets, and astronomical phenomena with unique features for each starsystem. The in-game visual experience is amazing. Each star system has it's own backdrop, giving each one an individual flair. We invite you to take a look at some of our astral vistas...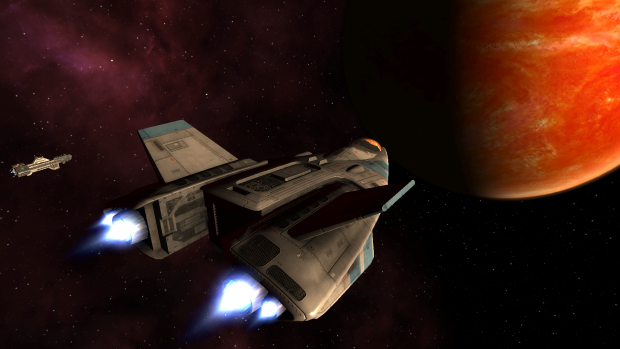 I look back at how far the backgrounds have come and I'm just amazed. From the early production days, when the team was still learning how to use the technology, seeing the early iterations (all blurry and green-ish), watching our backgrounds evolve, some getting cut, others making the grade; the entire process is thoroughly mind boggling.
I have to say, though it will undoubtedly come off as a little biased, Wing Commander Saga is one of the most fun games I've played in a very long time. Wing Commander Saga is polished, beautiful and fun. The gameplay offers this tight experience that I still enjoy playing - and trust me, I've played this game for the past ten years.
We would also like to extend our thanks to all of you who voted for our project thus far! We appreciate this recognition for all of the hard work that we are doing to bring you Wing Commander Saga, and we promise to keep burning the midnight oil to bring you additional content as soon as possible.
Now is a great time to download the game. And remember, it is available free of charge! At any rate, we hope all of you enjoy Wing Commander Saga: The Darkest Dawn as much as we do. After all, it is a wild ride. Also, don't forget to visit our Facebook fan page, so all you folks with FB accounts, be sure to like us. Lastly, keep an eye out here for some very exciting announcements coming soon.