New "Mermaids From Space" coin pusher and throwing animations
Rapid fire coin pusher, Carnival hand animations, Multi swipes and Video Optimizations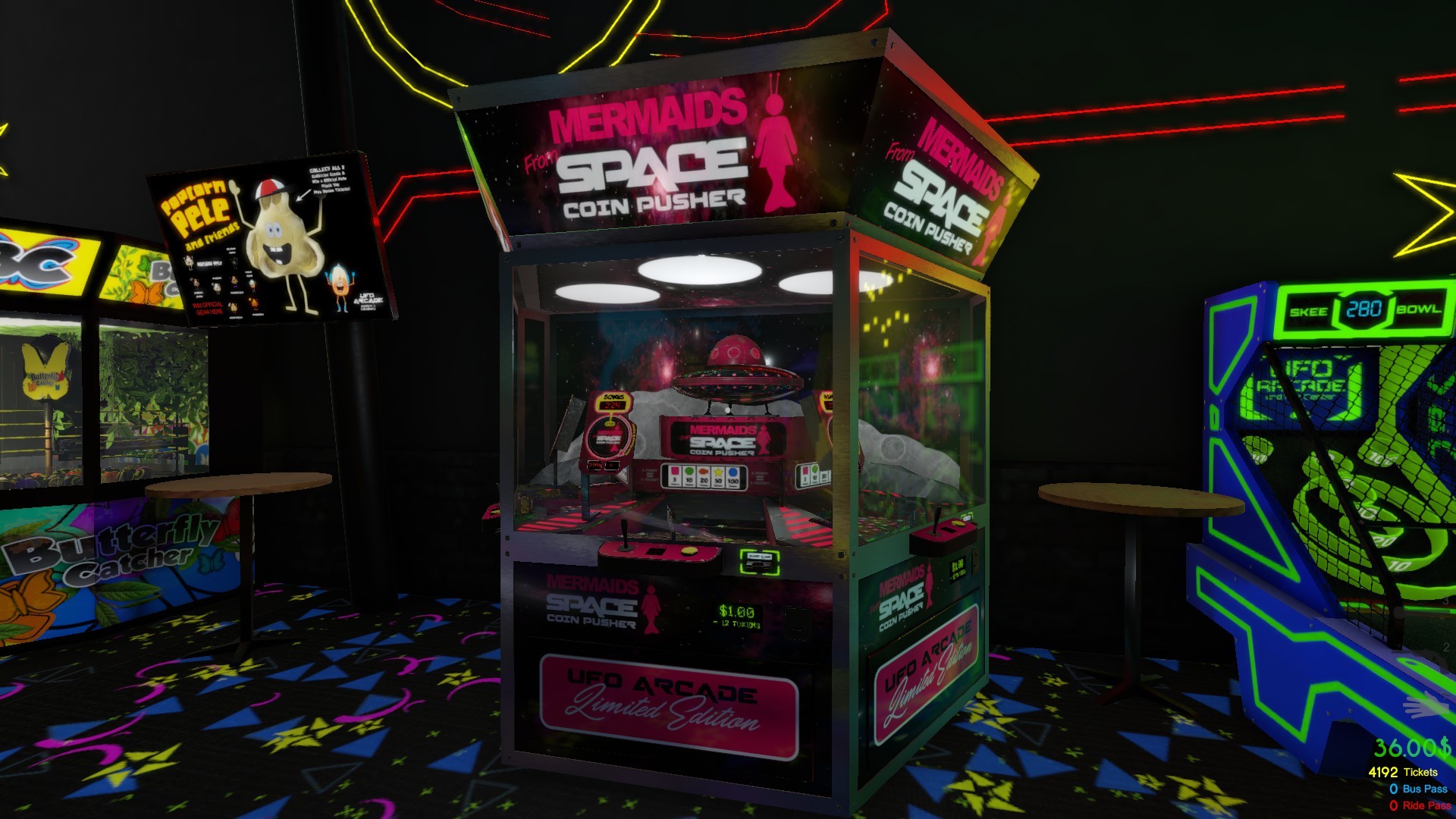 Update #014
Version: V0.983

Hey fellow arcaders! This update brings one new coin pusher, video optimizations, and a bunch of new hand animations for the carnival rides and all throwing games.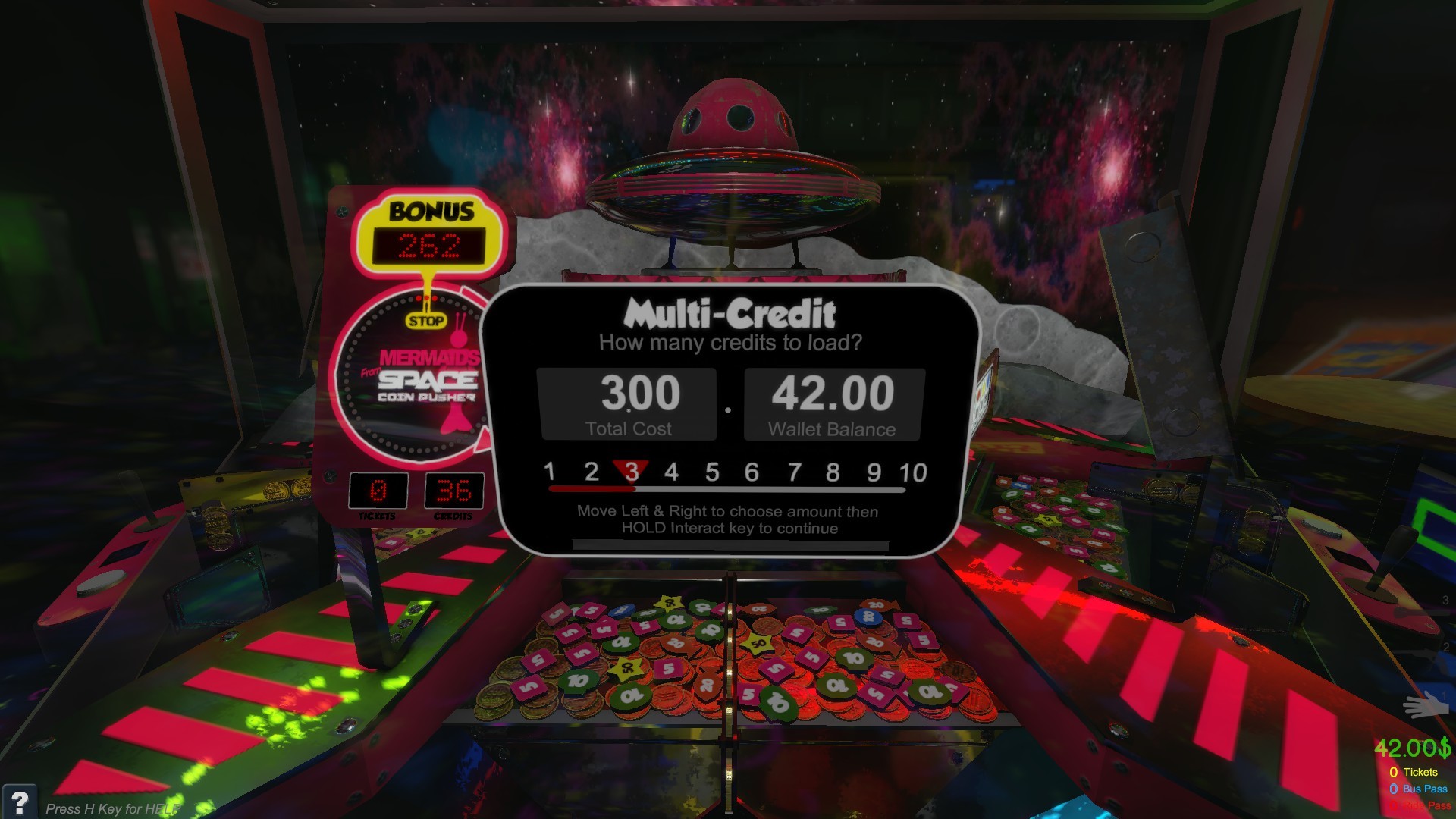 - Coin Pushers: Added the ability to play multiple credits on all of the coin pushers. Now when you insert your card you can move left or right with the A and D Keys (or Left Joystick) to add more "swipes" (Not including the carnival yet). If you chose more swipes than you can afford it will just not let you purchase them and it will spit out your players card automatically.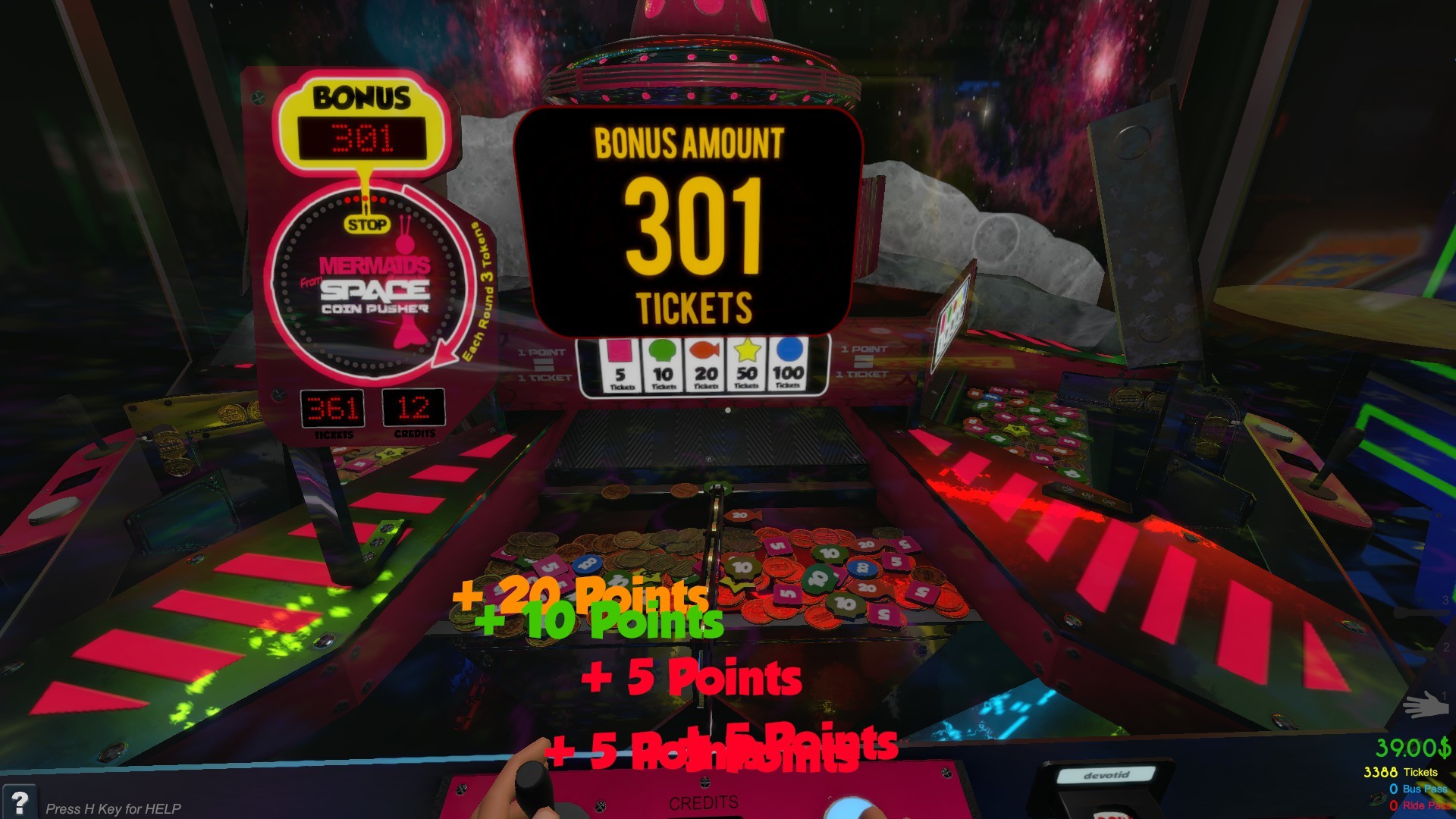 - UFO Arcade: New Mermaids from Space Coin Pusher. The newest coin pusher in The Coin Game is a more modern style of coin pusher. It features 5 different chips with 5 different values and a bonus LED wheel. The object is to get the chips over the edge and for every point that you get the wheel will move the same amount of spots. Every full turn of the "wheel" is 60 points and will grant you 3 free tokens. If you land the "wheel" on the stop (12 o'clock position) you win the bonus amount. The machine is still being "tweaked" and the winning amounts may change in the future.

- Player: Added hand animations to all of the throwing games and all carnival games as well. Now when you are playing any game that involves throwing the player hands will be visible on the screen.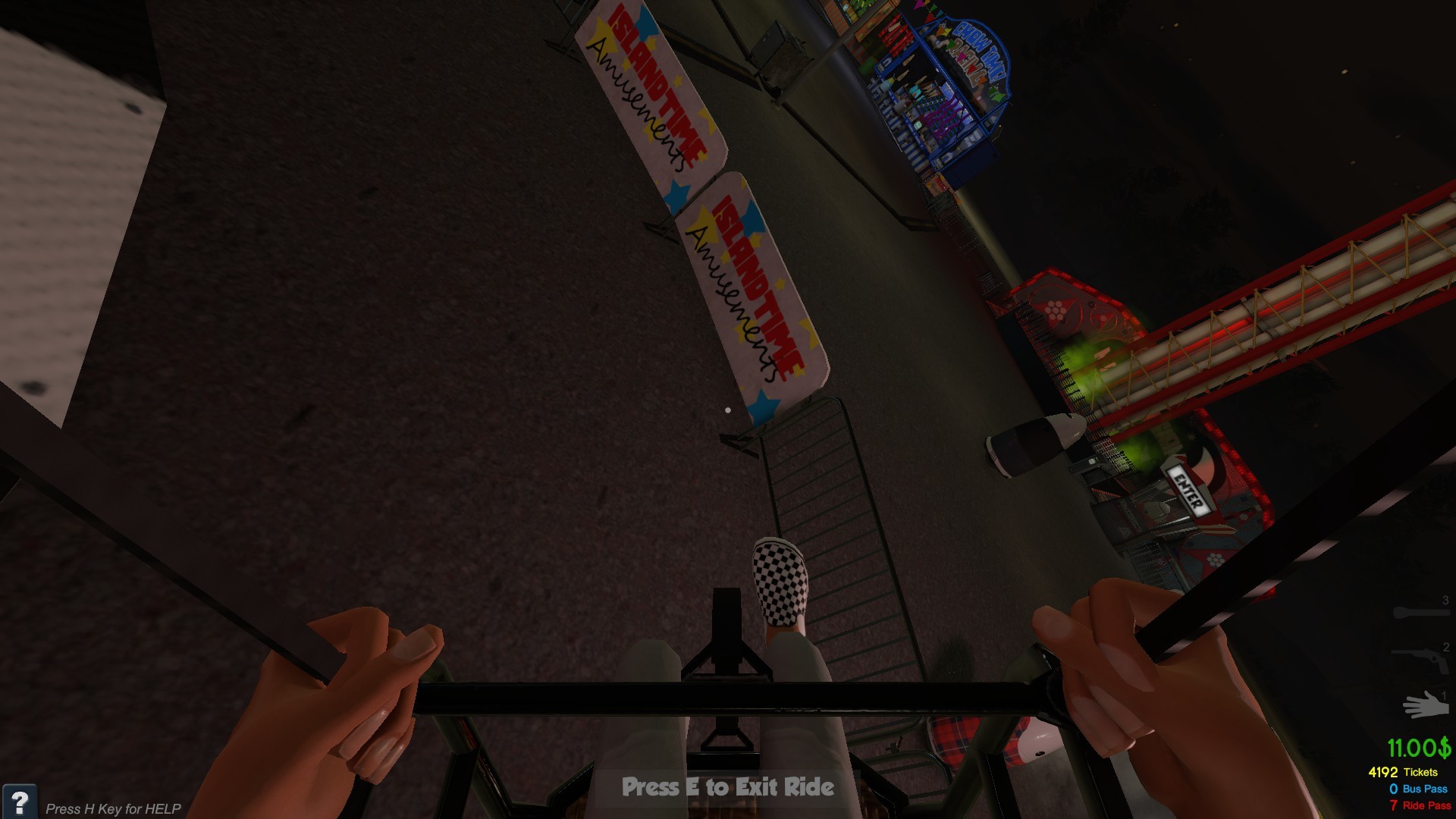 Carnival: Added hand animations on all of the Carnival rides so you don't look like you are not having fun. No one wants to sit next to the weirdo that's going to puke.
- Player: Fixed the mini map player icon getting messed up on some of the Carnival Rides.
- All Machines: Made player card insert/remove triggers bigger on machines to help in exiting out of some machines. Mainly the prize counters.
- All Machines: Added Q Exit Keys to more machines if you change your mind and don't want to play anymore. You will lose your credits. I mean... what better things is there to be doing other than blowing virtual coin on worthless prizes?
- System: Removed a bunch of stuff from the initial loading world to aide in loading time and also help people with smaller GPU's loading the huge world. This should help to not get a time out crash from too little texture memory.
- Video Settings: Set the Super Vsync back to where it was. oops. It actually does something now. I was testing something and totally forgot to turn off the testing stuff. Its working now. Now when you change the video settings the changes will be instant. Before it would have to restart the game. I am still finishing all the optimization stuff and this will all be re-done later.
- Input: Added the ability to map multiple keys/buttons to the same action. the input mapper will ask you if you want to map multiple keys(Elements) to one action.
- UFO Arcade: Turned the bonus down a little bit on the Wormhole Game. It got a little out of hand.
- LazerTag: Added an EXIT button to the Laser Tag Arena for the folks who like to explore and run into the laser tag area after a game. I guess some folks got caught and couldn't get out.

Well that's about it on this one. I want to take this time again to say thank you for all the wonderful ideas, support, comments and help testing and tweaking The Coin Game.

Have a Merry Christmas from devotid.

Kevin