We've been talking a lot about the characters for NAIRI, and now it's time to talk about a very special character in the game: Shirin! That's right, the city where NAIRI takes place is certainly a character of its own, thanks to its architecture, colorful vistas, and varied locales!
But before we talk about Shirin, we wanted to announce something very special:
NAIRI is funded on Kickstarter!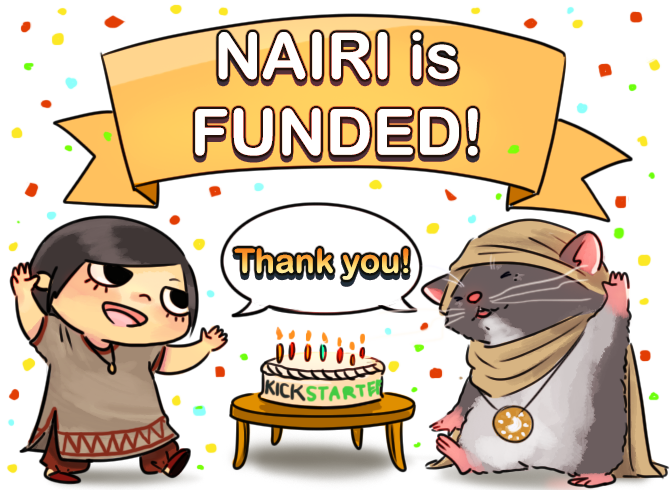 And now, let's get started with today's update by taking a look at one of the earliest concept pieces of the exotic city of Shirin:
These are the first conceptual pieces where we set out to capture the mood of Shirin as an interesting and isolated location, home to a strange and ominous tower. After reviewing things, You did another rough pass and added another important feature: water!
A strangely limitless aquifer – resulting in a bountiful oasis – allows Shirin to exist in this desert. Water is sacred in Shirin. It's of the utmost importance for its inhabitants, since it's used for hygiene, to relax, and to survive in the middle of the expansive wasteland! The entire city depends on the oasis, and, over time, a religion was even formed to worship it… but that's a story for another update!
The above sketches show our early ideas on how water would work in Shirin. Over time, many sketches detailing the infrastructure were created, not just for inspiration, but to keep the city and its general layout consistent, slowly morphing into what you will get to explore in the final release of NAIRI.
Sketches like the one above were used to create a genuine 3D model of the city. This way, a camera could be moved around it, thus allowing the artist to use these angles to draw accurate conceptual art.
This is the 3D model of Shirin viewed from the top. This gives you an idea of the size and scope of Shirin… but perhaps we should take a closer look at a different angle?
Going from this, it was time for You to go in and bring the city to life!
As you can see, Shirin is indeed one of the most complex 'characters' in NAIRI! Our goal is that the extra work on the city's models and layout will help to make the city a bit more believable and real for you as you play.
That's it for today!
Hope you had fun. :)
Curious about stretchgoals and the like? Check out our campaign (NAIRI) on Kickstarter!