There is a new build up on our live servers called 'Bradley'. We have started naming our builds so it's easier for both you and us to communicate about the various builds throughout the development phase.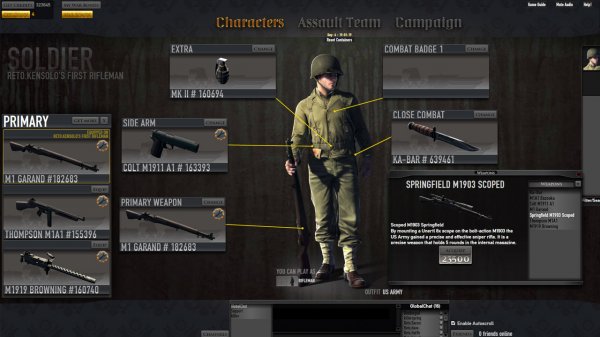 The new character screen in Bradley
Some of the new things includes an improved and easier to understand weapon modification system and a slightly modified character system, which means that we had to reset the servers and your player stats, because the old system and the new one aren't compatible.
As promised all gold bought with 'real money' are refunded as gold, and all War Bonds are of course intact. Should you find that this is not the case, then please contact support.
Other selected changes are:
You can't run and shoot with the MG's
Overall weapons sway and conefire has been tweaked
A new capture layout for the 'Town' map
New capture logic, incl. larger capture areas
7 men in a Jeep and 2 man on a bike!
Limited amount of Assault Teams per. Access Point
New prices and update per-battle earnings
Fix for the Disk Capture bug – no 'too long' filenames anymore
A more detailed changelog for the Bradley build can be found here!