Thank you for taking your time to look at our first game Stellar Conflict. We have been working on Stellar Conflict since early 2012 and we are now pleased to be able to show you what we have been working on. 2D Tap Studios is comprised of 4 Uni students and we have been working on this game in our spare time and we have made a lot of progress in the eight months that Stellar Conflict has been in development.
My name is Matthew Klemm and I am the Lead Programmer for Stellar Conflict and I will be posting on IndieDB regularly to show you new features that we are implementing. Here is what we currently have working in Stellar Conflict.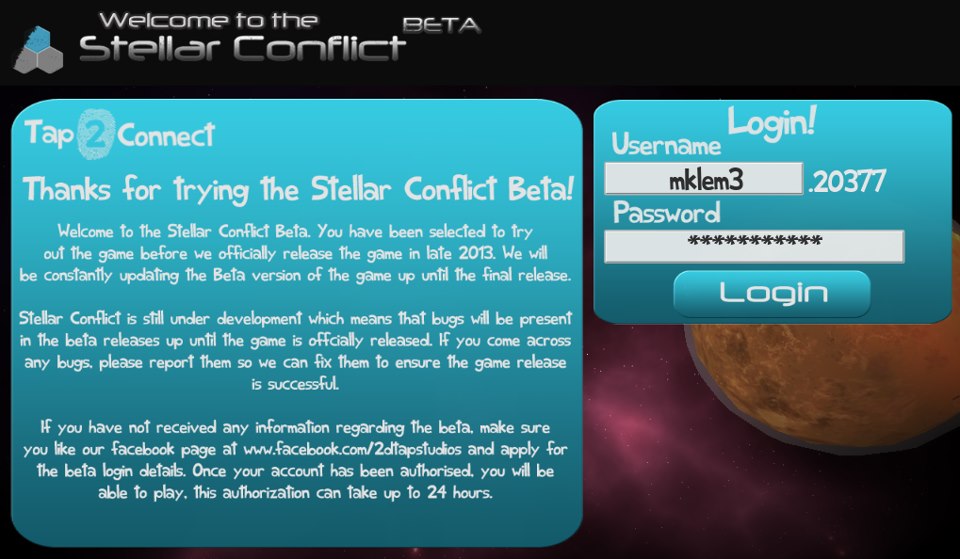 When you first start Stellar Conflict, you will have to create a new account that you will use to log into our Social Networking Aspect of the game, Tap 2 Connect. Tap 2 Connect is an overlay that is accessible anywhere in the game. This overlay displays your online friends, Private Messages and Statistics that can be compared to other users. You are also able to see news regarding 2D Tap Studios.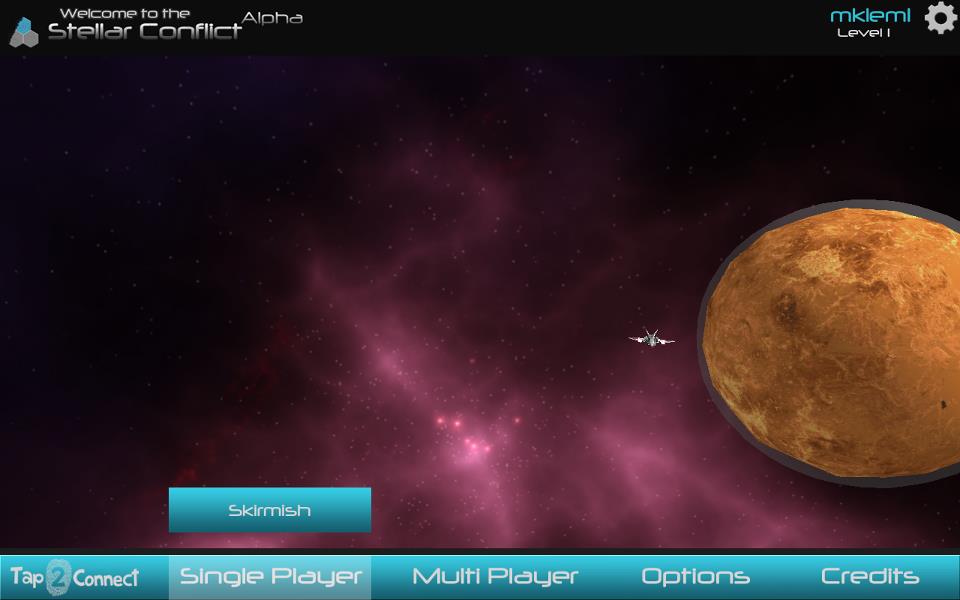 This is our Main Menu for Stellar Conflict, from here you are able to access the Tap 2 Connect Overlay and play a Single Player Skirmish Map, or you can start a new Campaign or Continue a Previous Save. You can also join or create a MultiPlayer game. We are working on creating a 3 hour campaign for Stellar Conflict that will contain small 10-15 minute campaign missions that will allow for quick pick up and play gameplay.
The Multiplayer aspect of the game will be very competitive and will have a lot of replay-ability. With the inclusion of Tap 2 Connect, you will easily be able to challenge your friends and see the stats of your friends wins and losses. There will be two game modes included in the Initial Release of Stellar Conflict. The first game mode is the classic Skirmish Mode, which will allow you to battle your friends or AI opponents in over 12 unique Skirmish Maps. We will release new maps regularly in free Map Packs. The maps will allow up to 4 players at once, depending on the size of the map.
The second Game mode that will be included, is a survival Game Mode. You are able to team up with either another player or an AI to defend a Point of Interest located on the map. You must defend this point of interest from waves and waves of enemies with the waves getting harder and harder. Resources are shared between both players so don't waste your precious minerals!. You are able to capture other planets to gather more resources as well as mining asteroids.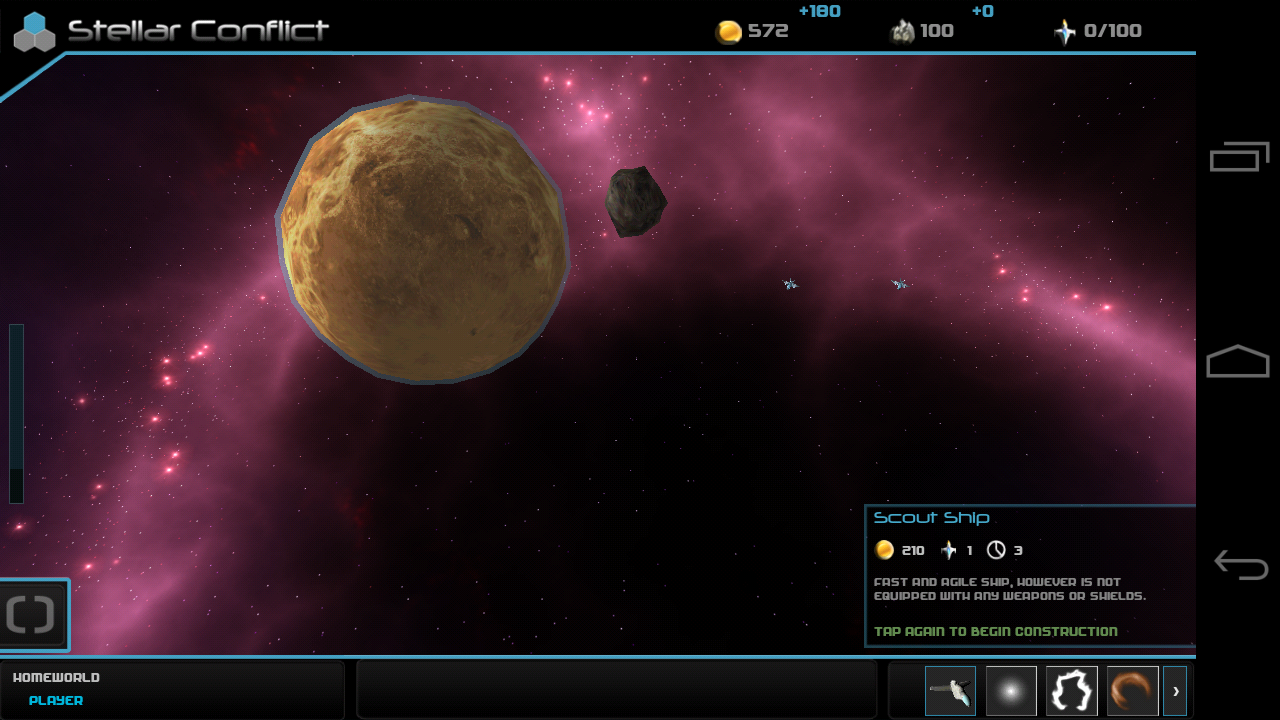 Stellar Conflict contains 3 different resources that you must manage throughout the game.
Credits - Credits are obtained by controlling various planets around the map. Your Home Planet will give you 180 credits every minute when you first start the game. For each planet you capture after this will give you an extra 30 credits per minute.
Minerals - Minerals are obtained by mining Asteroids located around each map and can be mined by building a Mining Ship from your Home Planet. Different sized asteroids contain different amounts of minerals available. Once you have fully mined an asteroid, it will become dead and you will need to find another asteroid to mine.
Population - Population needs to be manged as you play the game as you will need a variety of different units to win the match against your opponent. You will start the game with your max population so you will not need to build anything to increase it.
This is the progress we have currently made with Stellar Conflict, We have a lot more to show you, Including Combat, AI and some new units that we are working on. We are also currently Updating the UI for our Tap 2 Connect Overlay which will be shown in our next update.
The next Update will be in Two Weeks, I am looking forwarded to revealing more information about Stellar Conflict. I will be updating Facebook with smaller updates and images. Like us on Facebook Here Facebook.com