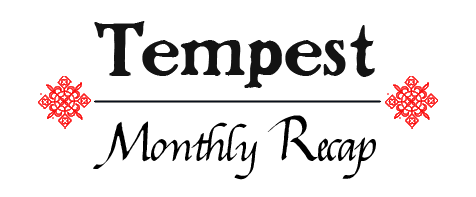 Hello and welcome to our eighth monthly update! This month we've made progress in lots of areas. Most importantly we have our first multiplayer prototype working.

Multiplayer Tests
Over the course of the month we have been testing multiplayer functionality. We're working out lots of bugs and learning a whole bunch as we go also - but most importantly we're working out that even at these early stages - sailing with friends is fun! See the video for more.

Wearable Hats
A simple but fun addition. Player hats can be picked up and worn by looking at them in the world and interacting with them. I have already created 30 hats using various colour combinations. Safe to say there will be a large selection to choose from!

Shops

The design for shops in Tempest will be in-keeping with our design goal of replayability and unpredictability.
For each island theme, there will be a shop template, that will have a chance of being any shop from a selection each time the world is generated; such as a hat shop, or a bladesmith, or a book shop, and so on.
The gif below shows a set of shops from the English architecture tileset being randomised each time they're re-spawned. The shop picks its shop type, wall colour, and whether or not it will have an optional upstairs space.
Shop inventory will also be randomised. This way we can create demand for some items that could be made rarer as a result of the randomised availability.
Further Works in Progress
Tom has created a basic inventory system for us. Allowing players to pick up and store things in a personal grided inventory. In addition, other team members are tinkering with an ocean system that should allow us to have our ships follow waves of differing sizes and intensity. This should allow us to naturally progress in to a weather system. We hope to have more on this soon!
We are always looking for more help!
If you are a concept artist, programmer, or voice actor, please get in touch with us either via PM or comment here on IndieDb. We would welcome the support!
Let us know what you think!
If you like the sound of what we're trying to achieve here, or if you'd like to help us out, leave a comment or send us a PM. We welcome critique and feedback. That's all for now. Until next time!