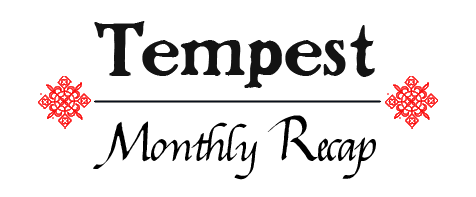 Hello and welcome to the 10th Monthly update for Tempest. 10 Months! There's lots to report on for this month in particular though. We made lots of progress with our build, and took Tempest to the GameCity festival in Nottingham.

Updates to the Game
Over the course of October, we have managed to better realise our sail system in-game. It's still not quite how I want it, but it is much closer. Sails now require multiple players to set. Players must step out on to the ship's yards and interact at specific points in unison in order to release the sail. Once this is done they must tie down the sail on the deck of the ship. We plan to integrate a sail damage system in order to promote more co-ordination between players, which we have already seen with this current sail system.
We have also added some basic treasure items in to the game. They currently function as collectibles, but players will soon be able to sell them to shop NPCs.
Players can also use telescopes and handheld lanterns, two extremely useful items when navigating the ocean.

New Screenshots
Lots of new pictures to see in our gallery! Showcasing some of our early islands, treasure, and a reworked day/night system.
Gamecity was a lot of fun for us. We took the build up on two desktop PCs and a laptop, allowing three players to play at a time. We were able to get lots of bug reports and feedback, and generally have fun watching players run around shouting orders at eachother! You can see a short video recorded by Zack capturing some players here.

Name Change
And now an important announcement! Owing in part to Atari's 1981 arcade Tempest, but also to another game recently brought to our attention also called Tempest. We are considering changing our name. It'd be good to get some feedback on this to find out whether this would be well received, and if so - what to? We are currently considering our options. But if you have an idea or suggestion for a potential name, let us know!
We are always looking for more help!

If you are a concept artist, programmer, or voice actor, please get in touch with us either via PM or comment here on IndieDb. We would welcome the support!
Let us know what you think!

If you like the sound of what we're trying to achieve here, or if you'd like to help us out, leave a comment or send us a PM. We welcome critique and feedback. That's all for now. Until next time!