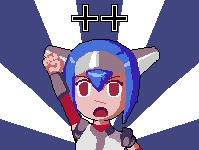 Finally! The TechDemo++ is finished and ready to test and play!
The last week we worked very hard on the game, fixed bugs added new features we wanted to see in the TechDemo++ and we did it!
First, we want thank all our supporters and players for helping us making the game as great as it is and we hope you will continue to help us make the game better!
But enough of the sweet talk, here is the link to the new TechDemo++!
---
So what changed? Have a quick look at this Changelog:
added new simple bot enemy
new health bar displayed below enemies
changed graphics of counter-shooting turret bot
made camera move more smoothly (does not move rapidly when aiming in a certain radius)
gameplay changes:

fluid player movements when switching to aim mode
The aiming line now goes precisely through the crosshair
matching reaction on ball hits: player and enemies only blink when actually damaged

changed dodging:

faster dodge with less penalty on aiming precision
you can dodge 3 times in a row. After this dodging gets slower
you can dodge through enemies
you can now dash using space too

added gamepad support for Chrome! Play CrossCode with your Xbox-Controller!
added AR-Display

displays a small message box over map content
used in combat to inform about enemy behavior and state

added MUSIC & SOUND

the volume can be changed via the options menu on the left site

updated webpage to support multi language (currently German and English)
new puzzle object: Multi Hit Switch (needs to be hit multiple times in quick succession)
new method to pre-render graphics (drastically reducing the draw-calls and thus increasing the performance)
new control mechanics to control the game via keyboard. Use the movement key to navigate through menus (or the D-Pad on your gamepad)
new rooms (one to show the multi hit switch and one after the credits ;))
made the ceiling of maps darker to separate them better
new graphics for buttons when hovering over them (or selecting them)
implemented GameAddon architecture to structure our game
GUI improvements
As you can see there are indeed a lot of changes! We had a lot of great feedback and implemented or fixed bugs which where mentioned by the community!
So now have fun playing our new Demo!