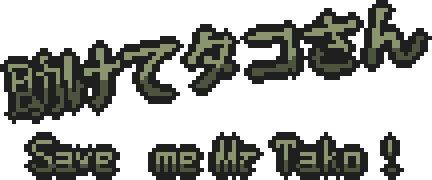 This year marks the 25th anniversary of the Game Boy. With that in mind, a
few months ago I launched myself into the creation of this game,
Tasukete Tako-San: Save me Mr Tako.
Today is the release day of the first game demo. September 28th 1990 was the
date of the Game Boy release in Europe, that's why I choose this
symbolic date.
The demo includes the Runner mode of the game. The full Game will have this Runner mode, plus a Story and a Multiplayer mode.
Here is the game trailer:

- Windows:
Indiedb.com

- Mac: Indiedb.com


- Linux: Indiedb.com


I hope you enjoy it! Don't forget to like the facebook page or to follow me on twitter to have direct news about the game.