Hi everyone! These last two weeks, we've got some things to show you:
HORNETS!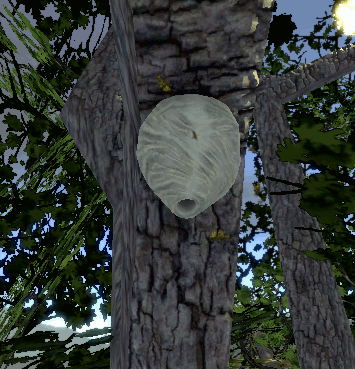 (That's the bee's knees.)
There are now hornets scattered throughout Terradim's trees. They can be quite nasty if their nest is disturbed. ;)
---
HAIR REEL

There's now new hair! Check out those styles. We've worked on new hair, along with some new facial hair for men.
Currently, men will only have facial hair as an option. If by popular demand, players would like to add facial hair to their female characters, we will add that as a feature. :D
Here's the poll we have up for the feature (place your vote now!): Should females in The Arcane Relics™ have an option of facial hair?
---
SWIMMING IMPROVEMENTS
You no longer swim as soon as your toes touch the water. This allows you to walk into the water a ways, wading, before you begin swimming.
While swimming, your position is clamped to the surface of the water. Meaning, you can no longer magically swim out of the water until exiting, where gravity would pull you back in. This would result in lots of splashing…
When walking in shallow water, you will have different splashing footsteps.
---
WATER CAVE ADDITIONS
Some new secret doors, now, not so secret…?
---
UI PROGRESS
The Status menu has continued its transformation. Simple text panels have been separated (e.g. General info, attributes, & records). They have been re-ordered along with lots of small tweaks, font sizes, colors, and such.
The limb status view now has 2 separate toggle modes: Health & Armor. The Health selection will display your limb's health, and the Armor selection will display your resistances for each limb based upon the armor worn.
The sash has been remade, from that blobby old placeholder mesh.
New Short Spear weapon, that is one-handed. Additionally, the Boar Spear is now two-handed!
Simple/single bed was textured.
---
BUG FIXES & MISC IMPROVEMENTS
Returning to the title screen, quitting in-game, while underwater will now reset the music's pitch.
Fixed issue where only equipped weapon's damage values would display in the inventory item info panel.
Dialog text printing has been improved: now more consistent with varied framerates and speeds up while the 'Interact' or 'Attack' button is held.
Unity Tip: As you may have seen in our previous Arena Video, we have had some interesting bugs with ragdolls. For a solution, we stumbled across this: docs.unity3d.com/Manual/RagdollS…

We found that setting enable preprocessing to false and enable projection to true on all the ragdolls' character joints, made them much more stable!

New musical accent for leveling up.

Fixed bug where dying in water and being revived out of water, would allow you to swim about the air.

You now ragdoll when you are forcefully ejected from a mount (e.g. if the mount ragdolls or rolls).

Stamina consumption from rolling is now based on your burden/carrying weight.

Your heavy breathing from depleted Stamina, no longer happens underwater.

Crouching increases your max endurable force, before falling over/ragdolling.

Max endurable force is decreased when airborne.
---
We are approaching the end of the next version, for closed testing, although we are a little behind schedule. Afterwards, our next milestone will be the first public demo of The Arcane Relics™! It's still a ways away, but we're getting there.
We have also been working on our roadmap to determine what features and bugs we need to address before releasing a public demo. Once we flesh out this list more, we will finally put it up on our site. :)
Stay tuned!