Hi everyone,
in the past few days I made this trailer for my game to showcase the gameplay (The background music is "Jack Frost Incorporated" by Teknoaxe - CC BY 4.0 - Youtu.be
Since my first post on indideb a few things have changed, the game has been updated a few times and since I've noticed that just a week before my first public release, another game was sharing the name "Tank Rampage", to avoid confusion I've changed my game name to "Tank Rider".
Please note that this game it's still in open beta and it will be in that stage at least until the 1th of March.
---
Here the full list of changes since the last post:
Open Beta 0.84
Fixed bug where bullets would sometimes clip through the concrete wall without breaking it
Fixed bug where the daily reward notification was not displayed on the locked screen on some devices
Added a variant of the concrete wall (darker, with different sound, same damage).
Added new zone
Lowered price of the first upgrade of the firerate from 1000$ to 700$
Open Beta 0.83
Added help text that is shown at the beginning of each run
Now the soldier who is crushed by yours tank's landing earns you 25$
Now obstacles increase in danger in relation to the distance traveled: Initially no obstacles, then only the passive ones, then some soldiers are added, then the number of soldiers increases and finally the tanks are added.
Open Beta 0.82b
Renamed game to "Tank Rider"
Fixed bug where kills' money (the yellow "+2$ and "+5$") were not visually shown if the enemy was run over.
Fixed bug where in some menus buttons were overlapping each other if the device's screen had a 16/10 aspect ratio.
---
About Tank Rider:
Tank Rider is a 2D endless shoot 'em up game with a nostalgic, pixelated, retro look.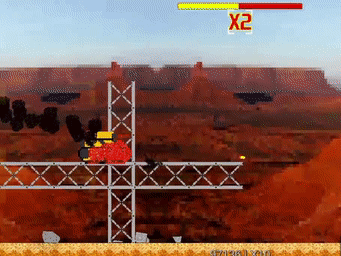 ✪Choose between a variety of historical (an not...) tanks, each one with different stats!
✪Dive into an endless desert full of hazards, dangerous enemies, powerups and explosions!
✪Gain money by killing enemies and spend them to upgrade your stats, make powerup last longer and buy new powerful tanks!
✪Compete with your friends and the whole world for the highest record, who will top the leaderboard?

⚠ ABOUT THE EARLY ACCESS AND FUTURE PORTING:
-Tank Rider (Ex "Tank Rampage") is close to it's final release. Anyone can download and play it, but there may still be some bugs left, which is why the game will be in early access for at least the following 2 weeks of release. If you encounter any bugs or want to give feedback click on the "REPORT BUG" button in the main menu (or write an email to support@p36software.net.
Right now it's only available on Android.
A port of the game to webgl (so It can be played also from any computer) is planned after the public beta it's over.
iOS release it's not planned has I don't have any Apple device right now, so it's not possible for me to publish or even test an iOS version. Maybe in the future if the Android/webgl version do (really) well.
The android version of this game contains ads powerd by Unity Ads:
Unity.com
All ads are OPTIONAL. No ads will automatically play at anytime while you're playng.
---

---
WARNING about Tank Rider's apk uploaded on third party webiste
Yesterday while I was reading some metric on my game both on the google play console and unity dashboard I noticed that there were a big discrepancy between the number of downloads on google play and the number players of my game. After a quick search I've found that my game has been uploaded, not from me, without my permission and without even asking, on quite a few apk website. Some websites look kinda legit, other ones were really sketchy. My favourite one was the (almost) 1:1 replica of the google play store but with early 2000 html and comic sans, I had a good laugh with that one (sadly I can't find it anymore, so I maybe I've just dreamed about that holy website). Since my game is free I don't really care where it gets uploaded/shared, as long has a this few condictions are met:
The game must be distributed for free.
The game it's not altered/modded in any way.
The game it's not bundled with any unwanted software.
It's made clear to the user that I'm the original author of the game (with also a link to the playstore).
It's made clear to the user that I'm not associated in any way with who it's reuploading the apk.
If all the condition are met, I'm fine with the reuploads, as I understand that in some country google play is censored.
Just keep in mind that if you download my game from anywhere else that it's not my google play store page linked above,I don't have uploded it, I don't have any control over it and I cannot guarantee it will be safe or even work.
In the future I may start to upload the apk here on indiedb or my website, so even if you can't access google play, I can provide an official and safe alternative way to install the game.
Let me know in the comments what do you think.
CONTACTS:
🔗: P36software.net
✉: support@p36software.net (for reporting bug/give feedback/ask for help)
✉: info@p36software.net
🐦: Twitter.com (@p36software)


-Matteo (A.K.A. "Premo36")