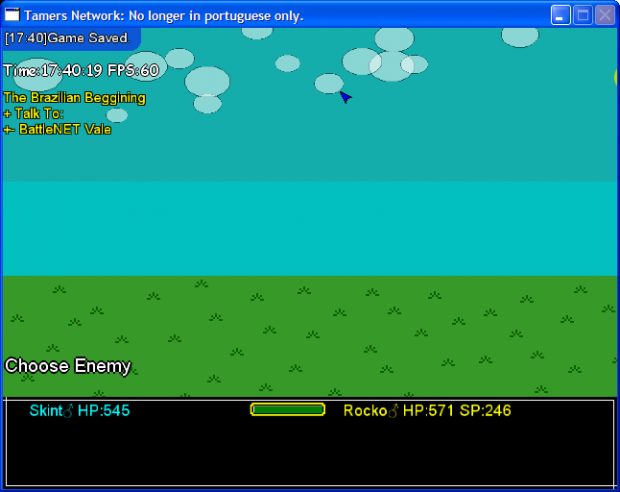 Now you can choose the monster action
I discovered that there were a bug causing the battle system to be buggy, i only knew of this bug now.
Certainly i forgot to test the feature due to something, but at least the bug is fixed now.
Also, those who loves missions will like the Scholars, they give you some random quests, and these quests help you and your monsters to level up.
Have fun. And don't forget to give food and water to your partners when the H(Hunger) or T(Thristy) are yellow or red, beside nothing happens atm when they are hungry or thristy, better start the act now, isn't?
Patch Note
---
NPCs
- Added Hotdog seller to a Kekshausen field.
- Added Scholars on some towns, to give random quests.
Skills
- Monsters skills had their mp cost balanced
- Added some of the Doggy Mage skills. //They aren't operable yet
Security
- Protected TNR Save Games.
-- You will need to redo your characters.
- Protected TNR Map Files
Bug Fixes
- Battle mode no longer buggy.
Also, i were thinking here with a friend about a feature to TNR.
A card system that is a file generated from TNR, you can send it to anyone, being friend or not, once they use the card on their save game, they get what ever it's holding, being it a item or a monster.
After finishing the work on multiplaying the battle system, i may work on it.
But now, i'll play something or i'll get bored to death...
Have fun, and if you find bugs, tell-me and i'll get rid of them.
Download here: