It's not a secret, though we don't say this often enough : the form of our story changes it. A novel uses different tools than a movie and one can never replace the other (nor it should). One of the reasons why video games are considered to have bad and simplistic storytelling is that this medium is still very, very young, and even if the list of well-designed video game stories grew significantly during the last couple of years, there are still voices claiming that video games can't even be an art form or don't need plots at all.
We still experiment with this form, and we have a plenty of ways yet to explore. Some games are close to novels and use long blocks of texts - and since text and static images are the cheapest part of game development, it's quite a convenient approach for some genres.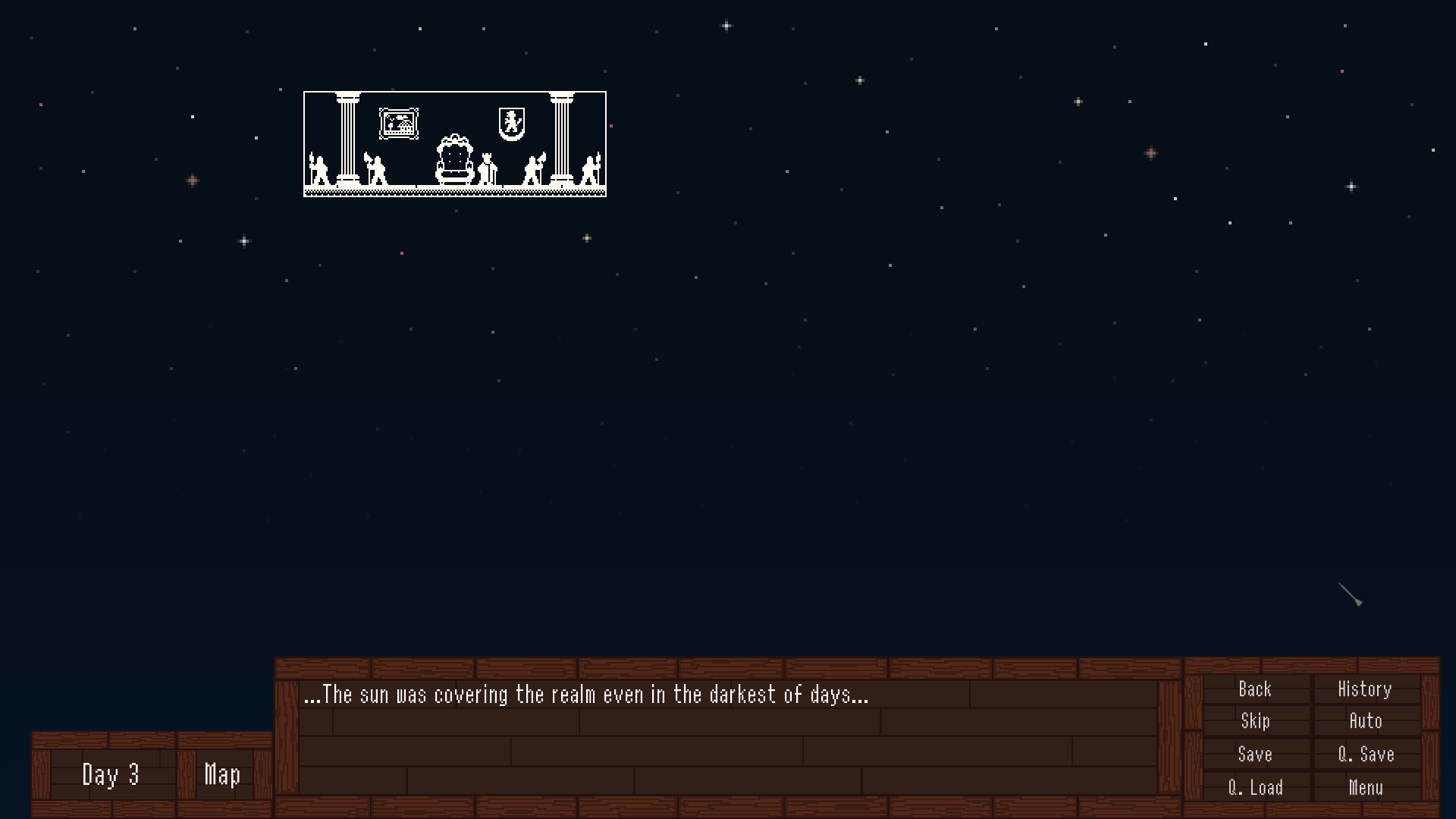 Other games use no words at all, completely limiting their storytelling to music, the looks of the environment and the controls of the game. Sure, graphics are the most marketable and easiest to consume, but video games provide us amazing canvases that we never before had access to.
In today's devlog, let's show one of the narrative tools used in Tales From Windy Meadow and explain the thought process. It doesn't have a catchy name, so let's call it what it is - character descriptions. Or, to be more specific - character descriptions, that the player can call by simply pointing at a name they are interested in.
Like most Visual Novels, our game uses "nameboxes" to show character names. However, unlike in most VNs, when you point your mouse on our character's name, it shows you its short description: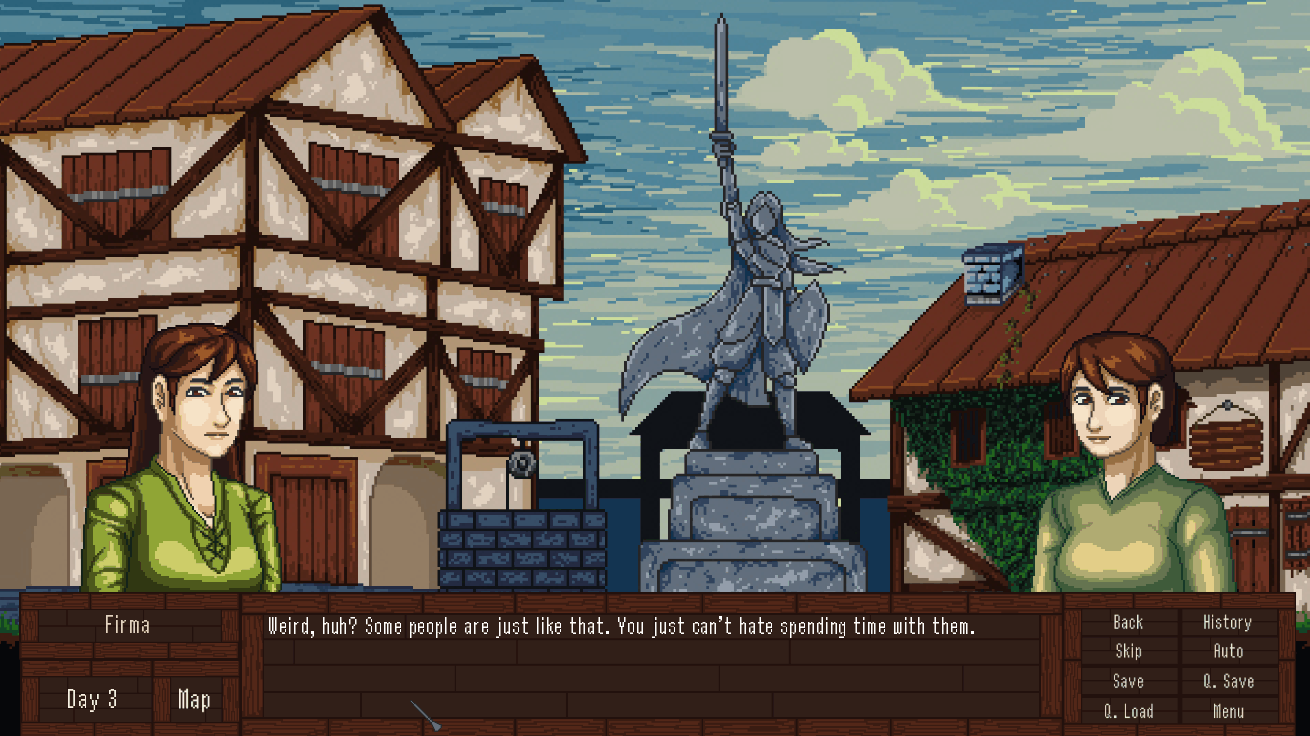 A similar feature is used in the dialogues, and we're still thinking about adding it to the character portraits:
We can conveniently modify the way these descriptions are used in the game. In some scenes we turn them off. The protagonists don't have their own descriptions... Though they can read about each other. It's a very convenient tool, and we still try to improve it.
The exposition problem
Every storyteller needs to struggle with the dosage of information they share. We all know awkward movies and games having dialogues like:
"Don't you remember? It's me, your older brother! You disappeared for quite some time once you seduced my ex-girlfriend Jessica!"
or
"I don't know what my parents would do! They died when I was 3, remember?"
or
"My name is Julie, my mother's name was Susan! She was killed in a car accident with my father and they're both dead, so stop trying to bring them back."
Damn, it feels so forced and out of place.
The writer had some idea in mind, but for various reasons can't let us experience what they have in mind. Instead, they have to awkwardly drop it like a bomb they want to get rid off. They don't have a budget or time to show us a scene displaying the character's background, so the character is forced to tell the viewer/player what they need to know to instantly understand the rest of the current interaction.
In a novel, your canvas is much larger. You want to describe some complex relationship and you don't have to worry about slowing down? You can add not just a paragraph, but even an entire page or a whole chapter focused on this topic. As long as it feels coherent and interesting, it's completely fine.
In a quickly changing visual media, however, you can't just press a pause button and tell us to stay focused and listen to a non-appealing exposition. So you either make it forced and awkward, or you use a different approach - you change the story structure and add a prologue, you give a character a scene in which it's telling a detail-revealing story in an appropriate context, or you allow the player to not know some details for some time and instead you play with it... It takes effort, it takes time, and it often takes money to do it.
In a Visual Novel you mostly read and move forward by clicking a button and make some occasional choices - you have a lot of time to play with. The visual elements are rarely dynamic and you give your player a chance to take a closer look at the backgrounds, listen to music, read complex dialogues and think them through and so on.
That's where our character descriptions - which is basically a way to put into the game some convenient exposition - comes in pretty handy.
Description < Personal description
The GIF below shows another important detail - one character can be described in various ways, depending on which character is the current protagonist.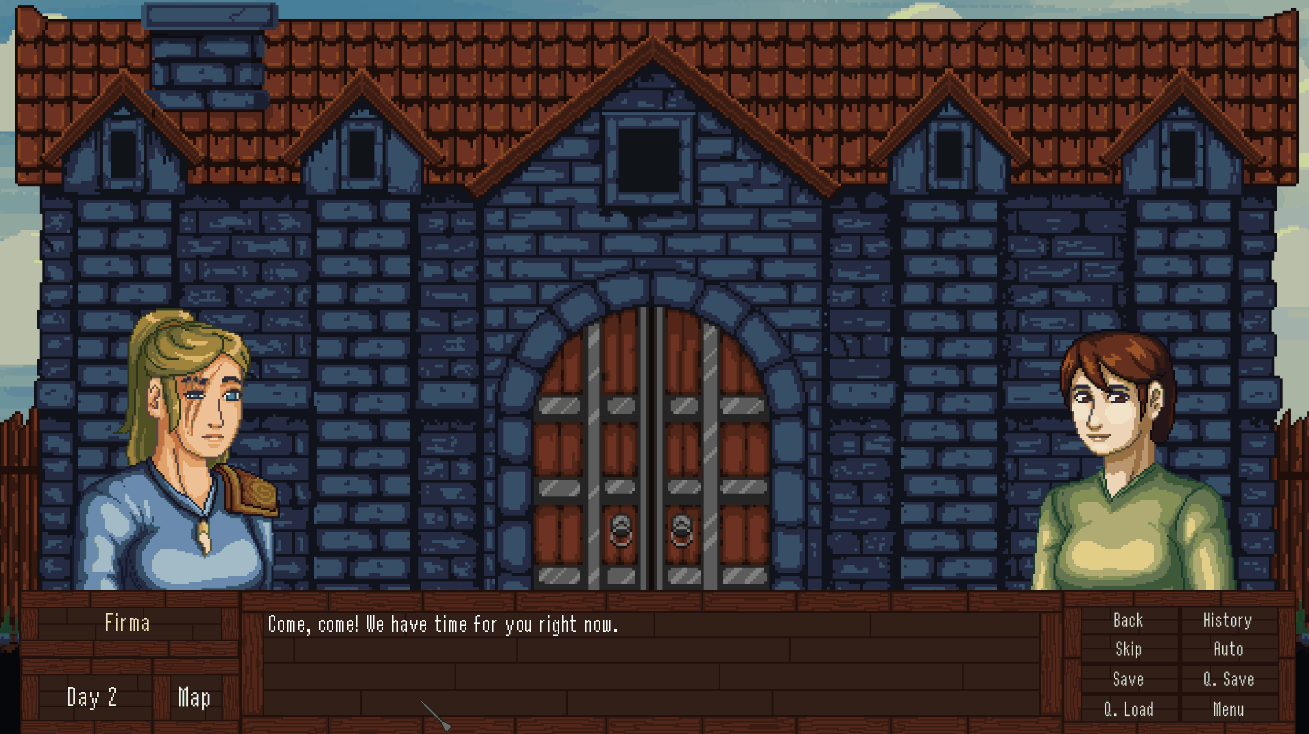 Since Tales From Windy Meadow has three different protagonists (and to beat the game you need to finish each one of their storylines), you have an opportunity to describe one character from various perspectives. Not only it allows you to unveil new information in new situations, but it also provides you some insight into the character you play as. After all, the way we see another person tells more about us, then the others.
In result, our exposition tool becomes a narrative device as well. It gives us a chance to understand what our protagonists are focused on, what is important for them and what is the background of their actions and relationships. Some things included in these descriptions can't be found anywhere else in the game, because, indeed, they are never told us through dialogue. Some things are never going to be casually told us by an NPC, but if the protagonist knows it - we also have a chance to get this information.
In result, I could avoid writing some awkward, weird conversations that would never be held in a realistic situation. The positive effects of this solution kept piling on... But during the testing, also the problems started to appear. First of all, the players are not aware that showing these descriptions is even an option. We need to make it more clear, maybe through a tutorial, maybe by a special notification. It's still a problem open for testing and modifications but I think we're on the right track.