Syder Arcade 1.3 is finally available on Desura and other digital stores , and it's a huge patch.
Listening carefully to the feedback provided by our players we worked hard to deliver a more balanced and fair gaming experience. And that's why we introduced a new respawn system.
Syder Arcade is now more accessible at lower difficulty settings but still provides it's signature brutal challenge for experienced players.
As a consequence, this update is a major overhaul the entire game and includes:
improved controls customization and joypad support
redesigned respawn system
new enemies
new powerups
improved levels and enemy logic
new mission briefing art
performance optimizations
If you are interested in the full patch notes, you can find them on Studio Evil forums.
Next week we will finally start working on a new player starship, one of the things we have planned for future content updates to the game.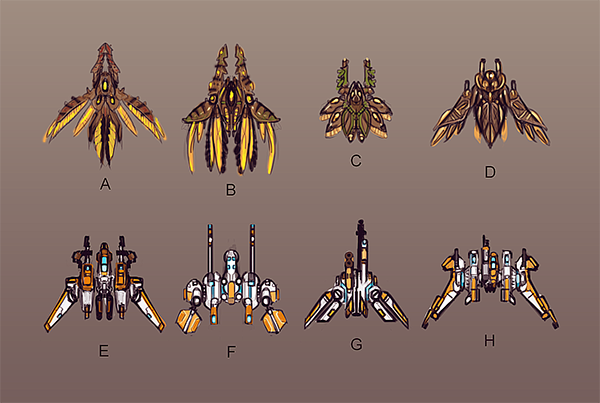 As you can see the choice here is between an "anime inspired" human starship or a completely different techno-organic vessel.
We would love to give this new ship a different combat style and are thinking about a few unconventional approaches to shoot 'em up fighting, like melee attacks or reactive counters.

But let's talk about the look for now, what design do you like the most?
As a final note, we are currently among the Greenlight top 100 games.
This is unexpected and awesome. And we are honoured to be there thank to the support of all our fans.
We actually feel like we might have a chance this time, but with a shoot 'em up it's really hard to go anywhere. It's a small niche and our game is not even a "proper" bullet hell but a mix of many shmups sub genres.
If you think gaming needs a little bit of old-school arcade now and then, cast a vote for Syder Arcade.