- - - - - - - - - - - - - - - - - - - - - - - - - - - - - - - - - - - - - - - - -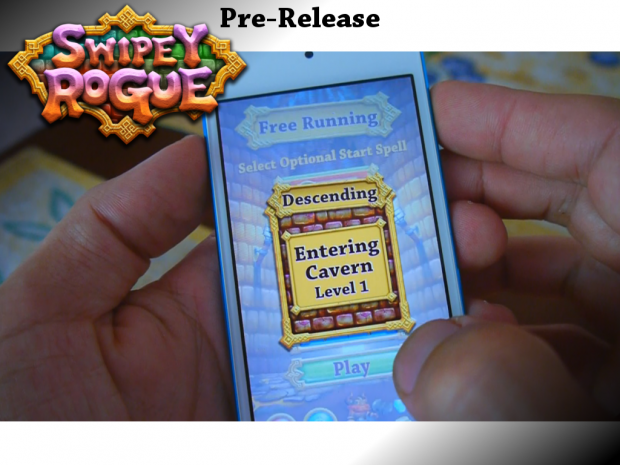 Current Development Logs:
Devlog 1 - Introduction
Devlog 2 - Video Update & New Dungeon Tile
Devlog 3 - Props & Loot
Devlog 4 - Composer, Progression & Videos
Devlog 5 - 2D Art Overhaul Begins
Devlog 6 - Video, New Enemies, 50 levels!
Devlog 7 - Video, Stats & Accomplishments
Devlog 8 - Heavy Construction
Devlog 9 - Road to Beta
Devlog 10 - In-Game Shop & Menus
Devlog 11 - Services & UI Progress
Devlog 12 - Beta!
Devlog 13 - Frozen Area Preview
Devlog 14 - HUD Finalization
Devlog 15 - Gadget Area Preview
Devlog 16 - Magic Area Preview
Devlog 17 - "Free Running" Mode
Devlog 18 - Rank-Up & Perks
Devlog 19 - Full Soundtrack
Devlog 20 - Free Running Polish
Devlog 21 - Finishing Up
Devlog 22 - Last Additions
Devlog 23 - iOS Submission
Devlog 24 - Prize Codes
Devlog 25 - Making a Press Kit
Devlog 22 - Last Additions:
I'm wrapping up here today. This past week, I've completed the final little additions that were needed to the game and integrated the final art for the perk icons. I've uploaded a final testing build (just so testers can check out the final game, it's already been tested internally very heavily). When that test build is approved for testing, I'll leave it up for a day or so then upload the final build (with advertising enabled) that I'll submit to apple for App store review.

I'm pretty excited. It has been a long road. This has been a fun game to make. I enjoyed the process of the game revealing itself to me. I think I paid attention to it closely along the way and made sure to keep adjusting and adding what was needed to round it out into a full piece of entertainment. I hope you enjoy it when it releases!
New System - Spell Books:
I've realized that the Perk system is really the key hook of the Free Running mode. I decided I wanted to create a way of rewarding perks beyond earning them during Rank-Up and finding loot drops that grant you partial perks.

SO, I created a spell system. Spells are used once when you start a Free Running run. A Spell is a collection (1-3) of perks. The possible perks are random, and their strength is also random (on the low scale, nothing insane, but good starting values).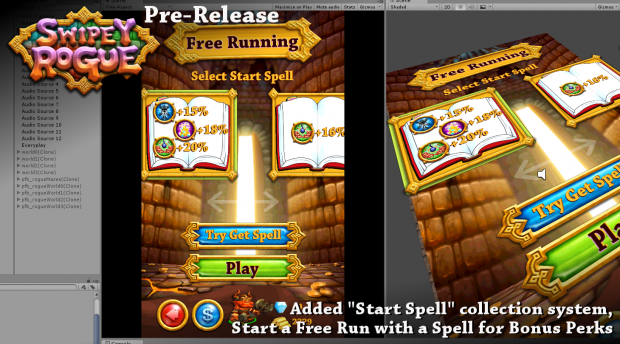 You select from your collection of spells when you start your run. You can find spells as rare drops in loot crates, but you can also win them as prizes in the new prize minigame.
New System - Prize Minigame:
I wanted to provide players with a way of gaining access to the game without having to beat all the challenges. The challenges were previously the main way to earn Gems (which you need to unlock areas, and to continue). While you could also buy them with gold you've collected, and also find them as rare drops, I wanted more of them in the economy.

I also wanted a way of doing this without creating an IAP. I don't like selling currency in game for money, it skews the game design too much towards screwing the player at all opportunities. Anyway, I figured that I'd make a random prize minigame that you can play for a minimal cost (5 gems), or you can just watch a commercial to play it. It seems like a fair trade to me.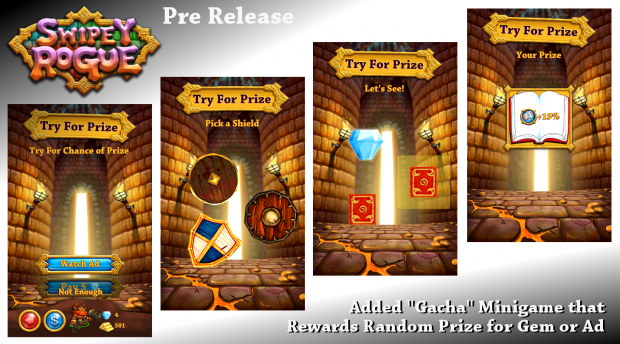 So, you pay the 5 gems or watch an advertisement then 3 shields spin on the screen. You pick a shield to uncover them all and see what's under them. The prizes under the shields can be gold (range of value), gems (range of number), and spells. It's a great way to get all of the above. You can stock up on up to 100 Spells before your "inventory" is full.
Final Art:
The last of the artwork is now integrated and all the Perk icons have been replaced. I'm excited about how they look. It has already made me want to collect perks and spells more just to see them all on the screen. :)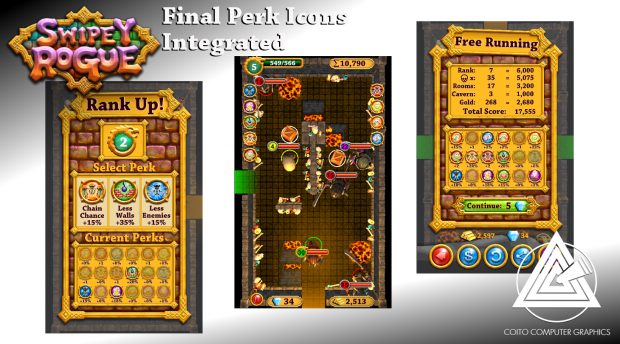 Anthony totally nailed the art on these again. All the 2D art has been exactly what I imagined on the first draft I've seen every time. Be sure to check out his portfolio and get in touch with him if you need some art. Anthonycoito.com
Demo Video:
Here's probably my last devlog video. I show the new systems in action. I've had fun making these dev videos.
Thanks!
Thanks for following along. It has been a long road. And thanks again to everyone who tested and provided feedback. I'll post an update when I've got the final build uploaded to Apple and I'm just waiting on approval (or rejection). After that, I'll post up a trailer video for the game. (I need to make that...) Then I'll be working on the Android services (leaderboards, social share, and IAP to remove ads) in the meantime and hopefully be able to release on iOS and Android at the same time. Then... it's all about getting a build going for PC, Mac, and Linux (although I'm considering just doing a web release to cover "computers").
- - - - - - - - - - - - - - - - - - - - - - - - - - - - - - - - - - - - - - - - -