Surface is a game I've been working on since late 2007 on and off- It's had many revisions, redesigns, new ideas, scrapped ideas, etc. This current iteration is the final one, and I intend to show progress and showcase a bit on here leading up to my deadline- July 26th, 2013, where I'll be presenting the game at ConBravo. I'm joined by musician Steven "surasshu" Velema, and come August/June the very talented artist Diana Jakobsson will be on for concepts and promotional art! I also have additional assistance from Jordan Chewning (Zombie Grinder), and also Tim Leonard for some systems cleanup.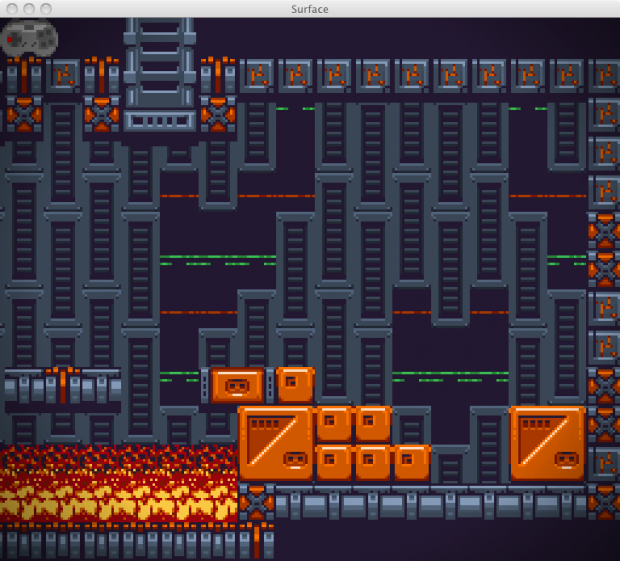 What is Surface?
Surface is an exploration action platformer, very similar to Blaster Master and Metroid. It's sort of a love letter to that genre. It's simple, fast paced, and it's intended to allow players to develop skills and routes to faster navigate the game. Inspiration is drawn mostly from Blaster Master, however it utilizes a lot of mechanics and gameplay elements from other games such as Journey to Silius, Megaman, and even Power Blade.
What Stage of Development is it in?
It's currently in the early stages of engine development. Older versions of the game can be seen floating around on Youtube under my old account "Mamoruanime", however it's being rewritten from the ground up. It's been refined, cleaned up, and optimized to be the kind of game I want it to be. Engine development is nearing completion, and from there it's all about adding content.
When do you expect to release this game?
My personal goal is to have this game finished before MAGfest in January 2014 and released in it's entirety there. I will be showing an unpolished build in July at ConBravo (www.conbravo.com).