Happy Birthday Super Indie Karts!
Can you believe it? Super Indie Karts is 1 year old this month! That's one year since it was funded on KickStarter! :)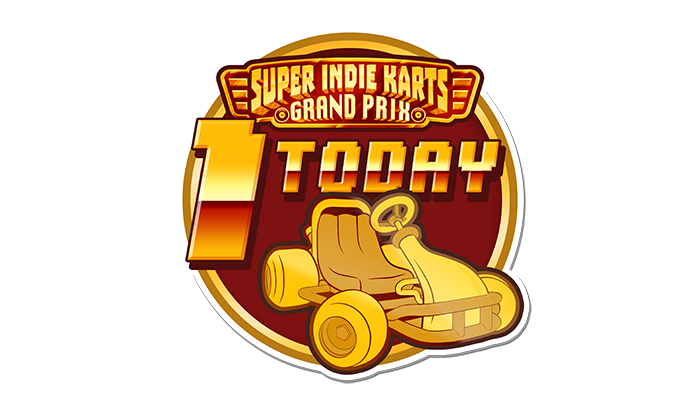 It's been a long road, and even longer than a year in reality. It's around 2 years since the project Super World Karts began. But even further back than that was the grandfather project of Super Indie Karts, Billabong Racers (a game written in Windows DOS based game creator DIV) which was so long ago I wasn't entirely sure of when it was, but the file properties time stamp of the kart render says Sept 2001. 14 years ago! Yikes.. that's a long dev-cycle! :D
Like you're looking at a photo of someone wearing their jeans backwards while sporting a bad '90s haircut, check out these embarrassing shots of those early days:

Billabong Racers - 2001 freeware
Despite being really rough around the edges, and playing like a lawn mower simulator, you can see some things that haven't changed very much! There were mushrooms to collect, and that track map there coincidentally looks a lot like a 90° rotated Read Only Memories track.. XD
It's hard to remember what things were like for small-time game development back then. There was no YouTubes for spreading game footage, there wasn't any Facebooks or Twitters for building fan-bases, there weren't any self-publishing digital shops like Steam or itch.io or Apple's AppStore to actually make money building little games, and most importantly there weren't any KickStarters around to help those small projects grow into bigger better experiences.
Indie Game Magazine Article
This month's issue of Indie Game Magazine has a 6 page preview feature on Super Indie Karts! If you're into Indie Games, and let's face it if you're reading this then the chances you like Indie Games are pretty high, then this is a magazine you'll likely get a lot out of. Each month it's filled with a heap of promising Indie games that are worth looking at.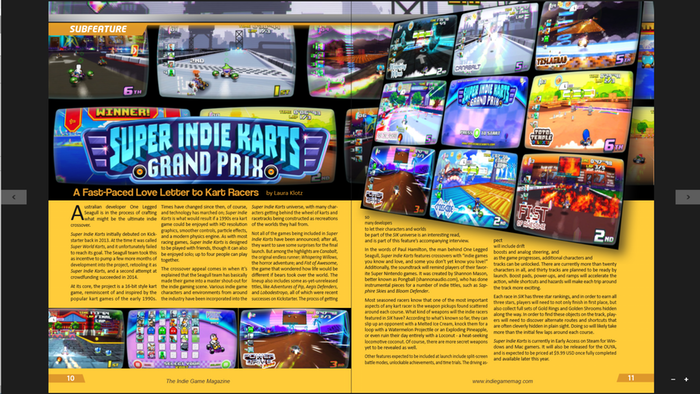 You can also get a preview of the magazine on the Indie Game Mag website here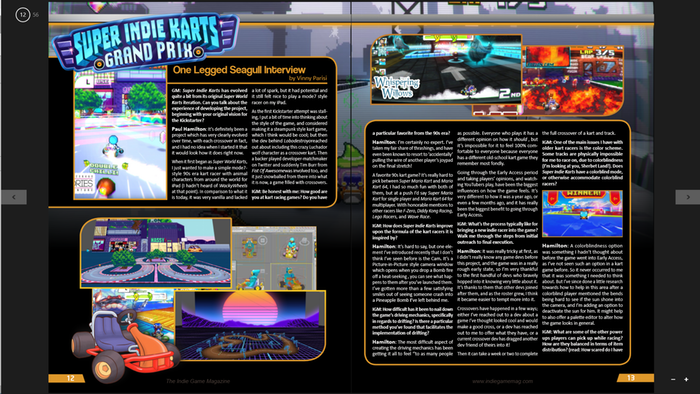 Interviews aren't exactly my favourite thing in the world, but IGM were really great and it was totally worth it, I'm 100% happy with how it turned out.

Huge Birthday Update Time!
A Whole NEW Cup!
To celebrate this 1 year anniversary milestone, it's time for a big update. I've worked incredibly hard this last month to bring an entire new cup for you to play!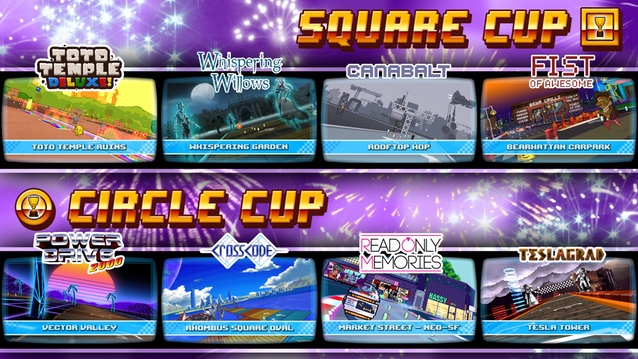 The first 8 Indie Races
Following up on the Square and Circle Cups, comes the third Indie Cup, the "Triangle Cup". Made up of some fantastic crossovers with a couple of new partners Nintendo likes to call "Nindies", and a couple of crossover projects you've already seen in the game as karts that I've wanted to turn into tracks for a while.
In terms of gameplay features, these are the most diverse tracks yet: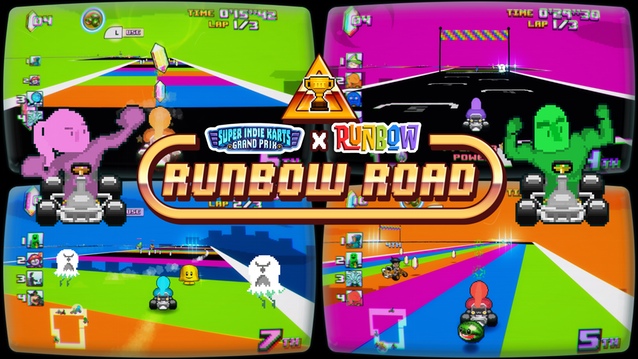 Runbow Road incorporates the Saul Bass inspired art style from Runbow, and its colour-changing mechanic! Signalled in the sky first, the new colour swipes down the screen through the road switching traps for you to avoid. e.g. If the sky changes to orange, a second later it will sweep down and everything on the road which is orange will now be a hazardous hole in the track! It also gives you some spooky guys to stay away from too!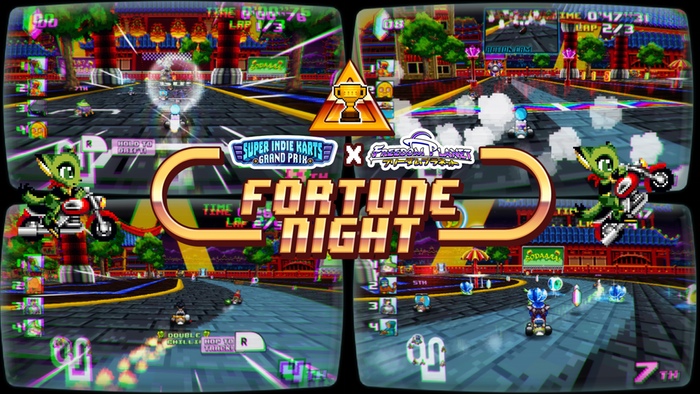 Freedom Planet's Fortune Night track has some Crystal Bushes which you need to smash into to release a handful of Race Jewels into the air, which you can then try to collect towards your jewels Race Star. There's also some traffic light robots to avoid!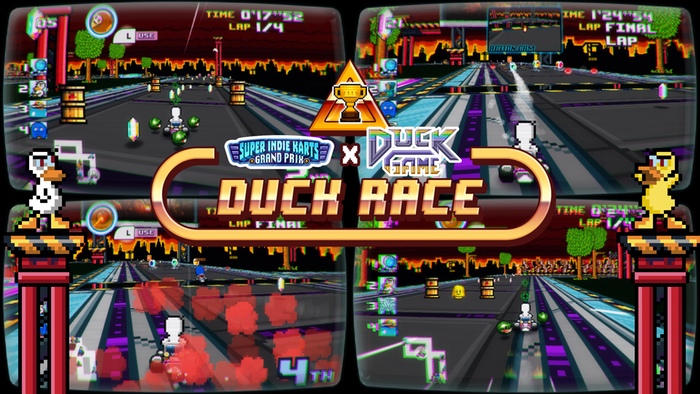 The Duck Game race has some tricky gaps to hop, as well as some Land Mines to avoid. Explosive stuff!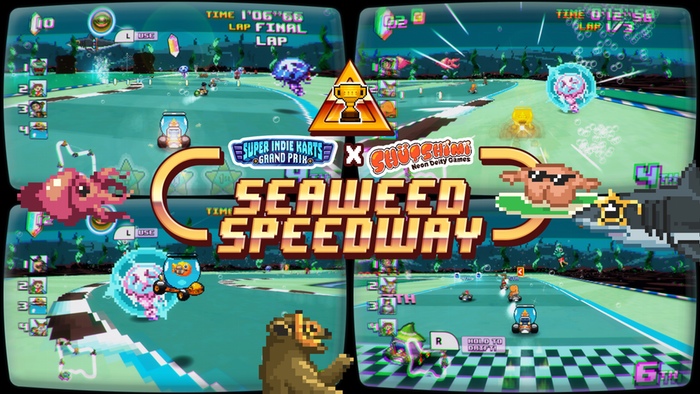 The Shutshimi track takes place underwater, with floaty handling, and has some shocking Jellyfish obstacles to avoid!
Cup Menu Update
The cup icons on the cup selector menu have gotten a little upgrade, after coming up with the new cup names for the Indie Cups (Square, Circle, Triangle, and Diamond Cups).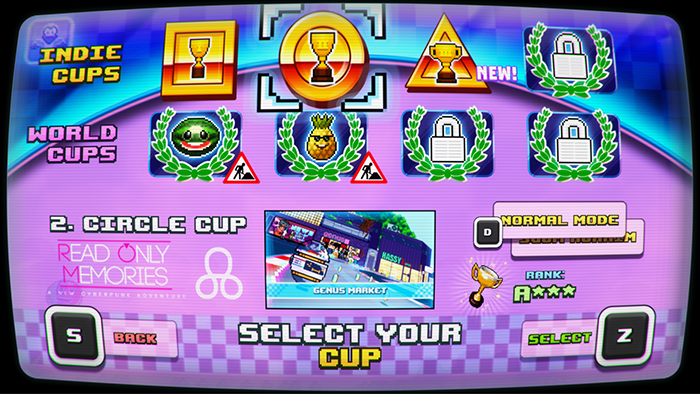 The idea going forward with the new cup icons is that they will change colour to reflect which position you've earned for that cup (Bronze/Silver/Gold) too. I also rearranged the details at the bottom so that the crossover game's logos could fit in there too.
Bonus Karts Bonanza!
Here come some new challengers!!
Carol from Freedom Planet joins the roster, bringing her motorbike with her!

Carol from Freedom Planet revs her bike onto the grid!
Hue & Val from Runbow come in 16 different flavours!

Val & Hue from Runbow, each with 8 colour variations!
Duck Game's Duck will now come in 4 different flavours!
- Original Duck, Pepper Duck, Lemon Duck, and Duck à l'orange.

Extra Duck Sauce? Now with 4 flavours!
And Juan from Guacamelee! has come along to slam some Super Hermano Karts!

Juan Aguacate from Guacamelee!
Character Selector Update
The kart select screen has had a slight upgrade, giving an extra layer of option to choose different characters or costumes for crossover games that have more than one kart option. This was something I'd had to do for a while as some games have a few characters appearing.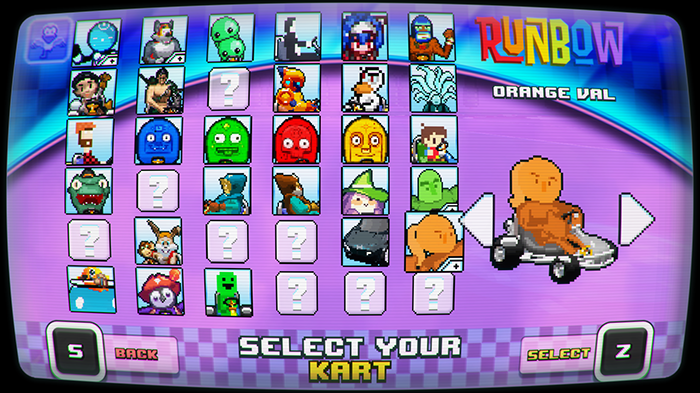 Just look out for slots that have the Plus symbol in the bottom right corner of their frame to get to a second menu to choose between character / colour options.
OUYA and the Free The Games Fund
As you may have heard OUYA was recently absorbed by Razer, and during the process the Free The Games Fund (which Super Indie Karts was a part of) fell apart, leaving devs a little worried about their budgets.
After receiving a few private messages asking how this affects Super Indie Karts, I thought it best to reassure you all here that the collapse of the FTGF is not bad news for Super Indie Karts.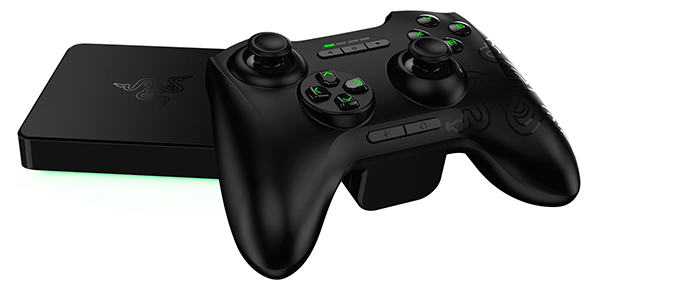 Razer Forge TV
Razer has stepped up and offered a great alternative deal to help prevent the devs who took part in the fund from becoming disadvantaged by the situation. The new deal is very similar to what was originally offered, and I'm really happy to be able to continue working with the same team from OUYA, who moved over to Razer, to help bring the game to the Razer ForgeTV device in the near future too.
Available Soon!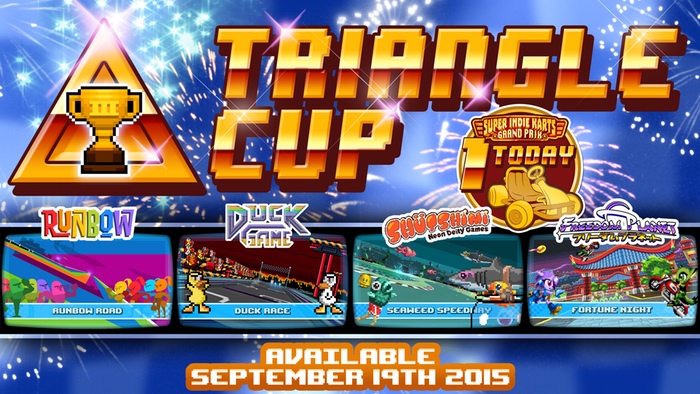 The Triangle Cup, the new Duck flavours, Hue & Val, and Juan will all be available ready for download through the next update (v0.40), on Saturday September 19th! Carol and her motorbike will be revving your way in a later update.
Love this update?
Don't keep it to yourself! Share it around. Being a lone-wolf (lone-seagull?) developer I don't get to spend as much time promoting the game as I probably should be doing, so if you have some followers you can share some of this new stuff with, please do!
I often check the #SuperIndieKarts feed, so if you'd like some extra retweets and favourites, just add that hashtag in there, or just add @1leggedseagull.
Till next time,
Keep on drifting!