And by Super-Development it mean that I've actually added a few worthwhile things to Crawle (after... 10 months?).
I've finally added a skill system to the game. It isn't anything visual, for example you won't be able to see your level or EXP (eventhough it is calculated in the background) but you will notice that as you fish more you will catch fish more often.
The two skills I've added are woodcutting and fishing. Woodcutting at the moment is your standard woodcutting skill, you mercilessly click the tree until you've taken it down and gotten your logs.
With fishing, you need both fishing bait and a fishing rod (equipped) and you will then need to stand near water and click the water. This will initiate the fishing and every so often (if you still have bait) you will catch a fish:
I've also now added a tutorial on diseases and I've updated the combat tutorial: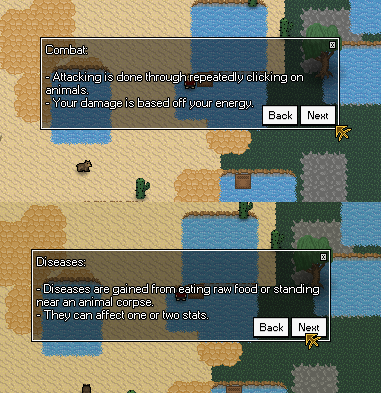 I've also added a brand new tutorial for a new feature that I explained in a Dev Log a few days ago - the new Health system:

I won't go into detail until I actually finish it but you'll probably understand it from the tutorial.
Finally, I've added a sort of Quick-Saving feature. Using F you can now automatically save your world. Your world will also now save every 10 minutes.
There will be a PTV2 coming out fairly soon (tomorrow?) but PTV3 will take me a while longer since I have to finish the last few skills and the new health system, improve combat and maybe even finally add the cave dimension. See you then!