WHAT CAN WE DEVELOP WITH THE STRETCH GOALS?
$110,000 - Ingame Library
(Currently the project has just $101,564. Therefore, we could develop the first stretch goal when the project reaches $110,000, what it means $8,436 more)
An ingame library means that we could expand the content of
AR-K's world, and could access it inside the game. More info about the
characters, their personality and stories from the past, better descriptions
about the locations, races and vehicles of AR-K… We think it also be called the
ARKpedia! ;)
$125,000 - Fully enhanced graphics and visual improvement
The graphic design of the game is one of the most expensive
points in any video game. We work hard to do it as better as we can, but with
this stretch goal, we could improve it to a new level.
$155,000 - Episode 1 REMAKE
New graphics, additional contents, better quality, improved
animations, enhanced backgrounds, extras & bonus… sounds good, right?
;)
$170,000 – Dubbing in another language
We live in a global world, but we know we have users from
different countries, with different cultures, habits… and languages. We want to
dub voices in other languages to give you a better gaming experience!
$180,000 - Comic spin off: Franky
Yes, Alicia is the main character in AR-K series. What if we
create a story in which Franky were the star? It would be bull! Sorry, cool…
:P
$210,000 – Video game spin off: Franky
If a comic spin off is a good idea… franky is a tough
guy/bull . Think about it : controlling Franky in a video game could be
amazing!!
$225,000 – Dubbing in another language #2
First the fun, then the duty: we want to develop an spin off
about Franky, don't you? But we don't forget our users. As we said, we want to
dub the game to other languages. And that's the next stretch goal.
$235,000 – More districts and locations
The world of AR-K is big. Of course, we have a lot of
different locations and backgrounds now. But we want to add more to give you
more variety and play time. Point and click are not sandboxes like GTA, but
'more locations' are equal to 'more fun'.
$245,000 – Comic spin off: Blaine
You like Franky. And what about Blaine? Don't you think it
could be a great main character for a comic? :D
$275,000 - Video game spin off: Blaine
Another game! Blaine´s story could give more depth to AR-K
universe. And, of course, more hours of play!
$290,000 – Dubbing in another language #3
As we previously said, adding more languages to the game is
important. And we will try to dub in another language!
$310,000 - Delivery boost
We become old, and time is money. We want you receive our
games ASAP. With this stretch goal, we can add people to our team, and we will
be faster to finish the game!
$350,000 - AR-K: EPISODE 5
Did you expect that? Surprise! AR-K will be composed of 4
episodes, but have in mind the idea to develop a new self-contained-episode. It
could be the best end for AR-K series! :D
HOW CAN YOU HELP US?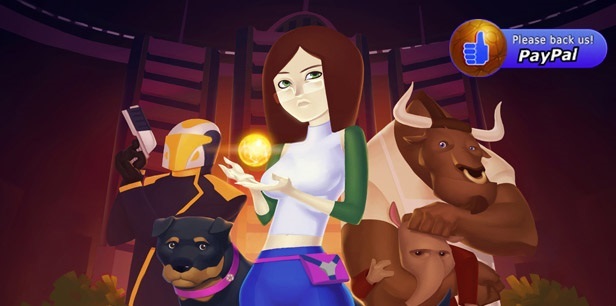 Our Kickstarter project was funded, so… Kickstarter is not the way this time. We have PayPal payments in our website, and you can choose the rewards. Easy and simple!
English version
Spanish version