We've been awfully silent, due to the fact that most of us have been on vacation for the last couple of weeks. So in order to get back in gear after the summer, we've decided to show you what we're going to be working towards with the strategy game.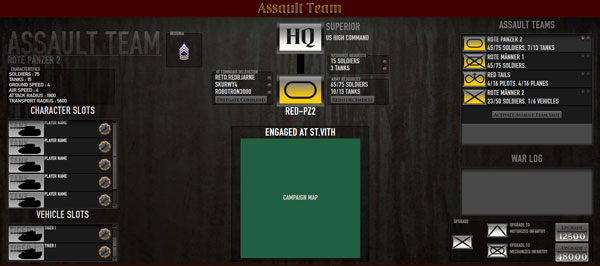 Warning: Clicking on the picture opens a new browser window that is running a Flash Website with a concept demo of the coming Assault Team screen!
Read on to find out what features we're planning to get up and running.
So what are we planning?
There are 4 areas in the preview, I would like to go into detail about. See the image below for more information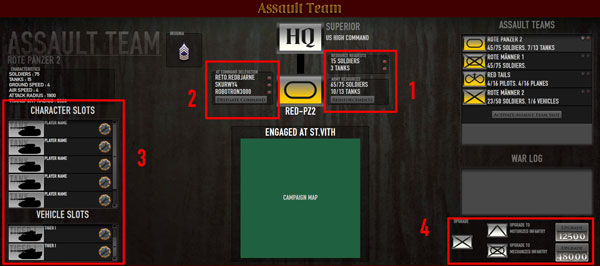 Area 1: Reinforcements, Area 2: Delegation of Command, Area 3: Modifying Assault Team slots, Area 4: Upgrading Assault Teams
Area 1: The Reinforcements
Before we create the High Command we want to get some of basic functionality implemented. Requesting reinforcements will be the first step on the way to making resupplying controlled by the High Command. For now it will be the player asking for reinforcements / supplies from the pool of resources (the HQ unit).
This will allow you to control when and where you get supplies instead of them being dished out at random.
Area 2: Delegation of Command
A much requested feature. Delegating control of your Assault Teams whenever you're not online. You can choose 3 commanders (might be subject to change) and then you can prioritize which one gets to command your units first, then if he / she is not online, the next one in line gets to control your units and so on.
Area 3: Customizing Assault Team Slots
We want to increase the customization and allow you to create special kinds of Assault Teams, like an elite Assault Team that needs experienced players. Also in the long run this would allow you to invite friends for slots and if you have a clan / guild, they could get reserved slots.
Also, upgrading / modding the various vehicle slots for an Assault Team is something we would like to do.
Area 4: Progression / Upgrades for Assault Teams
Instead of just having the simple template Assault Teams we have right now, we want there to be a sort of progression to the strategic part as well. We are still planning out the progression system, but it will enable experienced commanders to upgrade to heavier tanks and improve infantry assault teams to mechanized infantry and so on.
---
But please remember that all features are subject to change, and that we probably won't be able to implement all features shown in this post at the same time.
I hope you liked what you saw / read!
Kind Regards
Reto.Vashu