The following news update was initially posted on the main project's website: Vitek.webs.com. More news posts will be copied over in time.
Intro
Ladies and gentlemen, I bid you welcome to the latest and greatest (well, its the only one) issue on Strategic Command (STRATCOM)'s development ! This is going to be the first in a series of news updates following the progress of this game. If you just stumbled over this place and are wondering just what exactly is this Strategic Command thing, well, in short, Strategic Command is a war simulator somewhere between Hearts of Iron, Panzer General and DEFCON with a twist: player actions will have moral consequences based on the Geneva Convention rules. For instance, say you want to invade another country without going through all of those boring formalities like actually declaring war on them. Such an action will grant you an obvious strategic advantage (the enemy is caught by surprise) but it will affect the way other countries interact with yours amongst other things. Although this is the main feature of the game by far its not the only one. More details will come through as right now I'm too early in development so things can change, quite literally, by the hour ! Now on to the meat of the subject:
Unity and Windows8 (Metro) Support:
If you keep a close on what's going on in Unity, you might have heard of a contest they started together with Microsoft (Unity3d.com).
"Unity and Microsoft are inviting Unity developers to enter a new contest by submitting beautifully crafted, high-quality new or existing games or content for the upcoming Windows Store Apps and Windows Phone 8 platforms. Over $100,000 in cash and prizes will be awarded to a number of talented and lucky winners."
Pretty neat, right ? The good thing about this contest is that now developers can get to test their games on Metro (or Modern as its now supposed to be called) and WindowsRT tablets which means that, if you're a Windows 8 user, more much needed apps are coming your way. Regardless of whether or not STRATCOM actually wins something, being able to finally port the game to Metro really helps bringing the game to as many platforms as possible. But words are pretty dry and boring, right ? Well here's a screenshot of the current Alpha build running as a Metro app: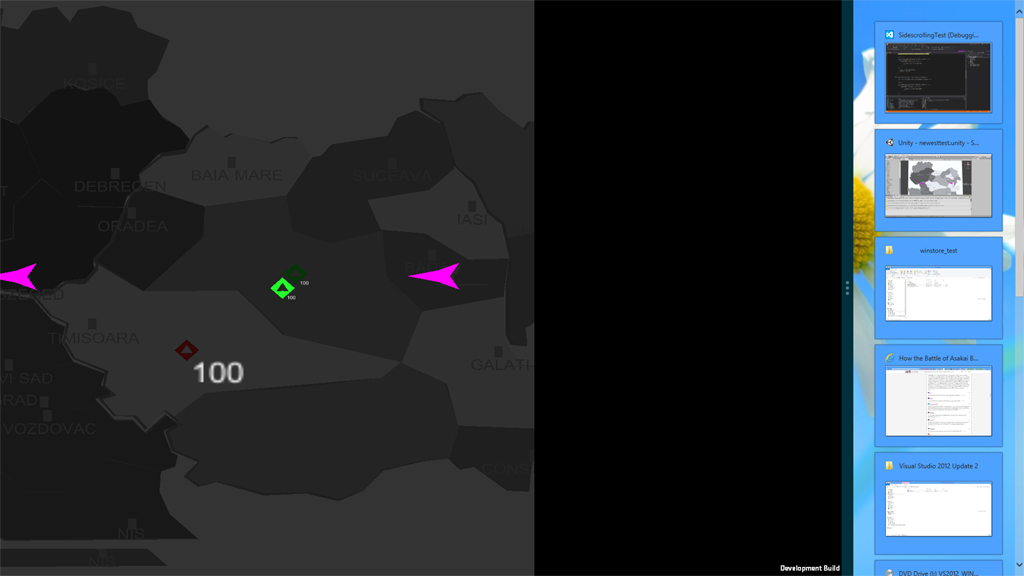 Latest Changes
Design decision: Unit movement switched from "free roaming" to "region-to-region" (similar to how it works in Hearts of Iron)
Regions logic implemented; test level updated with test regions
New unit movement logic and pathfinding currently in development
That wraps it up for this issue of the STRATCOM Dev Blog. Take care and stay tuned for more !