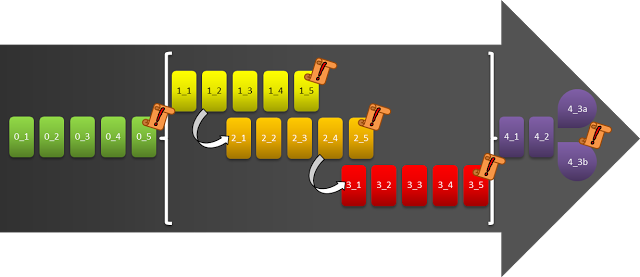 Ninja is closing in on Alpha with just a few features missing. That means that the game is fully playable, just the content is missing. The next milestone, Beta, requires the game to be pretty much in its final form, with just little tweaks, balancing, and typo fixes etc. remaining.
As stated before, Ninja is a story driven game. That means, that level design goes hand in hand with the story. We don't just randomly throw obstacles at you; we handcraft even the tiniest details to make you feel immersed to the gameplay and story.
Now, there's nothing more I'd like to do than walk you through the story step-by-step, but as you can well understand, I can't really do that. Instead I can talk about the story in a more general manner. First of all, take a look at the flowchart above. The narrative structure of Ninja works in different layers; the onion skin -structure (of which I talked about before).
Non-linearity is something that is almost unique to games, but it also makes writing stories a ton more complicated. After all, the player has a freedom to explore the story at his/her own pace, way and order, and the story has to comply to that. To be more clear, a medium in which you are in control mustn't ever take the feeling of control away from you. (Actually that wasn't very clear. Read it a few times, and think it through). So, to bring some control to the chaos from our side, we try to keep the story layered.
First of all, there is the main storyline, "the Journey"; nice and linear. It progresses as you progress far enough. Then there is a next storyline, "the Endeavours and Inner Motivations of You" (or your character). This storyline in non-linear. It progresses along with you, wherever you go in the game. Then there is the next storyline, "the Others and Whatnot". This storyline exists, but only if you perceive it. It lives a life of it's own outside your control. Then, above it all, is the king of storylines, "the Judge". Once you've wandered around and done all that you want to, it's time to wrap up the story with a nice bowtie. However, it is the Judge who decides the color.
All of these storylines intertwine and create your version of the game experience. Confused? Well, maybe the chart describes it better than I did...or not.
I promised I wouldn't make any spoilers about the story, but I can't resist the temptation. Here's a piece from our script for the game. If you don't want to be spoiled, stop reading now.
Until next time, take care.