It's been over 2 months, since I started development of Storm - so, it's right about time to rethink some ideas I had when I started. I decided to give you bigger updates once a week, instead of spamming with screens just when I have something.
UI design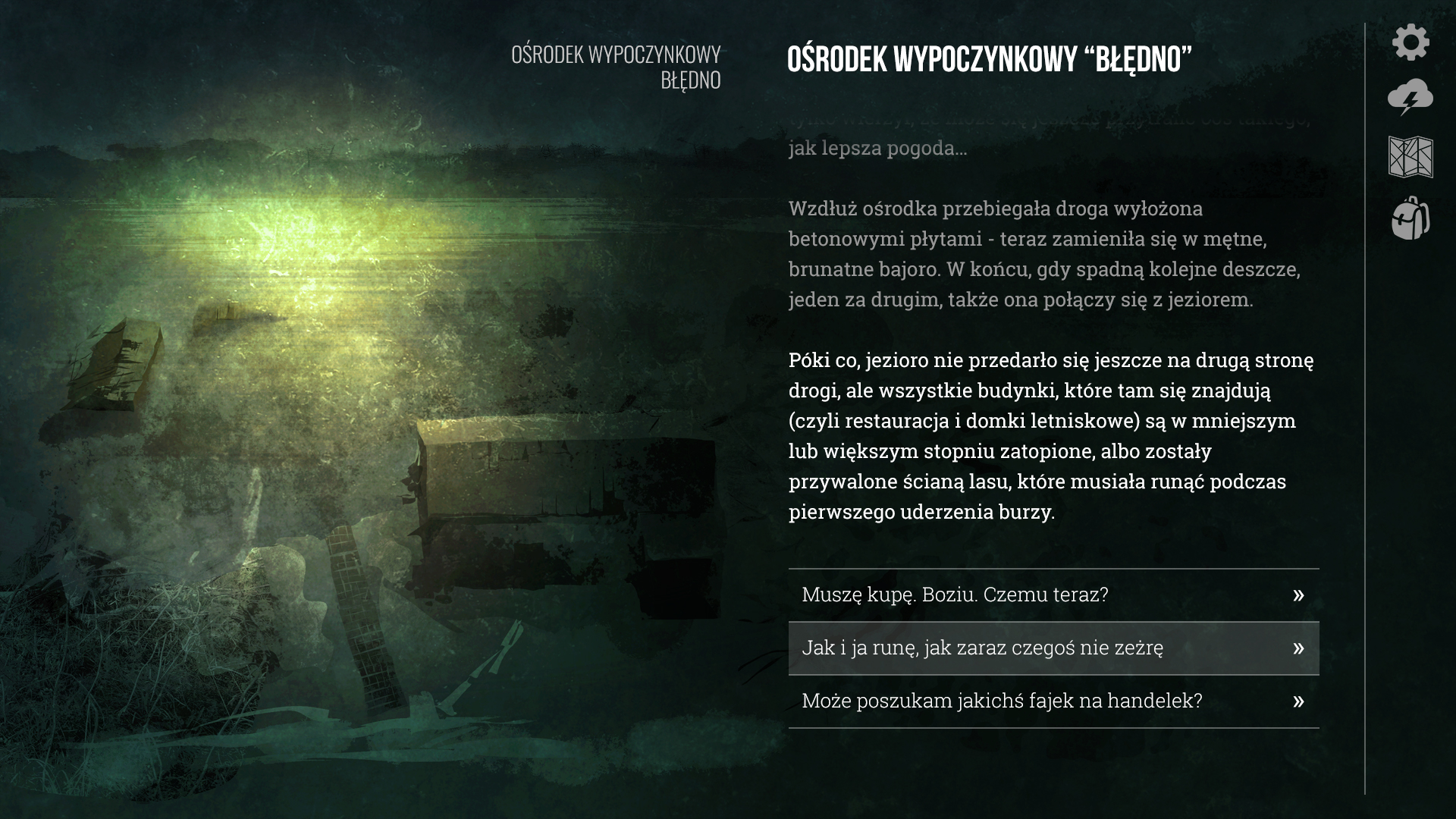 I decided to redo text thread UI. Text is bigger now, it was looking good on mockpus first time I designed it, but in game it was too small. I also decided to record voiceover for game - I wanted to test it as an option, and it turned out to be great idea. It adds a lot of depth and atmosphere. Surely it will cost hell lot of money, so maybe I'll record Polish version myself, not sure yet, time will tell.
I started designing UI for menu and inventory, and I realized I like doing things like that. I generally like situation when I can carefully craft design exactly like I want it, give it time it needs. So far, I like results.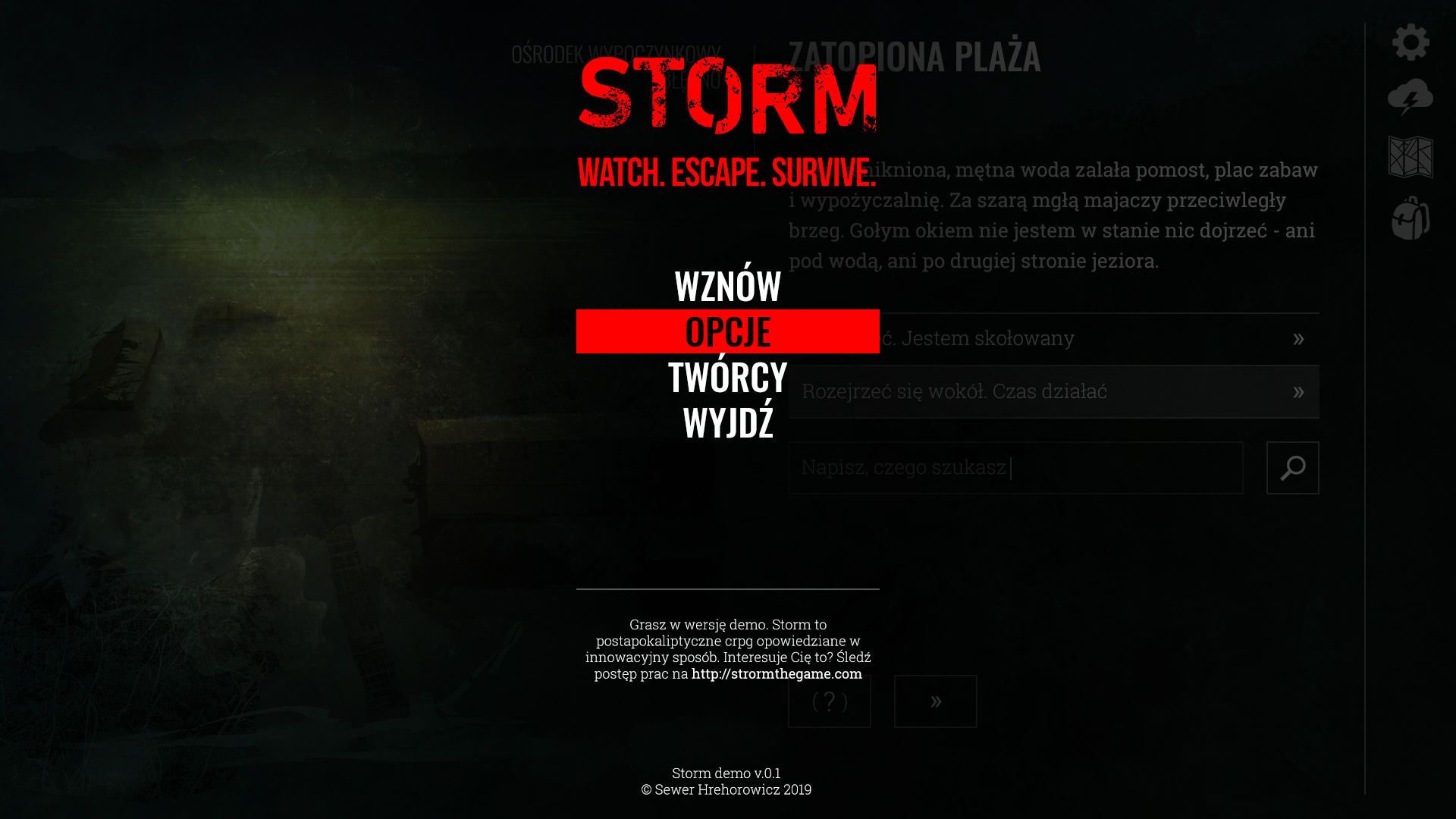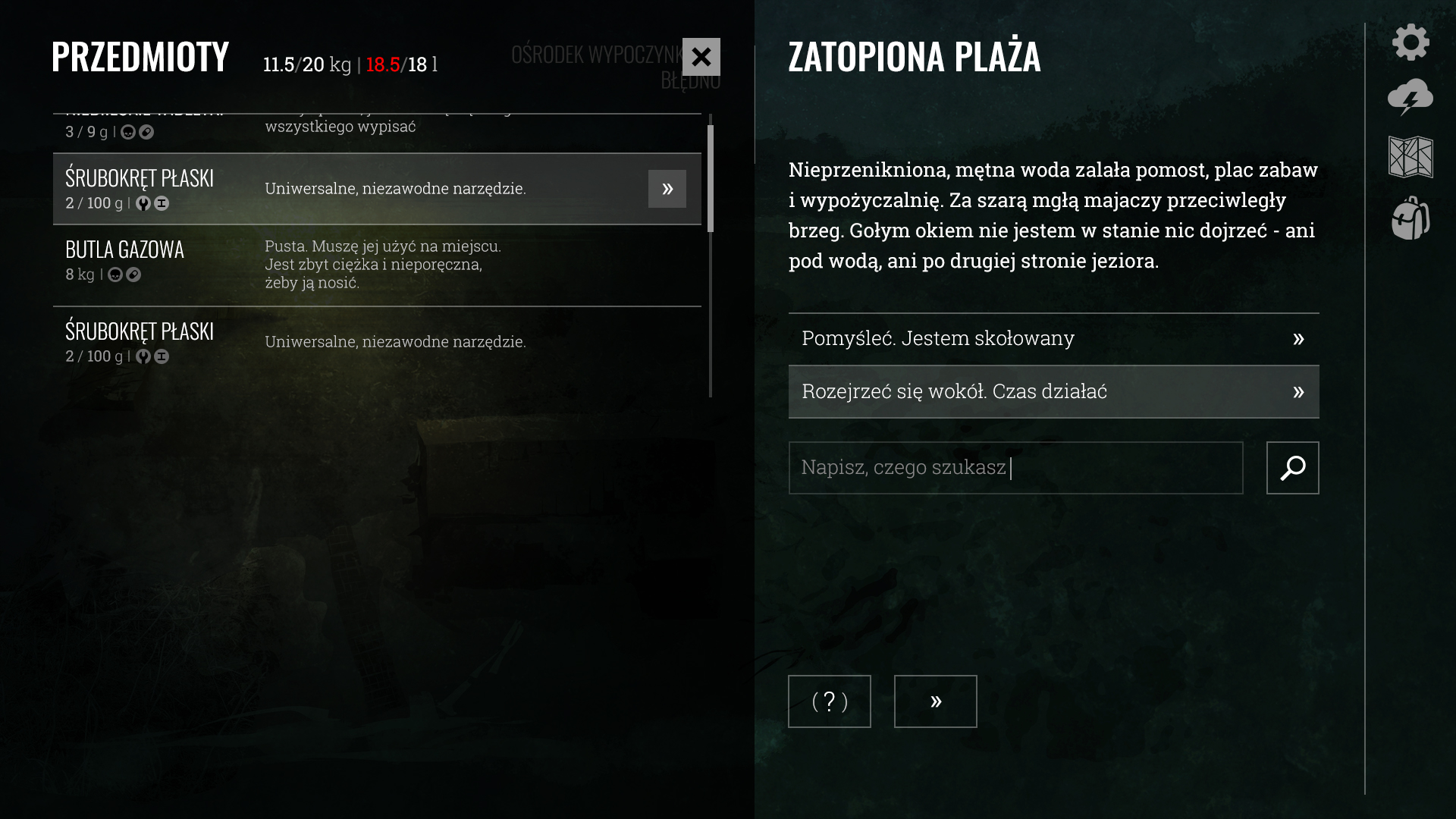 Gameplay
I played Wanderlust - which is great game btw, not strictly a game, but something between game and novel. Shame it's apparently not getting amount of sales it deserves in my opinion (that's what I heard at least) - but it's also some hint for me. I was surprised, how similar it was to my initial idea.
I started Storm, because I always liked to write - but since I'm also game developer, I wanted to mix two worlds I know. I always had something like this in mind. Initially, it was meant to be more book than game, but in process it became something opposite - crpg, but approached in different way. Looks like Wanderlust proves it to be good decision, but time will tell really.
So, you will have quests to do, even some sub-quests, you will be able to die, loose, you will have travel between locations, pick travel destination from map, manage resources - food, water, manage hero state - don't let him die from bleeding or exhaustion, look for bad weather (cause it will kill you), talk with characters, make decisions that will have consequences - some people will die, some will hate you; always - there will be tough, not obvious choices, like between swallowing acid or needle.
Location loop
There will be 3 core gameplay loops – Location, Map and Conversation (so far, at least). For now, and for demo, I'm dealing only with Location – which will, in a way, resemble classical point and click adventure, but it will be told and written rather than shown. You will go from place to place, collect stuff vital for survival, and interact with environment. You will also learn parts of the story this way. What is this place? What happened here? Why there is a dead body in boarded toilet? Why was he (or was it she?) holding tube with pills? So, there will be some detective job. There's one important BUT, though.
I always liked adventure games, but I sucked at them. I need solution. I hate being stuck, going from room to room, not knowing what to do next, that I should combine mirror with sulphur and drown in in fountain to get brass key that will fall from ceiling 2 floors lower. So, nothing of that. My goal is to make it accessible to casual players, maybe even non—players, but still have some interesting things for discover for people who want to dig deeper. That's the idea at least.
There's no strict deadline in project like that, but I hope I'll release demo on December, you will be able to seee it and judge it for yourself. In the meantime, I invite you to follow development, so... till next week.