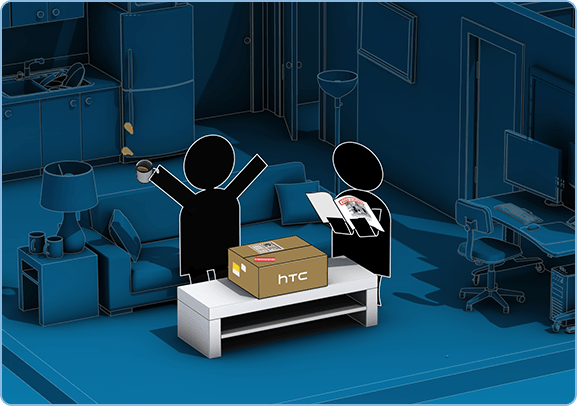 Every month, Steam releases the results of an anonymous hardware and software survey for those who opt in to answering it. The results for the June 2016 survey have been posted, and the resulting numbers give us some insight into the current state of the SteamVR install base.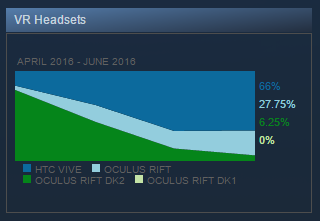 The most prominent stat is the "VR Headsets" graph, which shows the change in VR headset usage by manufacturer since the previous month's survey results. In April, the month in which both the HTC Vive and Oculus Rift consumer version launched, the Vive occupied 16.2% of Steam's VR headset install base, while the Rift – both the DK2 and CV1 – held just under 85%. This month, the Vive enjoys a much higher 66% install base, with the Rift's two models down to just under 35%.
Don't take this to mean that the HTC Vive is outselling the Oculus Rift, however. The data simply shows that far more SteamVR users had access to an Oculus Rift DK2 in April than any Vive model – which makes sense, considering how long the Rift's development model predecessors were available prior to the Vive's consumer launch.

Another factor that skews these results is the fact that Oculus Rift users are more likely playing VR games through Oculus Home, rather than Steam. Since Steam only captures data about headsets in use with SteamVR itself, what we're seeing with the Rift figures on this survey is not the total percentage of Rift owners compared to the Vive. We'd only know this if an identical survey were conducted through Oculus Home itself.
Additionally, keep in mind that Oculus Rift pre-orders are still backlogged, with many expected to ship either this month or in August. HTC is not currently experiencing any such delays, which means there could still be a contingent of Rift owners who simply haven't received their units yet in order to appear on the survey.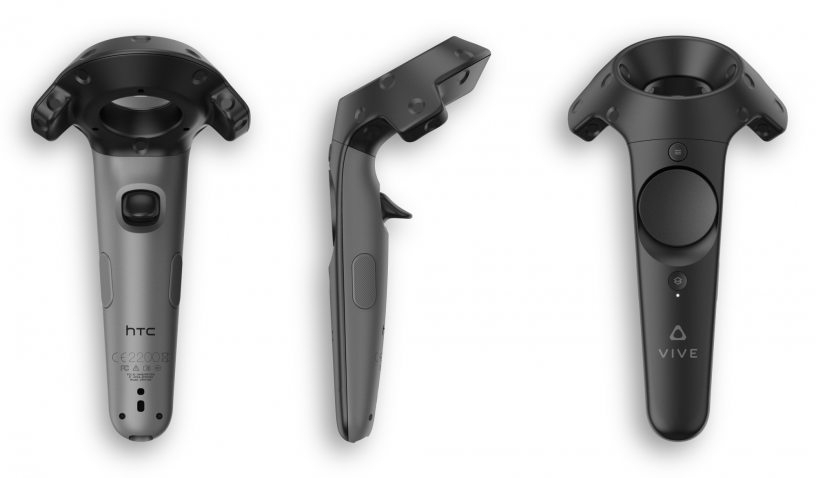 So how do we get a better idea of the number of HTC Vive headsets sold, rather than the percentage install base compared to other manufacturers? Road To VR ran the numbers, with the assistance of SteamSpy, on the game that came bundled with the Vive consumer edition without having a prior version available: Job Simulator. These numbers estimate that there are just under 80,000 HTC Vive units in the wild – which at US$800 a pop, results in around US$62 million in sales.
We'll likely see more accurate survey results in the coming months, when the Rift pre-orders have shipped through, and when the Oculus Touch controller releases, allowing many Rift owners to participate in motion control-exclusive games that are available on SteamVR.