Hello, everyone.
I've mostly been working on under-the-hood type stuff this week, but there's still some stuff worth showing off! My artist Detocroix made directional sprites for your intrepid space marines: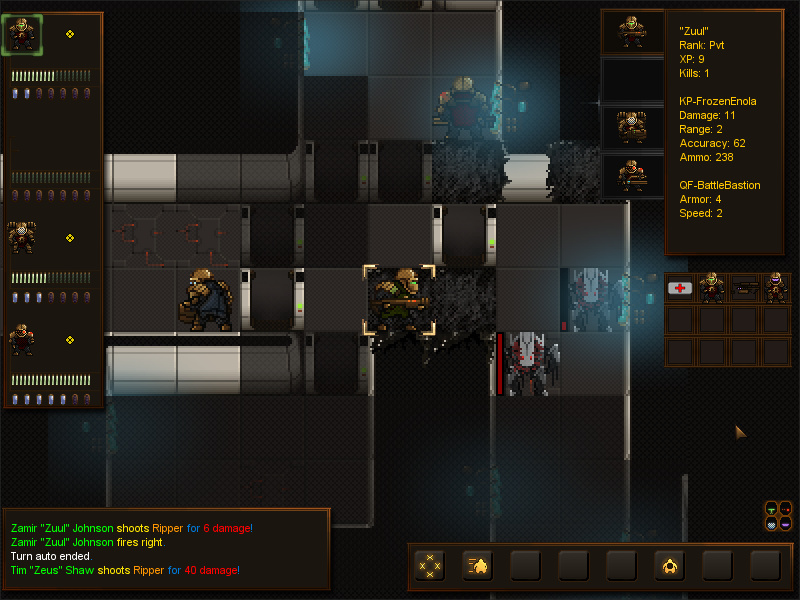 The lighting is primitive. I've got blending options that I'm going to play with to really try to emphasize light and dark areas, and Detocroix's artwork, as much as I can. You might also notice this is zoomed in 2x. You'll be able to zoom at 1x, 2x, and 3x on the fly to get a better look at each deck of the ship and your squad or to see more of the playing field to plan your tactics!
Within the last 24 hours I've also received music (vel9studios) and sounds (kaamossound.com) that are awesome. There's no video showing off these assets yet; Steam Marines v0.5.8 will probably be pushed out later this week, and v0.5.9a will be pushed August 29/30 for Steam Greenlight.
Also, as a side note to those kind enough to inquire, Steam Marines is not available for pre-order. It is currently in open alpha meaning you can go to SteamMarines.com and try it yourself! Probably the first half of beta will be open as well, and it will release for around a $10 price tag (TBD) late 2012/early 2013.