Guess what guys? It's getting that time of year. And soon, the world will end, and the Apocalyptic will rise...
Actually, I find that hilarious. I'm a firm believer in science and logical thought, and there's nothing logical about it. But anyway, onto the game. The game's rolling along, sorta, it's becoming more of an overall project than a single game. I'm really focused on creating a wasteland based zombie survival game with grid style building. Doubt I'm going to really achieve that with Construct, nor with the current game's system, since it really is extremely simplistic. So, I'm thinking this version will be the game's concept prototype, and then I can go onto Unity 3D or something and take advantage of advanced features to create a far more enjoyable and interesting game. :D
I've implemented a simple world generation system, one that generates a simple wasteland of forests, lakes and more out of a simple grid. That means I've gone back away from prebuilt towns... in fact, the only "buildings" that exist are ruins that offer temporary shelter or loot spawners. The idea is that the player builds his own makeshift shelters, like Minecraft. The game's original idea.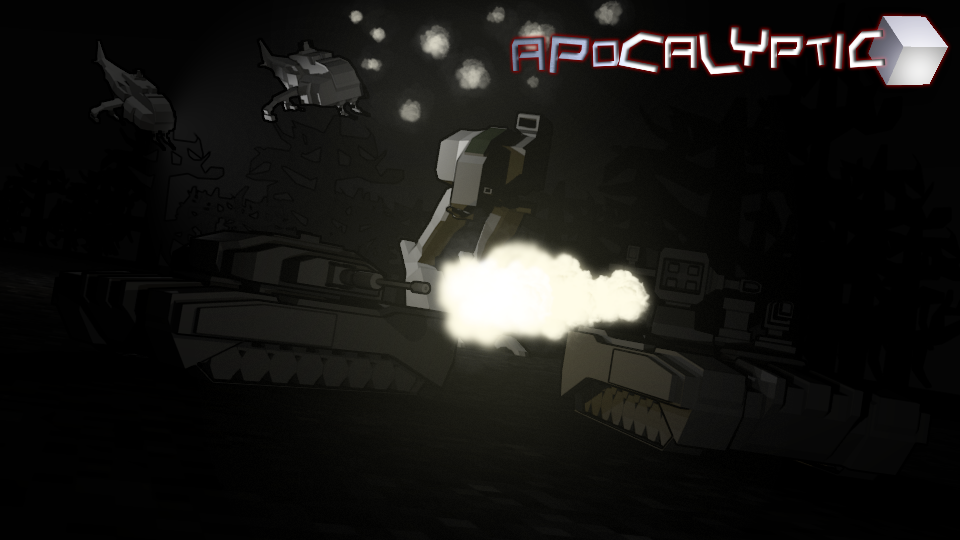 Promotional image, or something. Not a screenshot. :(
Other civilians now have classes, which will eventually translate into different graphical styles and weapons. I'm going to keep the idea of different NPCs only being able to do different roles. Doctors, for example, will always be able to heal friendly characters, while builders are required to complete building projects- you're not exactly a jack of all trades.
It's actually sort of playable, in a boring way. The Hunger, Thirst and Fatigue stats all work now, as well as most inventory items. I've implemented a primitive loot generation system, so it's possible to generate those around the place. What I'd like to do now is add in the world objects, such as ruins of houses, abondoned camps, crashes vehicles/helicopters etc, which will provide light shelter and will spawn loot. Then, I need to finish the system that generates zombie hordes/civilian groups, and it's will hopefully be playable. Basically.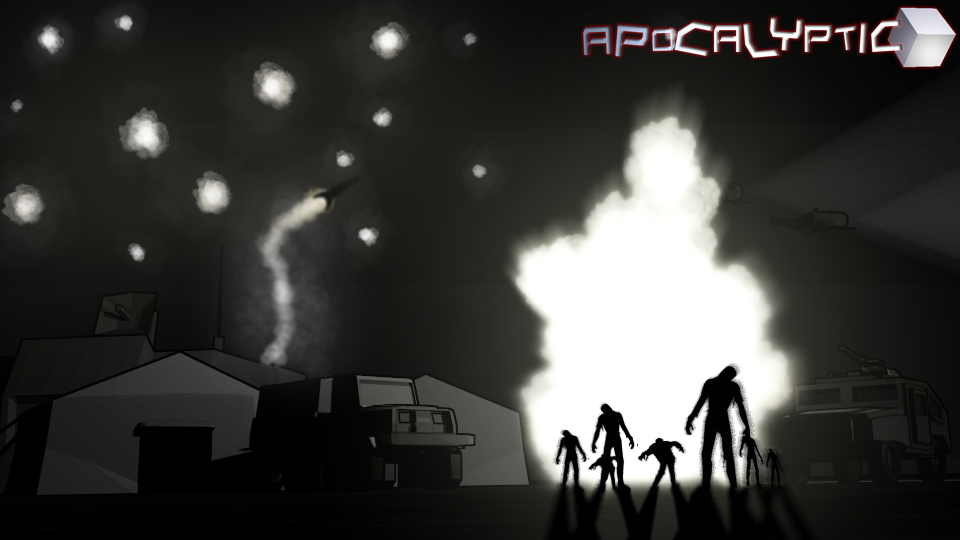 Also not a screenshot. Aw.
There's been tons of other changes too, but I wont go through them here. Actually, yes I will... here's some:
- Two new weapons- Revolver, and Bolt Action Rifle
- NPC classes framework
- Simplistic Military Camp spawns on the map with tents and soldiers
- Military Vehicle, Military Truck and Attack Helicopter
- Better combat system
- Shiny new soundscape for the sandbox mode
- 16 consumable items, 4 working weapons, 2 tools without inventory listings
- Added container object type, so any object can contain loot really :P
- Other tweaks and bits and pieces