Today I thought I'd take a respite from all the AI business and talk about something that's been requested a lot by our current and potential backers.
There are 3 distinct features which characterise many hardcore RPG games. These are stats (in the form of attributes, experience and levelling), inventory management, and a wide range of active and passive skills. Many players love the number crunching aspects, and the sheer amount of depth of customization that these types of games offer. Others love the opportunities for loot - powerful weapons and the interesting game mechanics that come with them. Mastering these games requires not only hard work as you progress to more and more difficult levels, but also learning how to efficiently customize your stats so that you are able to create the kind of heroes you love to play.
The Pocket Inventory System
For TinyKeep, our goal is to condense all of these features into one tidy package. We want the game to be as accessible as possible for players new to the genre, but also retain the level of depth and customization that RPG gamers love.
We've spent a lot of time designing a system that hopefully will do just that! TinyKeep combines player stats & customization, inventory & equipment and skills into a single game mechanic. We call this, The Pocket Inventory.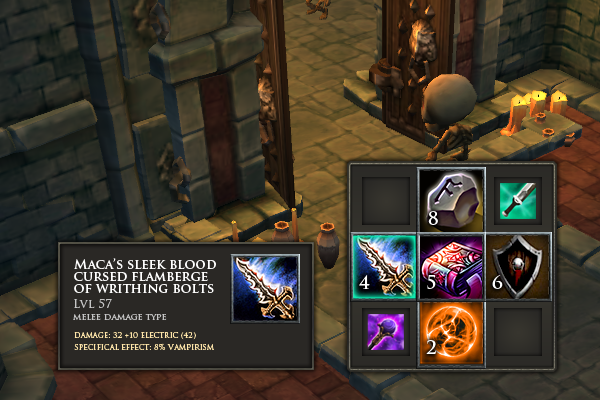 At its simplest, the Pocket Inventory is a 3x3 grid representing the layout of the keyboard's numpad. Slots 4 and 6 will be left and right handed items (such as sword and shield), and slots 2, 5 & 8 are for other equipment. The remaining 4 corners contain unequipped items - this is your storage/bag space. So in total, you can only carry 9 items around with you at one time - yes, that's right, so choose your items wisely!
When you start a new dungeon instance, you are given the option to take and equip some of your items from The Stash. This Stash is a persistent area that contains of all your items retrieved from previous games. You could fill up the entire grid with equipment if you wanted to, but it might be a good idea to leave a couple free for items you might find in the dungeon to take home with you.
Activating Slots
The Pocket Inventory will remain on the corner of your screen at all times, as a visual reminder for what you are currently carrying. Hitting the numkeys on your keyboard, or clicking the left/right mouse buttons (representing left and right hand items) will activate their respective items in their slots. Activating a storage slot (the 4 corners) equips the item, moving it to one of the other non-storage slots.
So for the example above, hitting 4 (or clicking the left mouse button) will cause your player to attack with his sword, and hitting 6 (or clicking the right mouse button) will block an attack. Hitting the 8, 5 and 2 keys will respectively activate the rune, spell book and fireball. In the storage slots are a magic staff and short sword, which may be equipped at any time replacing one of the other items.
Passive Effects
We've done away with character stats and attributes completely, all customization of your hero will take place in the Pocket Inventory. Each item you equip may have a corresponding attribute or passive effect. For example, the rune may inbue the user with incredible strength and thus enable powerful melee attacks, the spell book granting intelligence to increase the effectiveness of your spell casting.
Bonus Effects and Further Customization
In addition to activating skills and equipping passive effects, the combination of items that you equip in the Pocket Inventory will also affect the player. Having all slots equipped with flaming items for example will give you elemental fire resistance and damage, but with the caveat that you also become extremely vulnerable to water attacks. Or perhaps carrying a complete set of certain named items, for example equipping all of Maca's (a randomly generated name) weapons and equipment could grant you Assassin status, an increased stealth effect.
In conclusion, we hope that the Pocket Inventory will offer the level of customization and depth that you guys crave, while keeping the game accessible and intuitive to play.