It's time for another status roundup. The first month of Plurum has really sped along. Development is going well, there are exciting happenings around the game's art and promotion, and we've jumped through a couple of countries on our travels.
---
Funding news
First things first! We created a Patreon and welcomed our first backer in this period! If you want to help make this and future games a reality then please consider pledging a small amount.
We decided to go with Patreon since it allows us to grow steadily and with backing from people who really care about seeing what we're making get done right. Other choices like Kickstarter rely hugely on a thunderclap of support which as a fledgling developer it's hard to get together, even if the game has a lot of interest.
The design interface
Whereas the first two weeks had a lot to do with the tower defense action itself, these second two have been very much focussed on the other half of Plurum's gameplay: the design interfaces. This is where you the player will spend your time between battles designing projectiles and towers, researching tech and choosing perks. Two of the screens came along excellently in this first phase of development: army design, and tower design.
Army design screen
Customisability in Plurum isn't just about choosing how, what and when your towers fire. Some of it's plain old looks.
In the army design screen, you give your army a name and you come up with a unique insignia. The two colours you choose will eventually take pride of place on your towers, too - the design choices you make here will flavour your in-battle game!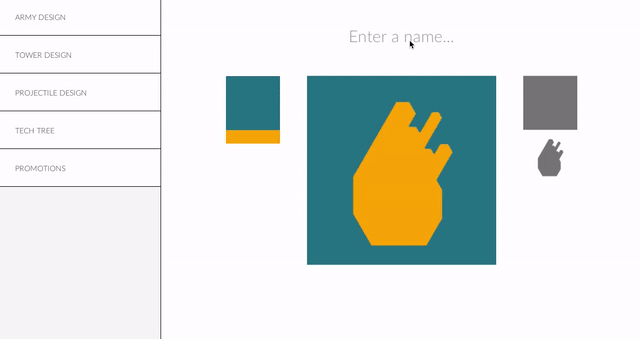 Tower design screen
This absolutely core piece of gameplay is now essentially in place. I'll talk you through the tower design process.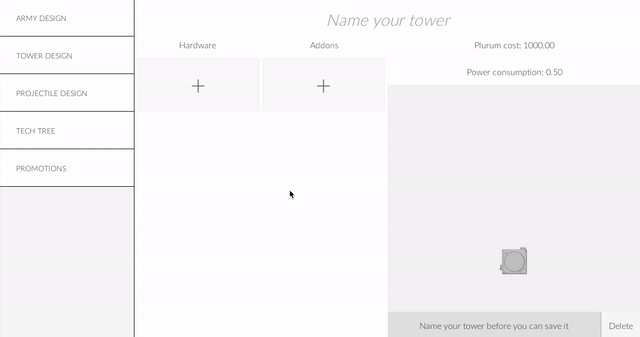 First off, you give your tower a name. This'll be the primary way for you to pick it off a list for construction in-battle.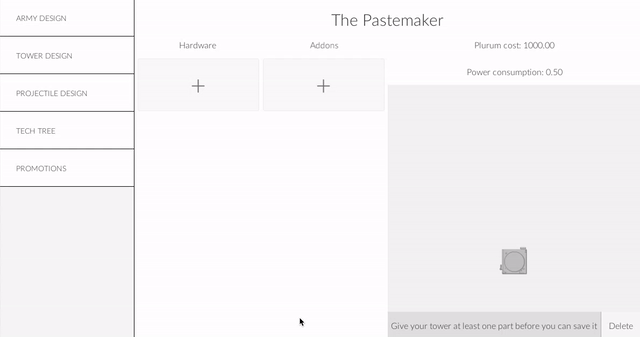 Next, add some hardware. You can have up to three, so it's your choice where on the "lone sniper barrel" to "expensive triple gatling" spectrum you want to land. Configure the hardware with fire rate, and more coming later: which projectiles to fire etc.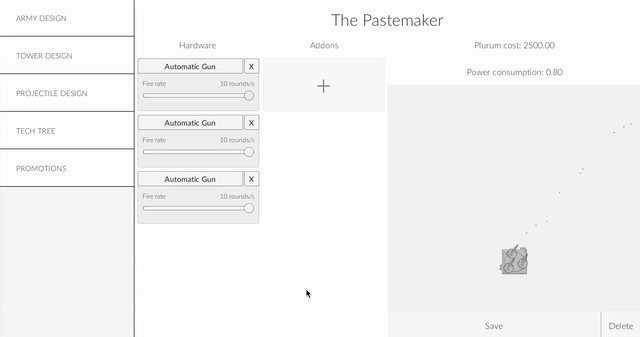 Same for addons! You can have up to three. Typically these drain a lot more power than hardware, but perform intelligence functions. The Basic Sensor Array shown here gives your tower a way to detect targets - without this it'd be blind, and wouldn't fire at targets.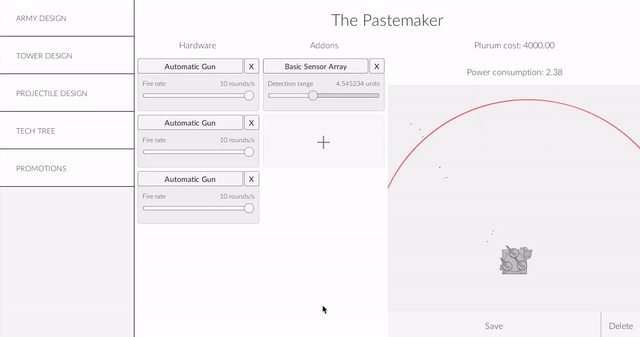 Mix it up a bit, configure things to your liking. Keep an eye on the live-updating Plurum cost and power consumption readouts as you do!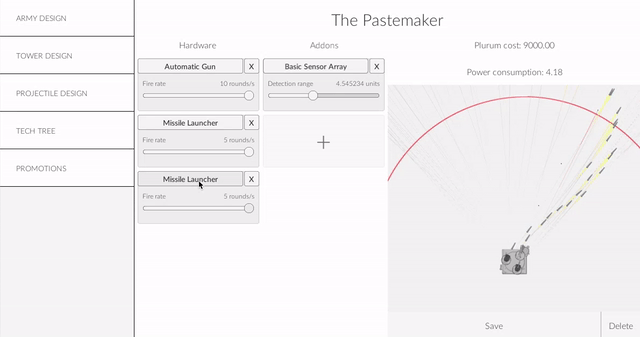 Once you're finished tweaking, the Save button lets you save this design to your loadout. It'll now be available for construction in missions!
Battle gameplay
Of course, I didn't totally neglect the battle screen itself. I've come back to it just recently and made sure the code's ready to take all three types of projectile; bullet, missile and energy.
Some extra intelligence has been coded in too, so that when I move on to work on projectile design we'll be able to have fun with things like different missile guidance modes! Above, you saw torpedos - no after-firing guidance. But the game now supports some basic modes of seeking an enemy target: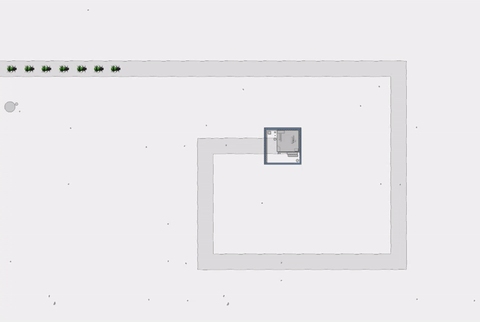 Art
We really were busy. We also put out a commission for concept artists to help us by creating some awesome pieces for Plurum. We're now working with two great artists to get enemy creature concept sketches and a stunning in-universe vista ready for you! Watch this space.
That's about it for this fortnight's wrap-up! See you next time.