Friends & Supporters,
In the past year, so much in the world has changed. Many of you, and your friends and families, have struggled through pain and turmoil, and have had to completely reinvent your daily routines. Nevertheless, you've stood by us through hardship, supporting and sustaining our vision. And we remain as committed as ever to bringing you Keep the Peace, and to making it the best it can possibly be.
2020 gave us significant opportunity to experiment with new mechanics, interfaces, and technologies, and we began the process of rebuilding nearly everything in the game from scratch. In 2021 we'll see the payoff of this effort as we release an overhauled UI, greatly improved AI, more complex incidents & investigations, and many, many new gameplay systems. This will be the year we bring the game from "prototype" stage to true "alpha" stage.
Over the next week or two, we'll be releasing v0.27.2, and the next major release, v0.28, is now planned for April. See below for more information about what's to come.
2020 - A Year of Change
In 2020 we rebuilt Keep the Peace from scratch, rewriting over 15,000 lines of code, rethinking nearly every game system and redesigning the entire user interface. We built a new demo map 16 times larger than the old one which for most people also runs much faster. As part of that, we developed new internal map building tools so in the future we can create additional, more interesting and varied maps.
All of this effort -- much of it "behind the scenes" -- meant that we went from April to October without a single release, and our releases at the end of the year omitted key game mechanics that were still being rebuilt. But this effort will pay off in 2021 and beyond, as the game will now be scalable, easier to debug, easier to build new features into, and easier to optimize. Many -- if not all -- of the things we have planned for this year would not be possible without the effort that went into the game over the past year.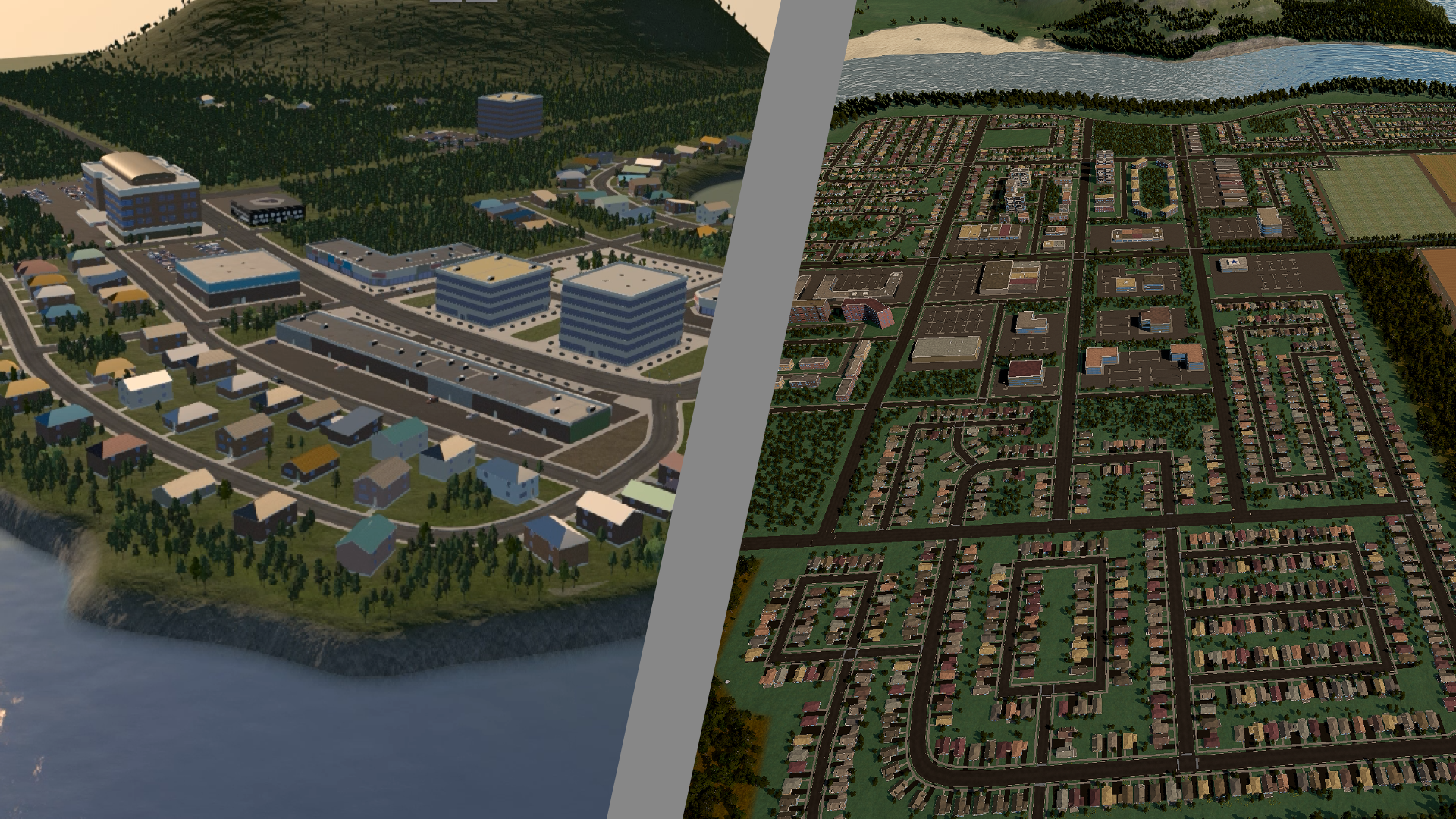 The old demo map (left) with dozens of structures vs. the new demo map (right) with hundreds
2021 - The Road to Alpha
Thanks to this work over the past year -- and your patience and support during that time -- we now have a clear vision for what is necessary to bring us from our current "prototype" stage to a true "alpha" stage, in which all of the core game mechanics are implemented and playable. We're aiming to reach that point by the end of this year. That's an ambitious goal, and there's a lot of work to be done to get there, but with your support it is achievable. Some of the things we have planned for 2021 include:
Dramatic improvements to the user interface

Completely reworked artificial intelligence systems

New mechanics for managing officers including the new officer development system, new rank/promotion systems, new incident command systems, new department leadership systems, and new physical health, mental health, and morale systems

New equipment systems for both officers and units/vehicles, plus new vehicles

More complex incidents, missions, and the introduction of investigations

Major new parts of the game, including department management, government relations, and community relations

New ways to get information about your city and its neighbourhoods and your department and its performance

A fully functional save game system

New ways to customize and mod the game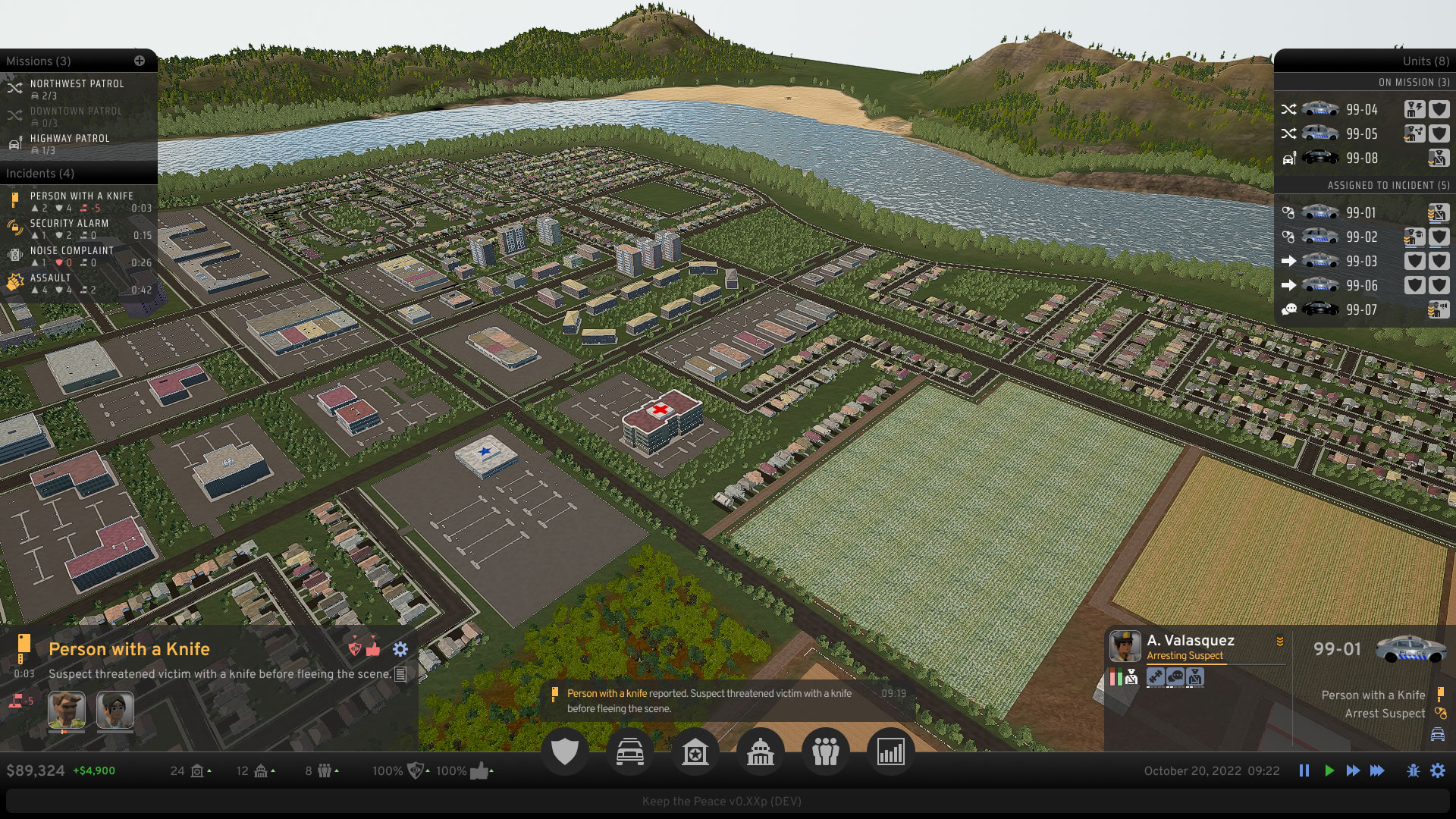 Some of the new user interface features in development for v0.28
Part of the new officer development system being built for v0.28 (Work in Progress)
What's Next?
With so much coming this year, what can you expect first? In the next week or two, we will be releasing a small update, v0.27.2, which addresses a number of bugs from the previous release. Originally planned for this month, the next major update (v0.28) will be coming in April. This is a massive update that will include:
Major UI updates, both for the main game/map area and the various game menus

Overhauled artificial intelligence for both officers and non-player characters, which will allow those to execute many new kinds of actions

Restored (and majorly improved) systems for suspects fleeing & hiding and officers chasing & searching, and also for conflict resolution and combat

A new "stability" mechanic which will indicate whether a situation is getting worse (e.g. a hostile suspect is getting angrier) or better (e.g. a suspect is becoming compliant) or is simply stable (e.g. a suspect is momentarily calm) -- various consequences could result from being inside these states, and various officer actions could impact them positively or negatively

The new officer development system through which officers can gain various skills, can become specialists in various areas, and can gain experience both on-the-job and through dedicated training

Plus a number of smaller features, customization options, optimizations, and quality-of-life improvements
We appreciate your patience as we put together this large update, and we'll be sharing more information soon about each of the various features we're working on for this version. Please stay tuned!
I can't say enough how much I -- and our awesome Community Management team -- appreciate your continued support and encouragement. If you haven't already, please consider joining our Discord chat server where you can chat with myself, the Community Management team and other KTP supporters, and where you can ask questions, share ideas and feedback, and meet some really cool people.
I hope you have a wonderful day.
All the best,
Nick
Creator, Keep the Peace