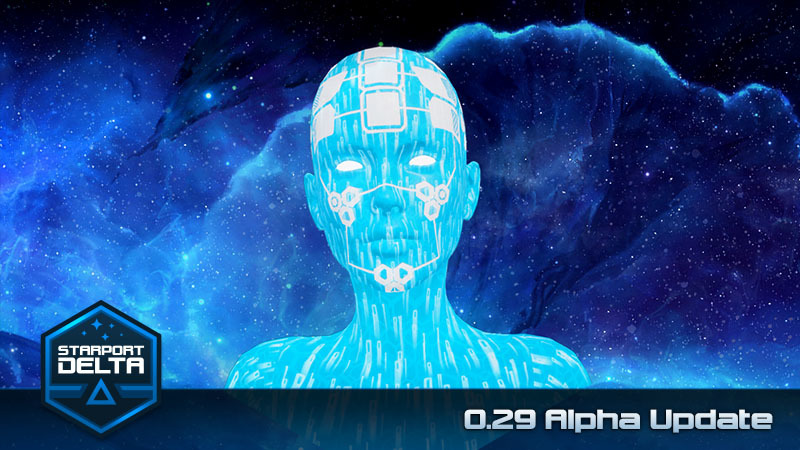 It's time for another closed alpha update to Starport Delta from the Cloudfire Studios team! This update adds more campaign content, voice acting, sound effects and various other updates and fixes.
What's new
unlock the eighth campaign mission
add new voice over content, primarily for the Holo Assistant
add new sound effects
add new visual effect when repairing buildings
add new lip movement system for animating character mouths
adjust timing of power plant reboot from storms
adjust current sound effects
update tile details UI to wrap tile descriptions
finalize scripts for voice acting during campaign
update security scan to operate during campaign
adjust game over screen to show the Holo Assistant
adjust lighting for mission 2
add confirmation requests to restarting a game or going back to the main menu
update existing buildings to align to their internal timers instead of resetting
update some of our plugins
tweak the corridor integrity settings
adjust rotation settings for pivot arms on Food Farms
fix construction sound playing on some mission loads
fix error when starting a campaign mission before the briefing is finished
fix security scan targets not changing back to default after airlocking
fix radiation bursts always targeting the port
fix infrequent error from deconstructing upgraded buildings
fix satellite no longer colliding with the station
fix free flight camera no longer colliding with the station
fix additional mining ship not being destroyed when upgraded mining depot is destroyed
fix the tile details UI not showing the port as a three-hex building
fix game restarts taking way too long
fix mission 5 starting with more population than it should
fix escape key creating multiple exit confirmation prompts instead of closing an existing one
fix mismatch between script and objective count on mission 6
fix housing not detecting evacuation routes from Trade Hubs after construction
fix mission objective detail showing as incomplete even when flag is showing complete
fix inactive tiles staying inactive when absorbed into upgraded
fix unlock button sound playing on load
fix defense lasers firing when inactive
fix repair drone beam not being destroyed when drone is
fix network grids not being updated correctly after a space worm attack
What's next
more voice acting
ship updates
Don't forget to check out our new game release trailer!
Wishlist Starport Delta now on Steam and Green Man Gaming!
For more information follow:
Starport Delta on Twitter
Starport Delta on Facebook
Starport Delta on Instagram
Starport Delta website
Cloudfire Studios on Twitter
Cloudfire Studios on Facebook
Cloudfire Studios on Steam