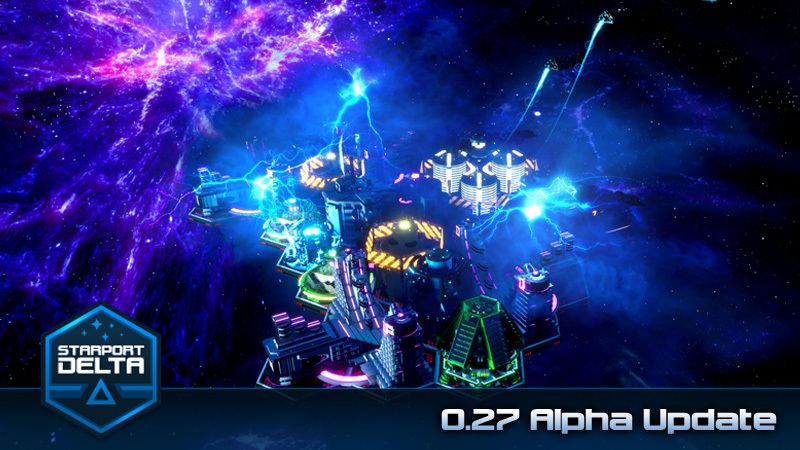 This week is another closed alpha update for Starport Delta from the Cloudfire Studios team! This update adds a new campaign mission, new disasters, new music and various other updates and fixes.
What's new
unlock the seventh campaign mission
add electrical storm as new disaster
add radiation burst as new disaster
add two new sets of music
add some 3D models for the mission objectives and security scans
add a language chooser for the first launch of the game
add new effect for hex selection in build mode
update the space worm attacks to respond to how many times you choose to airlock people
adjust the action music for an earlier music set
adjust how inactive building destruction works
nebula optimisations
increase durability of the Port
update the warning signs around inactive buildings when repaired but requirements still met
update the visuals for the meteors, include screenshake when station is hit
update population taxes to be paid by each housing building with visual notification
remove tile details window when tile is destroyed
improve performance when many buildings are destroyed in a short space of time
update garden tiles to provide population growth and tax benefits to nearby housing buildings
fix free-flight camera not working
fix grid selection sometimes being a bit off
fix multiple notifications showing on some occasions when upgraded buildings are destroyed
fix repair exclamation not working if in upper left part of the screen
fix buildable hexes sometimes not displaying on sandbox mode restart
fix main menu item background hover effects not working when returning from a game
fix some building and set collision meshes
fix music being muffled when switching between camera modes
fix music sometimes being stuck in the action track
fix tile details window sometimes not showing correct upkeep costs
fix tile details window not wrapping status text onto a new line
fix gardens having reduced integrity
fix rare cases of buildings trying to be accessed after being destroyed
fix rare cases of upgrade buildings being around the wrong way
fix population sometimes not being removed from the global population count
What's next
more campaign content
new mechanic
Wishlist Starport Delta now on Steam and Green Man Gaming!
For more information follow:
Starport Delta on Facebook
Starport Delta on Instagram
Starport Delta website
Cloudfire Studios on Twitter
Cloudfire Studios on Facebook
Cloudfire Studios on Steam