Hi, and welcome to the devlog of may 2021. Since the last devlog a lot of progress has been made in various areas of the game, including beginning of the preparations for a DEMO. Yes, you read it right! I will release a demo of the game, showcasing many of the elements in the game. If everything shapes up, it should be ready for the Steam Fall festival.
So what has been done since the last devlog? Well a lot I think :) - Lets dive right in to it!
Main screen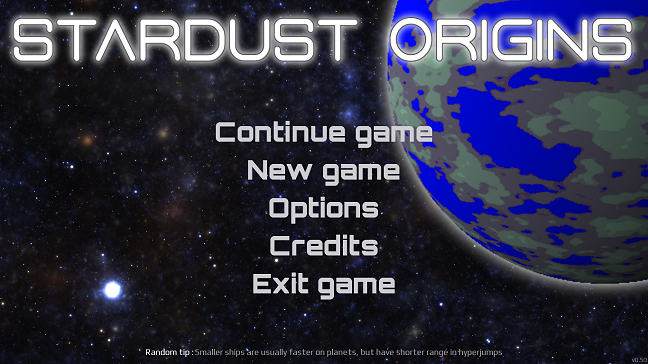 The main screen has been revamped with new fonts, a new headline, new changing backgrounds and a rotating procedurally generated planet. You also get random tips for optimizing your playing experience.
New game screen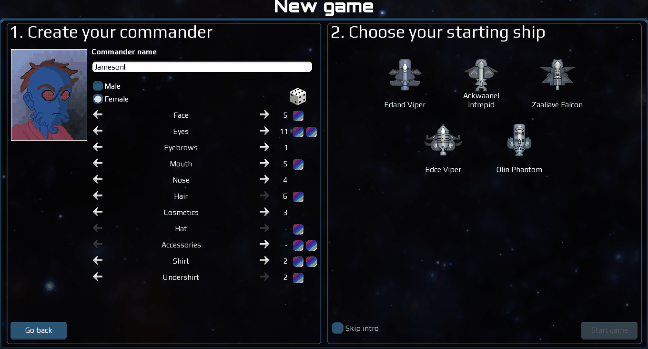 In the new screen you are able to create your own personalized character for the game. It has a lot of options and you can create more than 2 million unique appearences. It is also where you select your initial ship to help in your adventure.
New mission types
Goods missions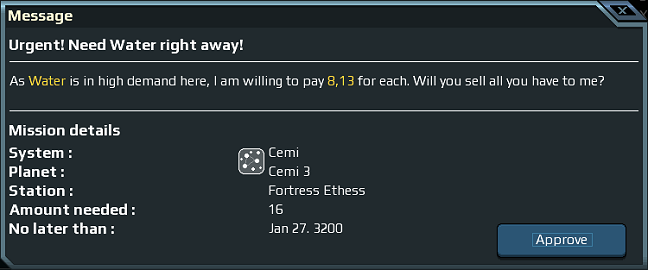 A lot of different goods hauling missions have been added to the game. Each station offers different kinds of missions for transporting goods to other stations, both on same planet, in the same system or between systems. Prices will vary according to travel time, deadlines and potential risks.
Passenger missions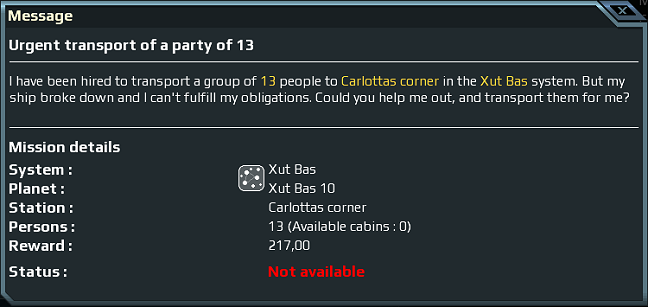 The universe is a busy place and people needs transporting from place to place. You can take up the role as passenger carrier and transport people around. The rewards can be big, but so can the risks. And you need a passenger cabin in your ships hull.
Fines and bounty rewards
Fines and bounty rewards has also been implemented. A bounty is a price on your head, which will be added when you kill other ships without prior provocations. Note though that this only happens if there are any witness to your crime. If you have the Ship Scanner attached, you can see if a targeted ship is wanted and have a bounty on its head. To receive the money from killing a wanted ship, you need to go to the Security section of a station and redeem a bounty voucher.
Fines are given to you, if you fail to complete missions, which have a fine attached to it. Fines are paid off at the Security section and failing to pay fines will result in your reputation being lowered.
Reputation

Your actions in the game will have an impact on your universal reputation which again will influence which types of missions are available and which function of a station you are able to use. So keep a good reputation! This includes completing missions, paying off your fines and generally just be a decent guy.
Legal status
I have also added a legal status to every ship. Your legal status represents how the police and other ships see you. A legal status of outlaw will make the police attack you on sight. The only way to reset your legal status by paying off the police at the Security section on stations. Your legal status is changed when you attack unprovoked AND being witnessed by other ships.
Demo coming
As I mentioned in the beginning, I'm working on making a demo ready for you to play. It will be ready for the Steam Fall Festival (date unknown right now). For this demo, I need to add sound and music which are nonexisting as of now. I hope to have more information regarding this at a later stage.
Localization

I've added my game to Localizor, an online crowd translation tool to have it translated. This should make it possible for me to release the game with these languages:
English
French
Spanish
German
Russian
Danish
You can contribute to the translations and will be able to receive a free Steam key for the game when it releases. You will also be mentioned in the Credits for the game. Just follow this link Localization Stardust Origins and signup on the page. The game could really use your help in this!
That's all folks! At least for this devlog. I'm still busy working on the game and still enjoying it a lot! I hope you will too, when you can get your hands on it.
Wishlist Stardust Origins