STARDROP Is Coming To Steam Through Early Access
For a long time I have been contemplating what the best course of action would be regarding STARDROP's future. As many of you might know we have been and still are in need of funding and while we can't fully rely on Early Access to fully fund the game we feel that it will most surely aid us in our needs.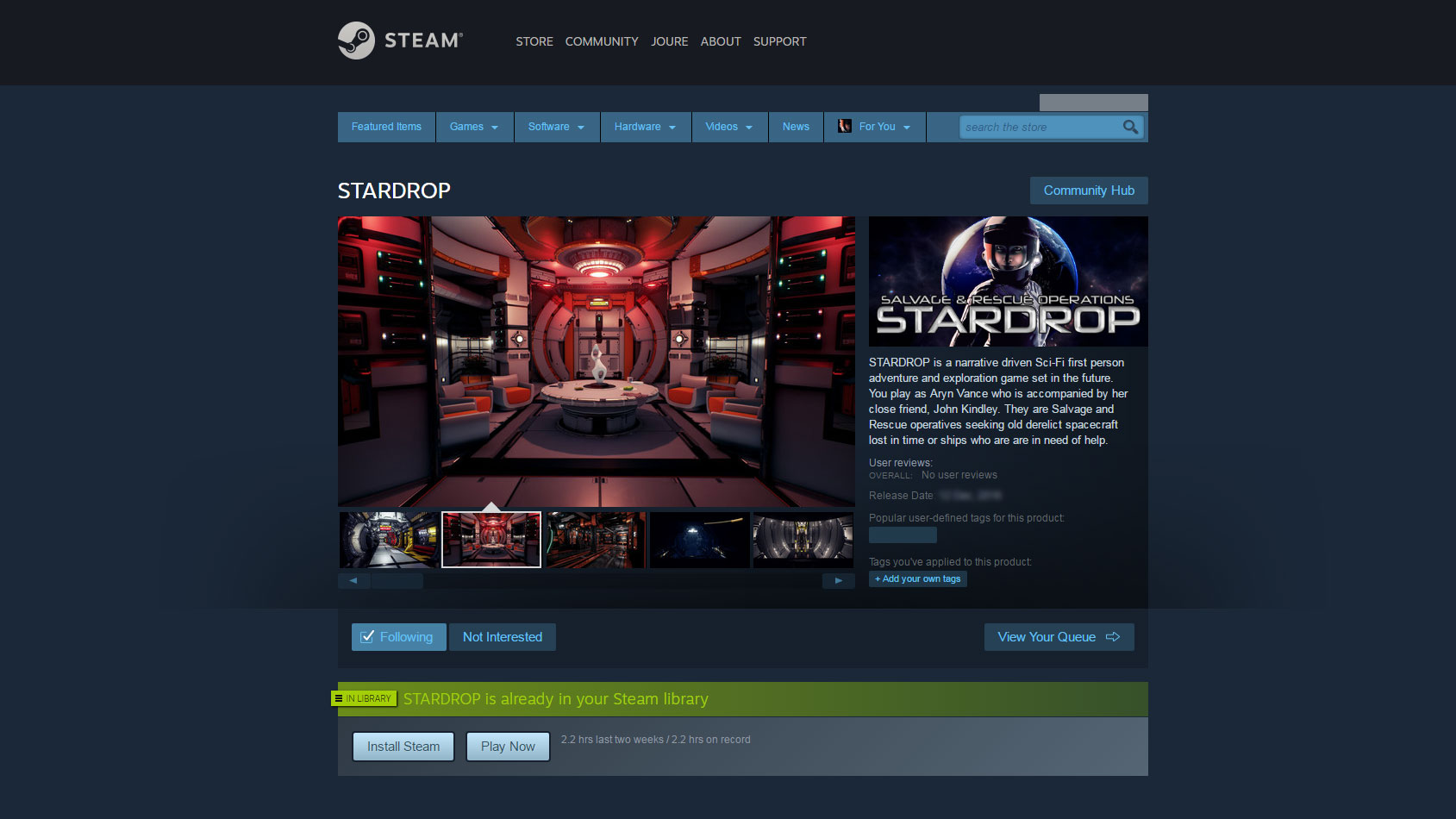 Besides that we feel having a presence on Steam will further enable us to grow our community as well was making the game feel more credible as being an actual official title. To celebrate the news with you all I am posting here a behind the scenes look of what our store page currently looks like. Note that the page is still a work in progress and some store art might change.
Early Access

As I mentioned above STARDROP will go into Early Access. I will continue to personally approach members of the press and Let's Players / Streamers in general as well as posting on social media to further create awareness of the game. I'm already very honored with our current core community members and am excited to meet newcomers and get in touch with new members as well as continuing interacting with our current community.
I am setting up a solid base plan while being in Early Access. This includes weekly dev streams where I will go over a variety of topics regarding game design, answering questions or having team members come on and do interviews or just hang out with me. I'm planning to do contests with various prizes ranging from a free Steam Key to helping me design a new SRO side missions or a character for the game as well as a weekly Let's Play / Review spotlight.
We will also be releasing updates which improves existing game mechanics and/or improving existing content. Next to the updates we will also release new content in the form of new SRO side missions.
What About SCI?
The STARDROP Crowdfunding Initiative will still remain LIVE simply because we offer certain rewards which we cannot offer on Steam itself. We have adjusted the campaign to reflect the upcoming Early Access release. Old and new backers will receive access to a backers exclusive side mission due to the changes in pricing the game for Earl Access which we will reveal slightly before launch.
On top of all this Backers have now been given the option to request a Steam Key. New backers will get access to a Steam Key by default and can opt for a Itch.io Key upon request. Our efforts will go into keeping the game updated on Steam for now and will only update the game build on Itch,io if it's a significant update.
If you were on the fence about backing us through SCI then now might be a good a time as ever.
When?
We have not committed to a date just yet, but we are looking heavily at early December. There are a few factors that will determine when we will release as we are also very busy setting up the store page. We will keep everyone informed about when we will officially launch.
Once we're done with setting up the store page and creating a new trailer I'll go back and attempt to finish the new SRO mission before we release on Steam. If not I will be able to release the new mission shortly after.
Thank you all for your support so far and I hope to see you over at Steam soon.