Hey, Space Travelers!

Merry Christmas!

Let's take a quick look at what's new since the last update, that was a couple of weeks ago.

Gameplay
3D Printing / Crafting System
The Printer object can finally be connected to the electricity grid and print some items you can unlock through the research tree, including but not limited to a Construction Drone, Survival Meal, Soy Burger and some clothing items.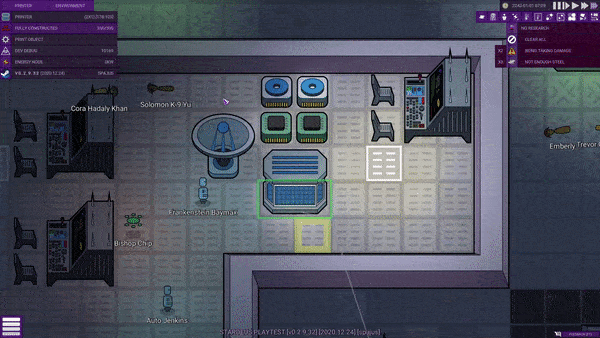 Food System and Hunger Need
There will now be research branches and craftable food items that colonists will seek when hungry. Colonists will try to find a spot with a table and chair to eat their meal, but if no table is available, any flat surface will serve as a makeshift table! Colonists will sometimes leave their plates on top of delicate equipment, which will lead to emergent situations.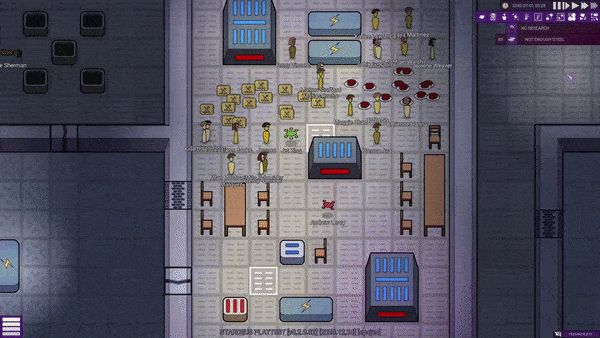 Colonist Equipment
I have started work on adding more features to the colonists, beginning with their inventory. The clothes and accessories can now be researched, 3D printed, equipped and unequipped. For testing purposes, equipping / unequpping happens though the UI, but in further iterations colonists will seek and equip clothing on their own.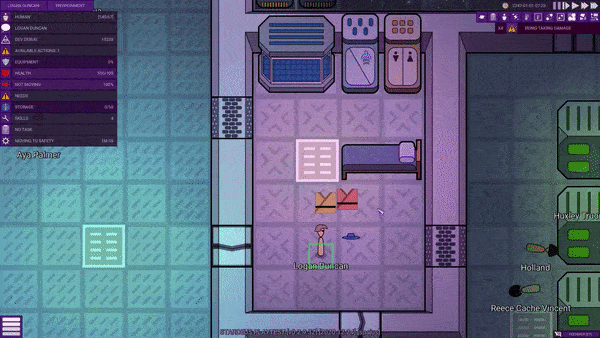 Electricity Grid
You will be able to see electricity production and consumption directly on the electrical devices in the electricity overlay view. This will help troubleshoot energy deficit and other issues.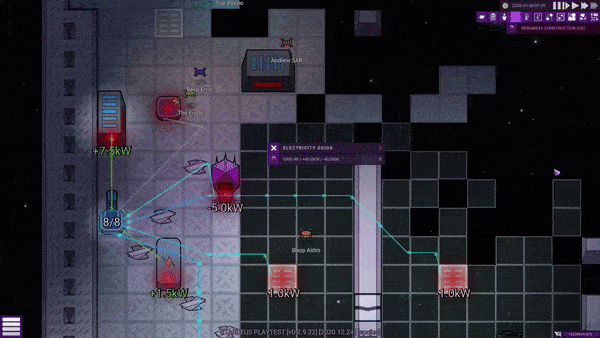 Asteroids
One of the major threats in space are the asteroids. Don't worry, there will be ways to avoid them and to protect your ship from taking serious damage.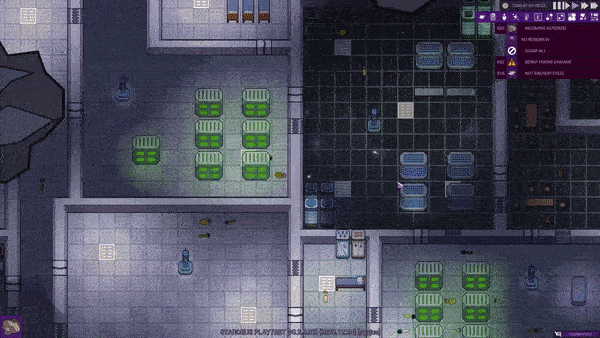 Fire Simulation
Fire will now behave properly, it will spread when it can, deal damage to the surrounding objects and die out if there's no oxygen or it's too cold. Colonists will set themselves on fire when getting in contact with open flames, and as an added bonus, if you put a bunch of colonists in a room and light them on fire, it will produce a hefty amount of carbon that can be used for 3D printing valuable objects!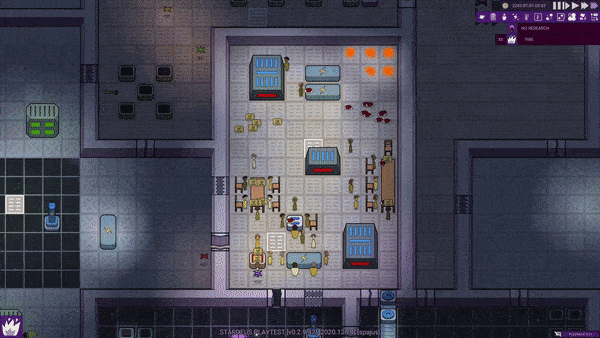 Visuals
Organic Damage
Damage will now look more organic.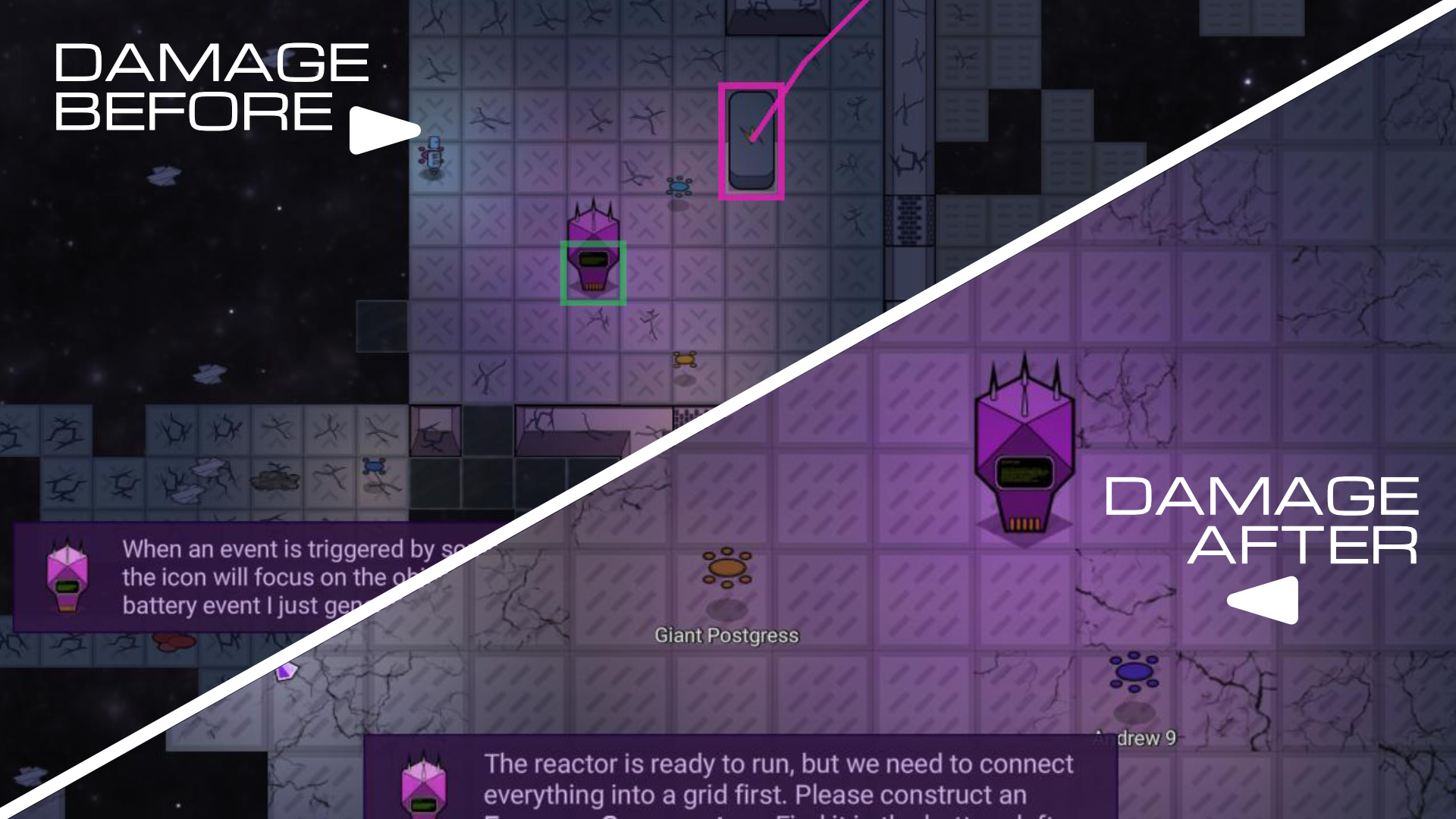 Naked Colonists
Colonists will be waking up from stasis arrays naked, their clothing and accessories will have to be researched and 3D printed separately.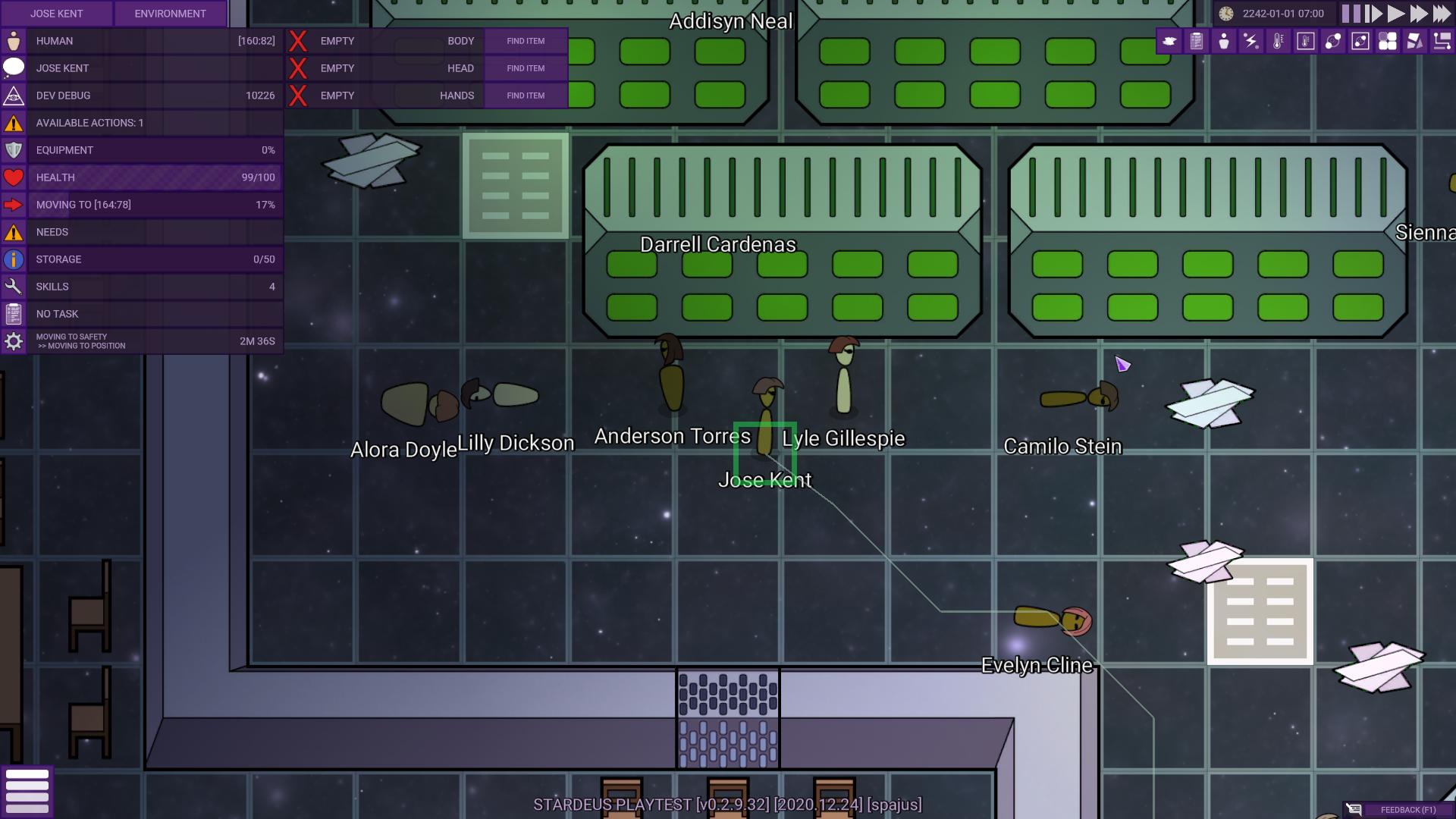 Construction Progress
Construction progress percentage will now be visible for each tile while workers perform the task.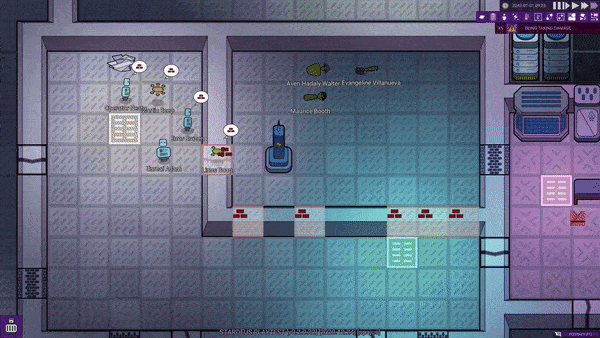 Full list of changes since 2020.12.13
v0.2.9 (2020.12.21)
- Add asteroids
- Generate people naked
- Make hats and clothing 3D printable and equippable separately
- Fix ship computer not showing energy use during research
- Show more details in electricity grid overlay
- Make ignored drag distance configurable in input settings
- Keep overlays activated while dragging with right mouse button
- Make mouse controls and RMB behavior more consistent
- Change how beings behave in dangerous conditions

v0.2.8 (2020.12.20)
- Show construction progress
- Fix some errors reported by playtesters
- Make it possible to attach your save in feedback form
- Fix being and object rendering z order
- Add slot system for placing objects on surfaces
- Implement food system
- Implement Crafting component
- Add Robotics research
- Make drones craftable
- Add a craftable Soy Burger
- Make humans go eat available food to satisfy hunger
- Fix lights flickering when walls or floors are built or removed
- Fix broken fire implementation
- Change how fire spreads and how fire damage is being dealt
- Fix context menu occasionally unnecessarily paginating itself
- Prevent camera from panning too far away from the ship
- Don't list dead bodies in beings list
- Change object rotation to go in one direction only (less key bindings needed)
- Change default key bindings to be more convenient
- Add options to configure how space background looks
- Add Changelog panel to main menu
- Add 3D printable survival meal
- Make damage look more organic
You can follow the updates on Reddit and Twitter.

Steam Winter Sale
Oh, almost forgot, my last game, a combat racing roguelite with procedurally generated race tracks - Bloody Rally Show - is on Steam Winter Sale discount right now, good time to grab it!