Edit: I have received observations regarding the english grammar for the game text, I will check it out.
Edit 2: Small update to this profile cover and boxart
Salutations space adventurer, this time this status report is special, why? Because the project achieve a new milestone, which was for it to work in a stable manner from the game scene 1(the initial setup) up to the video before the true gameplay starts, the one I will now do and is the last part of the development to have a decent demo.
As for this whole part, the focus will shift from coding to arts. Without further delays here is the video, to see all the details watch at youtube with a greater resolution and player size:
Also, not sure if I already posted this, but here it goes, note which 4 stars for a work in progress project on steam isn't that easy to obtain: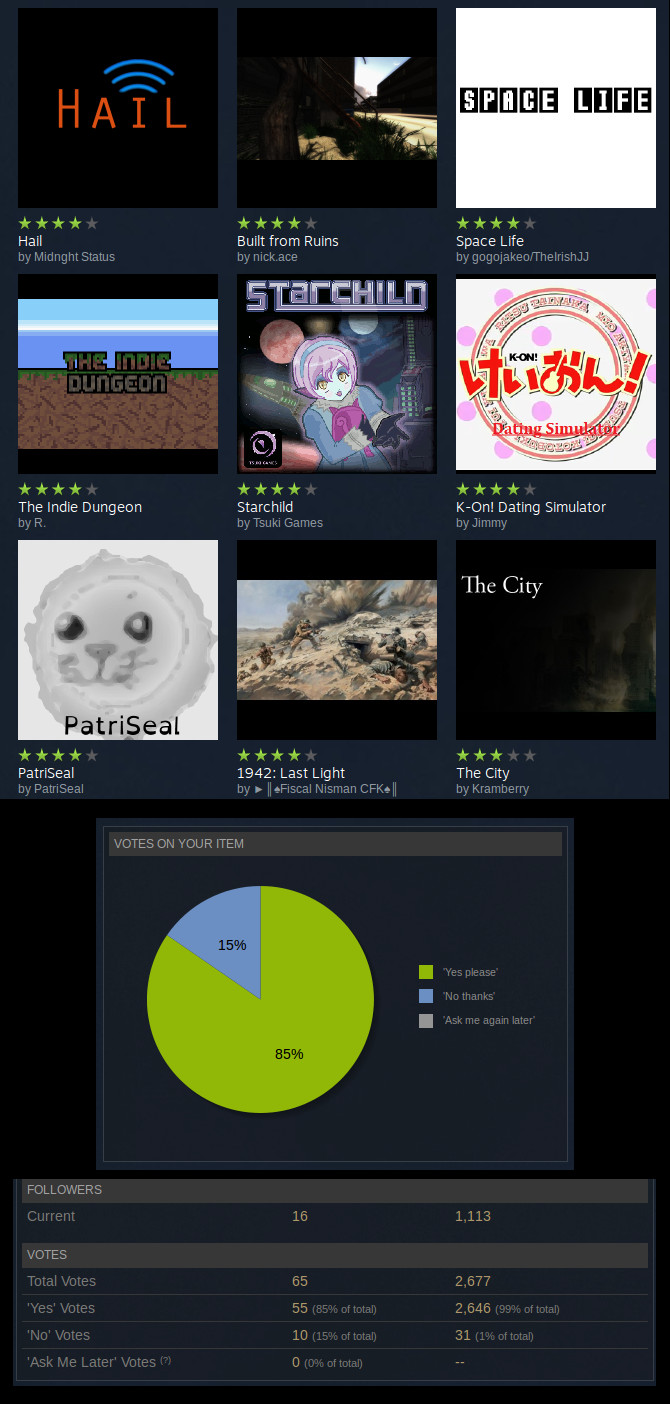 Music Progress
The casual music 3 was already co-composed by the musician David Nyman, it used as base an old project music I composed, with it we have 3 casual musics and will no longer have more.
[MISSING VIDEO, EXPECT NEW ONE AT NEXT NEWS ARTICLE]
Usually I would already go to the game "danger musics", but I will instead remix the other two musics, as up to now I was still trying to get the music style I wanted "right", and I got that with track 3.
The musical progress of the game was not something rigidly defined, but a gradual process. The general, vague music concept was already in my mind long ago, it led me to artist David Nyman music "Strictly Business", the first music, bought already finished.
The second music was made entirely upon request, with it the music artist understood better my goals and I understood better his way of work. As an experiment to define the music concept, I asked for this music to be a bit more "diluted" than the last one, meaning it would have less sound activity per minute, resulting in a longer music, the goal was for the music to not get tiresome after several plays. As example there are "Diablo 2" and "Fallout 2" soundtracks
For the third track I asked for a greater usage of the "diluted music" concept to see what would happen, when I saw the results I then knew the game music concept was finally fully defined, in the worlds of the music artist "a less dense music, a mix of sfx with music, a soundscape"
Programming
Now let me tell you about the part you do not see of the game but is very important and hard, which is programming, or coding.
Usually a single indie developer like myself code something to "just work", which means the code will not be fast and will be unnecessarily complex(and bug prone), as time pass we simplify this "cluttered code", making it easy to understand, use, immune to bugs and faster. But for each new code included, the cycle restarts, that is why a software is always releasing patchs, this only does not happen when the project is dead.
Other important factor is my experience as independent programmer, with my current experience which grew together with the project, it is easier to produce a much less brute starting code. If you are curious the project is coded in Python due to easy of use and its executables are coded in c++.
In preparation for coding the last part of the game for a demo(the true gameplay) I had to standardize the way the game code operates, this time I will share with you a bit of what I had to do:
Optimized the code of the game timers component(module), and fixed a bug where if it was requested for all the timers to be removed(when a scene changes) there would be a delay in the true removal.
Optimized the code for the game tasks module
Non menu videos(like the logo and intro ones) are now considered a separated scene, having their own scene files, if it was the best course of action only time will tell.
The menu "campaign settings" was coded in the main menu scene
The game input, animation and player modules codes where optimized.
The game gui code was revamped in the way it works, it was also optimized and its bugs fixed.
Scene files are now more read than write to, the goal is for them to only be read by game, write should be done somewhere else.
Duplicated code was removed
Code which should belong to a module(ex: graphics module) but were done at other(ex: input module) were put at their right modules for organization.
Some game files and folders were renamed or moved to other places, some were merged into a single file.
The game sound code was finally done.
Many smaller bug fixes
It is not related to coding, but I also made some additions or changes to the game arts(video, menu, etc), I even added a new hair type at character creation.
Contribute
Thanks for your visit space adventurer! If you liked this project you can help make it happen by: