Hiya-
I'm Matt, I first played star control II back when it was released in 92. It's a great game, and one of my favourite games of all time. You should try it. What, you haven't tried it? You should! You should definitely try it.

Anyway, Urquan Masters is the open source re-release of the game, which added several new features, and allowed the game to be ported to many platforms. Unfortunately because Activision owned the rights to the name (Stardock, now own the rights) at the time the name "Star Control" could not be used - however it is the same game. And what a game!
Later along the line, Urquan Masters HD came about, which was a fork of the original, adding a few new features like improved spacemap navigation, but mainly upgrading the graphics to a high res. It's great looking. Unfortunately there were a few changes made, and for some reason the Precursors remix music wasn't considered important enough to include, which is a shame, because in my view the remix music far out-classes the game's original music, much like the HD visuals outclass the original 320x240 graphics (a point of contention but I think to any newcomer to the game, the upgraded visuals are an improvement - for us older players, the originals retain a hint of nostalgia?).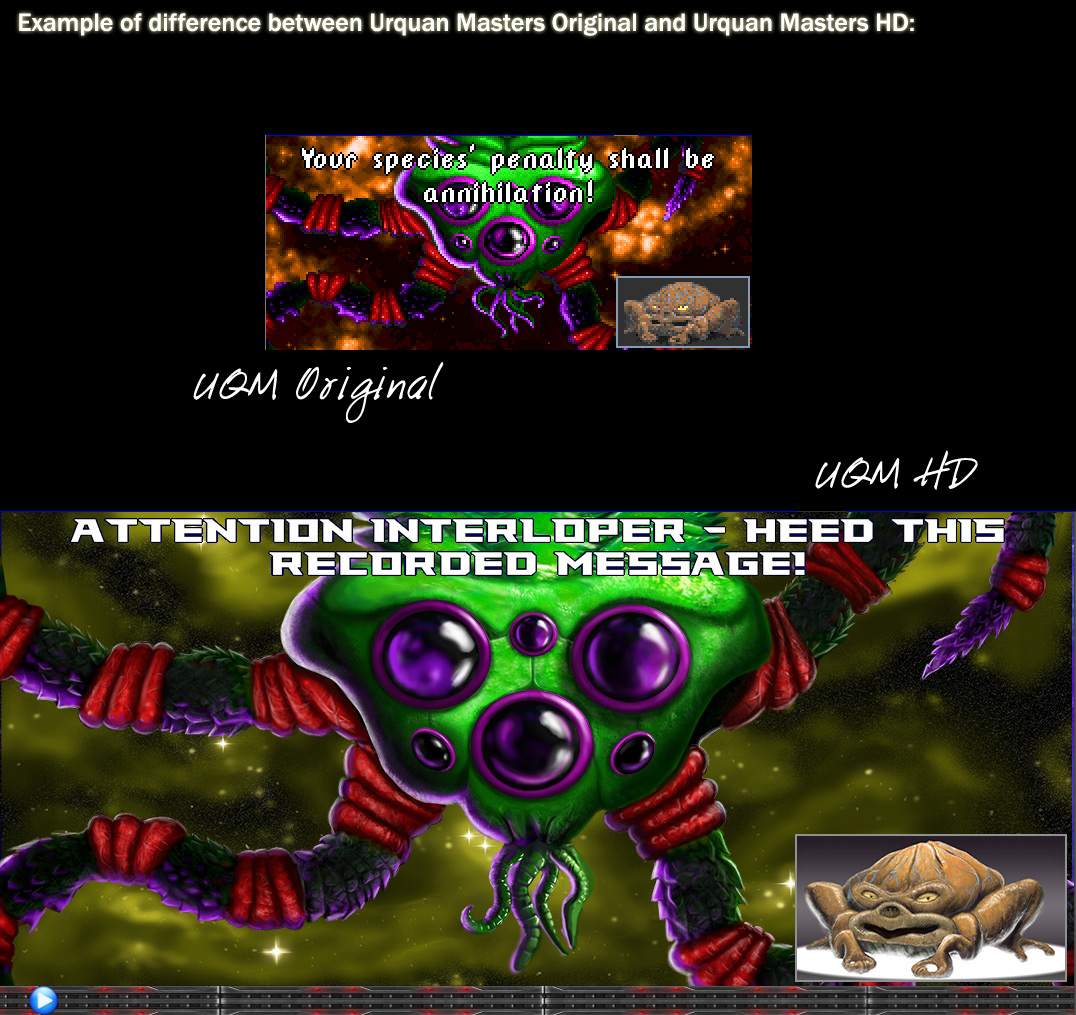 At any rate, I got involved in the Precursors remix project fairly late in the piece, when most of it had been done but only the intro and outro music hadn't been completed as yet. I took the job, and completed them, and was instrumental in getting the final remix music pack pushed out the door. Even before that though, I'd been highly impressed with the remix music, considering it a great upgrade over the originals (again, nostalgia-goggles from older players notwithstanding).

Cut forward to now, I am releasing an upgraded/cross-graded/forked version of the Urquan Masters HD that I am calling The Urquan Masters HD Remix. This new release fixes a few bugs, changes a few things to make the game more palatable for both new and old players, and includes the remix music as default. For the full list of changes, take a look at the project's summary page. I was unsure as to whether to list the game as a mod or a game, but on reflection the thing is complete in itself, so really constitutes a game, not a mod (though I suppose you can consider it a mod or fork of UQMHD... but I digress).

I hope you enjoy it. The game is a massive influence on game designers who grew in the 90's, and finds it's offspring in mass effect, amongst other games. Great work on all player's behalf's, including the original developers, the UQM original team, the UQMHD team, the Precursors team, and lastly, myself.

Peace-
M