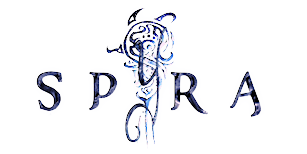 Time for a little update. You might have noticed that I move this on to reloaded and that I premade a few assets for this undertaking. However, with reloaded being in a beta-stage for quite some time its still lurking somewhere in a hypothetical stage. To be clear on this: With the "FPSC" Sentence being lifted from Spyra, I also lost its restrictions. That being said, I don't know what I can accomplish in reloaded. This is why I decided to dedicate this thread more to concepts, ideas and what may be happening with this game next year.
None of the following are promises.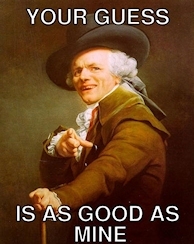 Now its time for a self-interview:
Taking the new engine into account, will you keep the "prologue" format?:
Yes, this game will be a prologue to a larger story. Altough I intended to make this in old FPSC, I find that if I start working in a new one, I will have to test the waters and see what I can do first... a shorter prologue would suit this just fine.
How long do you plan this game to last?
I aim for 3 to 4 hours. I know thats big for a one man show, but I want to work on this throughout 2014 and see what I can do. Stronger things last longer and I can't charge for a game that you can play through in 15 minutes.
Don't you lose all the levels and gameplay you already designed for this game?
Yes! Altough the scripts will likely be compatible with reloaded, the levels will be lost. This is a good thing because its possible that all the levels, and everything I made so far mapdesignwhise might fit in a single Reloaded (the new engine) map. I also aim to improve architectural design.
You designed this lowres- colorful style to fit larger maps in FPSC. Now you can have large maps without these optimisations. Will you abandond this style?
No! I keep the style, I will however improve it with shaders and a slight elevation of texture details.
What will you change or add? (99% Likely):
* Steampunk/Mechanical elements are back and will be big in the lore. So is the technology vs. magic conflict I wrote for Relikt.
* The game will no longer take place in a tomb only. The sanctuary is a much bigger and more developed place now. By now, I mean the future... one of the possible futures...yeah!
* Outdoor levels! There is even a dinosaur-like creature hunting subplot in which you are in a (possibly) lush oasis level.





* You will experience the desert of symaria with weather effects andother subtle details to really drive in a desert-like atmosphere.
* Much more dynamic and animated levels...and some feline creatures to add a bit of cuteness. This is, after all, a more warm game.
By more animated I mean:
A lot of indoor fountains and waterworks
working machinery
Animated critters
Animated foliage
Weather and environment effects
Magical artifacts
Characters (!) that do things... not just stand around and shout exposition.
* Puzzles you can solve with gadgets that you will actually see in your hands.
* Way more detailed environments.
What will you change or add? ...if you'd develop super developer powers the next year.:
* Dynamic characters that react to your action in a way that you care. This would allow me to create a true lovestory subplot. I will try to get an illusion of this across, with the multiple choice dialogue system, but since I can't animate complex char animations I will only get so far.
* My modeling skills tend to make unexpected quantum leaps... maybe I will have interactive animations like handshakes, gestures, hugs or waves in the game. That would make it a lot more personal and visual.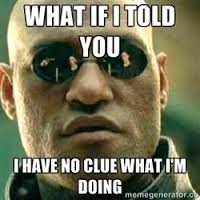 * A-class voiceacting
* Flawless Dishonored like movement and climbing system
* Combat as good as in Dark Messiah, just less violent
* cool customisable weapons and gadgets.
Whats the storyline really about, you usually change them throughout development:
It has changed a lot. The prologue will however not get too far in it. I'm terrible at getting the storylines in a nutshell down in english so I'll just say that you can explore this ingame. Here is a hint: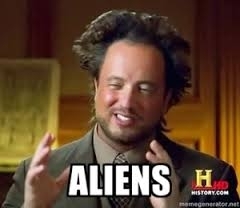 when?
Next year. I'm not quitting taffing around with this game and I hope you guys checkout my progress from time to time. We'll see what I'll come up with!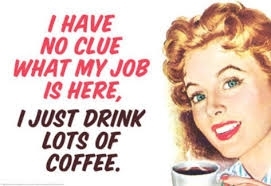 You keep mentioning that there might be a lovestory in this game. What if a player does not like these?
I'd recommend skyrim. Its a great game and very modable but also as impersonal as NPC's can get.
If its possible, and you don't want to play the lovestory, I'll try to have some dialogue options where you can be rude/disinterested and remove the character from the rest of the game. She'll be a female version of "garrett" from the thief series and while writing that character I noticed that many people might not like that sort of "dishonest" character.
How linear is this game?
I know that we grow jaded and used to modern massive-open world RPG's. But: altough its a fantasy game, its not an RPG. Its an adventure. Its essentially linear with a few pathchoices and dialogue options to keep it fresh and give the player choices.
How do you wish this dialogue to be?
Short and to the point, for players who don't want to bother and detailed aswell as entertaining for players who do.
Its a typical multiple choice dialogue system that plays narration alongside of voicedub... possibly with animations. However, unlike most recent (Thanks for being awesome and different about it, The Witcher²!) Fantasy games, you can't just select all the dialogue options and replay them in case you didn't pay attention. Like in many older fantasy games, there will be insulting and definitive answers with consequences you can not reverse. However, you can not be too extreme. Bioware struggles to handle sudden shifts from whiteknight to murderous sociopath, how could I do it with my manpower consistent from me and 3 friends that help me out from time to time and my budget of 0.
You can also not kill friendly NPC's.
What do you want the engine switch to improve the most?
Collision!! and memorycap issues.
Now for some not very spectacular new Meshes: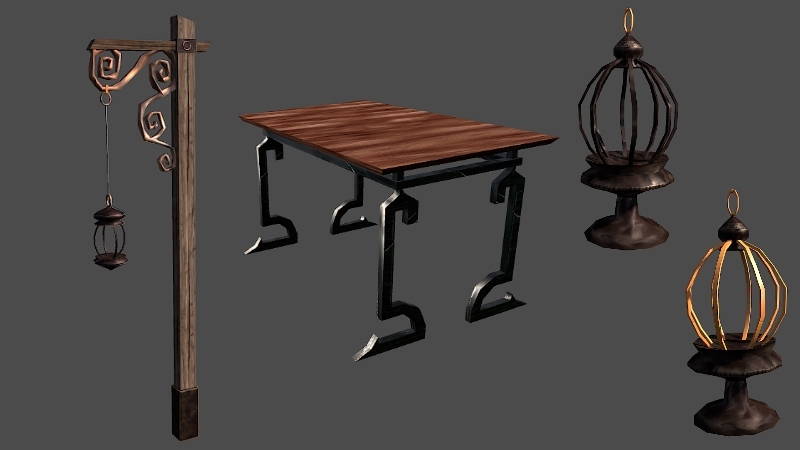 A symarian officetable, a nice outdoor lantern holder (please note that there are several alternate versions which are more and more simplified. Imagine a little flame or magical spark in these lanterns

) and tablelanterns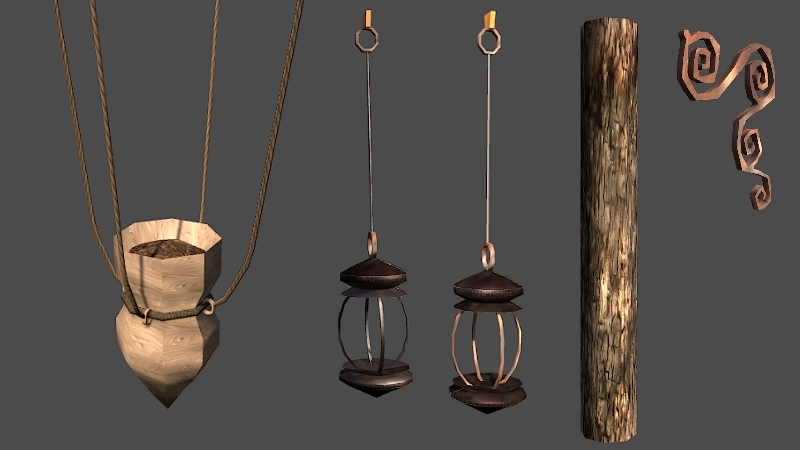 Few of the many alternate versions of models I made and a hanging pot I will use in garden /alchemy / livingroom levels. I assume that reloaded will handle dynamic objects and transparency better so I will add more indoor plantlife.
Bridge cubes with wooden structure to be used in various instances.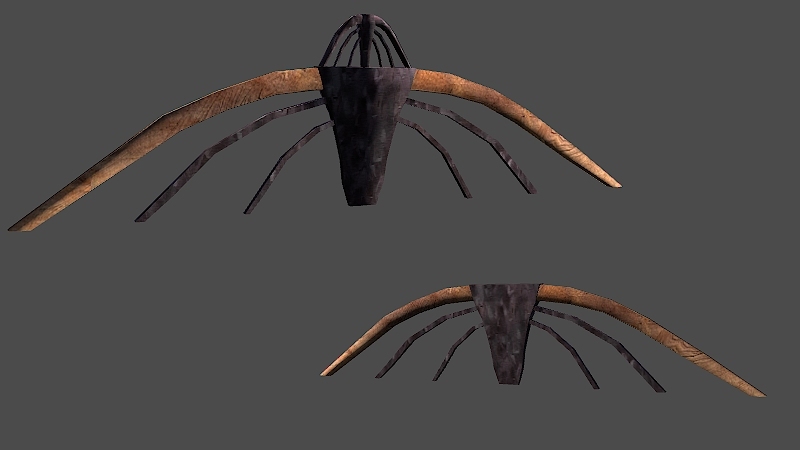 Fancy fences. There are of course some more variations than these two.
Do you want me to answer your questions? Feel free to air your thoughts!(also, comments that aren't questions)