In general, where do I seek inspiration ?
If you want to create anything (I mean interesting and suitable) like music, sound, or whatever you want, you should have something to tell like a story, or some others emotions to share.
In any case, this is the way I work avoiding thus hollowness ... So, I just need a powerfull idea.
Composing Sprouty's (tiny-)OST was quite easy, because this character specificities are a horn of plenty, just look at him!
Isn't it? So : He simply is a cute sleepwalker acorn. And this was all I needed to make my job!
Then, things became easier : who says music and "Sleep" ... says lullaby!
So, first I composed a small eight-bars childish music (respecting classic music codes and simple harmonic changes).
Here's the 4 first bars of the score with no instrumentation (for the curious) :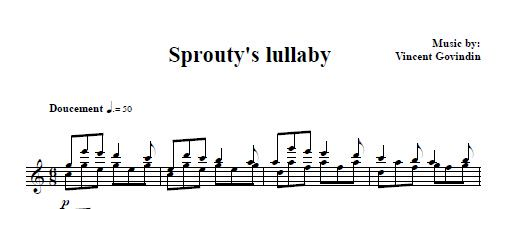 Then I had to "produce" this small
song in the right style, to make it appropriate to the game's aesthetic (Retro,
kawaï, f2p, flash)
... I decided to give it the texture of a strange 8bit Music box, using cheap-sounds, with a tempo floating slightly up and down.
Here's the result :
I finally hope this small piece fulfil his role as an immersive element allowing the player to be immediately taken in the humble world of Sprouty.
Here's a Sprouty first opus game link, for those who'd like to check if "Sprouty's lullaby" works or not!
Hoping you'll support us (AlKeVi), during the developement of the sequel ...