Here at Frame6, we've got quite a bunch of strategy enthusiasts and board game geeks on board. After developing the official Crysis board game in collaboration with Crytek, we felt that our digital debut title should be set in the strategy genre as well. Right from the start, we wanted to create a multiplayer title with a new gameplay twist. Most of the engaging genre titles we knew were quite competitive though. From our personal experience, we knew how fast a game can become frustrating when you're usually getting rushed within the first five minutes.
With that in mind, our goal was to create an online strategy title that should focus on cooperative gameplay as opposed to eSports-worthy competition - but without leaving out the action. One genre that immediately came to our minds was tower defense. Once the player can focus on only defending, the whole experience becomes a lot less stressful. Except for some rare and exceptional titles, most games in this genre are quite linear though and do not provide much strategic depth. The key to win is often the same: build the most powerful towers in corners - that's about it.
With Spleemo & Glob, we wanted to change that. The gamedesign is focused around three main pillars:
Non-linear levels
To increase the versatility and strategic depth, enemies can approach from different spawnpoints in the sky or on the ground. Instead of following one narrow path one after another, different enemy units can form swarms that spread out across the available space. Players must build intelligent mazes and use aggro management to pick the swarms apart.
Versatile A.I.
The various enemy units in the game come with different behaviors. While some will try to find the quickest way to the player's base, others will either attack the nearest or most valuable towers. Yes, they can and will deal damage to your defense buildings! Players will have to manage their resources and decide whether to use them for new towers, upgrades or repairs.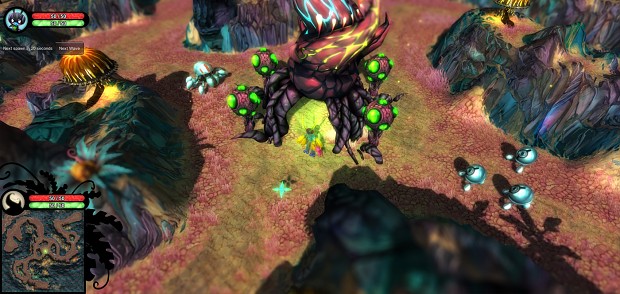 Co-Op
Players can either play alone or cooperatively with a friend. As opposed to the classic point and click RTS controls, players will take control over either Spleemo or Glob and will have to actively move across the battlefield. To make things more interesting, both characters have asymmetric skills available:
Spleemo: Our crafty engineer can erect towers, perform upgrades on them or do repairs. To have a little protection of his own, he has a sidearm available that can damage or briefly stun enemies.
Glob: With his gross motor skills, he's not suitable for fine mechanics. While he can still build towers, he's better suited for hand to hand combat and comes with quite a few skills he can develop throughout the game.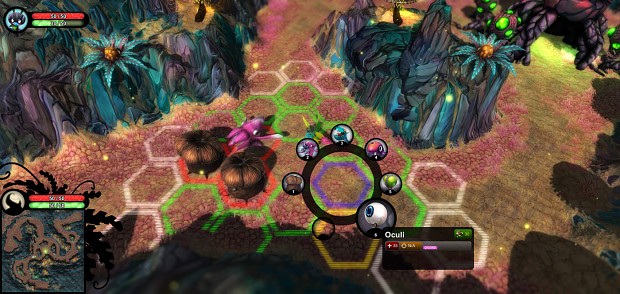 Since we're trying a new gameplay approach with Spleemo & Glob, we wanted to make sure that the game stands out in terms of visuals as well. There are many games out there that are set in a sci-fi or medieval fantasy scenario, so we wanted to do something entirely different. Spleemo & Glob is set in a colorful world full of strange and cuddly monsters. And apparently, these monsters are the towers in our game, being threatened by a crazed robot army. Sounds silly? It is!
In the next blog post, we're gonna take you on a tour through our monster world and our concept artist Jessica will talk you through the art direction of the game. So track us if you want to stay tuned!