All right, I've been silent for a long time, but I have good reasons for that. I have my exams coming next week so I need to concentrate on my studies. But in the meantime, I have done a lot of work on
Sparker! I have completed the training segment of levels and now am advancing towards the new set of levels.
Also, there is now a custom camera, that you can move with your mouse and multiple environments are now implemented! Also there are volumetric clouds and more objects to interact with in the environment!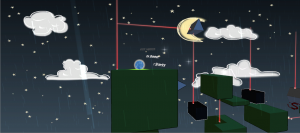 Please leave a comment if you have suggestions!
And please like the facebook page : Facebook.com
Thanks! And keep supporting!