Hi there,
I've been working on this game for the past six months and I thought I'd mark the occasion by finally setting up an indiedb page and compiling the 'more interesting parts' from the first 10 development diaries (over on Youtube) into a video of the progress made so far (see below)
---
Fragile Existence is a space strategy game that started out as more of a 4X title originally. As I realised that making 3D planets and an interactive spherical ground layer beneath the ship/fleet layer wasn't as difficult to achieve as I'd first expected, it started to grow in to more of a real-time strategy game with tactical pause function to allow ample time to consider your next moves. The principle inspirations would definitely have to be Homeworld and EVE Online, with the plot of the newer Battlestar Galactica serving to fuel my own slant on the plight of humanity.
In FE players will take control of the last of humanity, the last of the ships that manage to limp away from Earth when it is inexplicably attacked by an overwhelming force. You will guide the fleet from system to system, managing resources and personnel, and dealing with clashes between prominent figures and ship captains who have their own idea of how humanity should try to survive in the story mode. This isn't one of those 'click on a decision in a window' type affairs, each system is a full 3D environment, and each planet is semi procedural and semi hand-crafted to encourage more interesting emergent gameplay. The fleet moves via standard click-to-move RTS controls, and can enter orbit around any of the planets in a system. Units can deploy from these ships, and these ground forces move across the planet surface using standard RTS pathfinding and combat gameplay mechanics, with base building and resource gathering included.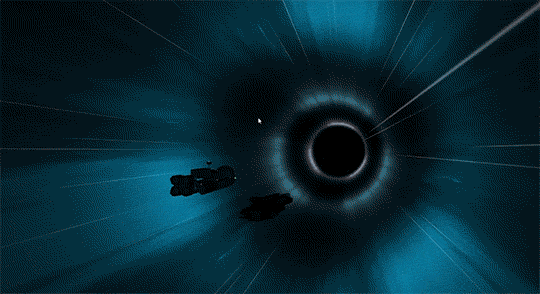 Hyperspace loading screen | Disclaimer: 4mb is a pretty painful limit for gif's, cue uglyness!
Planets throughout the FE universe will feature hostile environments, alien ruins, destroyed colonies, dangerous wildlife and even alien civilisations, and the invasion force is forever on your heels, not content only with the destruction of Earth. Players must make choices at every turn:
Maybe the most mineral rich planet is right next to the warp in point, and you reallllly need that Titanium to manufacture some new hull plating for the cargo ship that has been limping through space for the last few systems, but that planet has hordes of alien creatures that don't look too inviting-- and from the moment you enter that solar system the clock is ticking until the invasion fleet catches up with you from that very same warp in point, and that's the planet they'll check out first... Do you have time to send a small military force down, establish a perimeter and a small mining operation? Do you do this whilst sending the rest of the fleet further into the system looking for other planetary prospects? Do you split the fleet and leave some ships to support the ground operation? Do you pass up the opportunity and hope easier mining chances will exist on planets that look much friendlier? How do you weigh up the expenditure of fuel, ammo and manpower devoted to each ground mission along the way? How long until you just run out of the things you need to keep going...?
---
I fully intend to post more specific articles concerning the systems I'm working on as they get fleshed out, but for now I invite you to check out the progress so far -- and thanks for taking the time to drop in!