So what would multiplayer be without being able to chat with each other? Better than that, what's the point in fighting pirates if they can't smack-talk you?
Multiplayer Chat
Every game with multiplayer has the ability to chat with each other, at least every multiplayer game I can think of does. The chat itself will be separated into sector wide, region wide and constellation wide – the latter being everyone in the current game. At the moment I'm not thinking of putting private/group chat in, but that's something to consider for a later patch.
IRC
Since the Norfolk Games Expo I've been considering integrating an IRC channel into Space Salvager. This came from a talk with @CWolf and @Jargon64 about the popularity of IRC within certain gaming communities. I don't know whether IRC would be particularly popular for Space Salvager, however I think integrating would be a good challenge and be a nice feature.
It's unlikely to go in 1.4.2, as I'd rather focus all my time on ensuring multiplayer works and the existing features are polished quite nicely. But, it's something to think about.
AI Chatter
Something I've been bouncing around for the last week is the idea of pirates talking to one another. I was flying around a sector testing some of the fixes for the AI whilst thinking about multiplayer chat and thought it would be kind of cool to have the pirates talk to one another in the same sector, maybe talking about the player or space weather and then smack-talking the player and so forth when they're actually in combat. As with IRC integration it's unlikely to go into 1.4.2, but it's something for 1.4.3 .
Chat Box
Below are the two concepts for how to implement the chat box: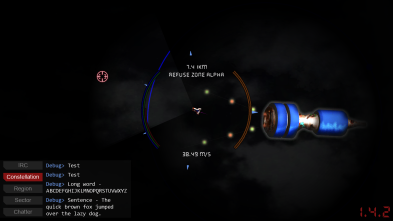 A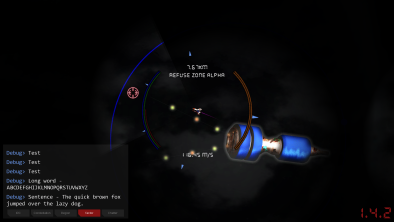 B
The preferred layout seems to be A, thanks to @iisjreg and @astin1992, however I'm still gaining more feedback on it and we'll see what happens from there.
---
That's all for now, but stay tuned for more!