We are taking our game to space
this game has become an extremely ambitious project, where our main goal will be to make a unique and amazing survival game with never seen before survival mechanics. To everyone wondering if planet-side will be trashed the answer is a huge NO... we are working on implementing both game play mechanics into a single game. You should hear more about planet game-play in the following weeks.
The trailer...
So what is this new space thingy about?
A simple yet ambitious plan, to terraform planet Diversitas. About 1.25 trillion dollars were invested into this project, ships were built, colonizers were trained, scientists were hired; And it all failed. On the second year following the route to Diversitas, one of the main nuclear engines of the mother ship "Infinitum" exploded, as far as you know you are the only survivor. Alone in space, no communication, no people, luckily you have enough food and water to sustain 250,000 people for 120 years, the problem : its scattered in a 250 km radius. Keep your self hydrated, fed and healthy by scavenging for supplies in this open "universe?" survival game, fight radiation, space anomalies and corrupted robots. Find a way to communicate with earth; build a space station ready to defend you from space threats. This is Diversitas.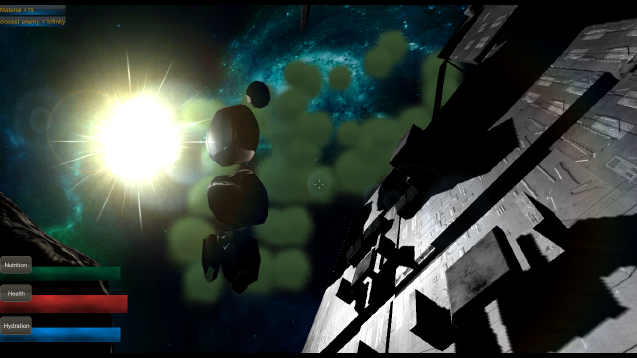 We want to take everything that could kill you in space and put it into the game, things like extreme cosmic radiation levels, solar eruptions, black holes, corrosive space dust, and much more.
Both story and simple survival mode will be implemented into the game. In the story mode you will go through the tale of how an extremely ambitious project failed, and how you ended up being the only survivor, at the end you are supposed to find a method of communicating with earth so they can send rescue ships or end up building your own intergalactic ship capable of traveling at the speed of light.
- a huge map to explore
- space vehicles
- hydration, nutrition and health (planning to add oxygen status)
- horrible threats crafted by mother nature
- realistic survival mechanic
Take a look at our movement mechanics
Our indiegogo and Greenlight campaing

Indiegogo.com
Steamcommunity.com